Beyond the 9-Box Grid: How to Update Your Performance Metrics

To paraphrase Jerry Seinfeld, there's a very thin line between one person's great and another person's terrible, even when they're describing the same thing. In business, companies rely on performance assessments to predict an employee's future performance. But for much of the working world, the definition of performance includes abstract concepts such as initiative and employee engagement. Measuring intangible factors like these is challenging enough to begin with; when you consider that every person interprets things like engagement and enthusiasm differently, it becomes almost impossible to see how an organization could hope to achieve accurate assessments from one review cycle to the next. The 9-box grid was created to help decision makers take the first step towards objective, unbiased performance evaluations.
In this article, we'll discuss the strengths and limitations of the 9-box grid performance framework and how to build a more comprehensive performance strategy with the help of performance management tools like BambooHR®. Let's explore further.
What Is the 9-Box Grid?
The 9-box grid, or 9-block model as it's sometimes called, is an assessment tool designed to simplify performance management decisions by placing an employee within a framework—literally—that determines their future within the organization. It encourages managers and company leadership to evaluate two factors of an employee's work:
The employee's past performance
An estimation of the employee's potential
Each reviewer then rates each of these two factors as low, medium, or high and plots the result on the 9-box grid.
Here's an example of a labeled 9-box performance grid: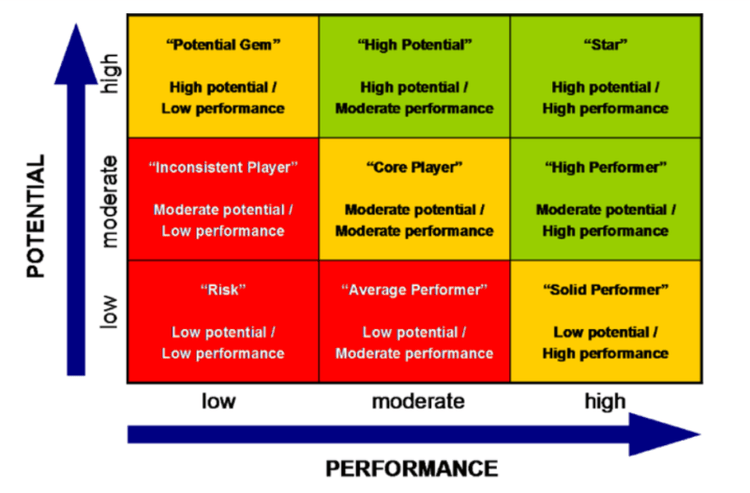 After determining an employee's position on the 9-box grid, decision-makers have a frame of reference for continuing discussions about how and where to invest their efforts, including:
Recognizing high-performing employees for their excellent results.
Supporting employees in improving performance or increasing potential to help them move up and to the right on the grid.
Identifying employees who consistently underperform and show little interest in their potential to offer a better-aligned position—or for termination.
What Are the Strengths and Limitations of the 9-Block Model?
Listing the pros and cons of a 9-box grid is like listing the pros and cons of a sledgehammer—much of the answers depend on whether it's the only tool in your toolbox. If you're trying to sculpt high-performing employees, you'll need a wide range of tools to coordinate and standardize your performance evaluations. The 9-box grid is only one such tool.
Measuring according to performance and potential, which the 9-box grid does, is better than simply assessing whether the employee is good or bad. But many additional factors go into an employee's performance and potential. Getting as clear a picture of each employee's performance as possible helps you deliver more relevant recognition and more appropriate support, helping them continue to provide excellent work.
So while the 9-box grid is excellent for getting a broad overview of an employee, it doesn't capture the details that go into each reviewer's evaluation of performance or potential. One manager's Core Player may be the director's Solid Performer, which may end up affecting the final evaluation. And without additional assessment tools, employees run the risk of having these 9-box grid labels stick to their reputation, even after they've made progress or burned out from trying to meet expectations that no longer align with their goals.
New Version:
If we had to compare the 9-box grid to a physical tool, we'd liken it to a sledgehammer—very effective in the right hands, but with a highly limited application and high potential for misuse. In short, if the 9-box grid is the only tool you use to manage performance and make decisions, you might end up reducing employees' careers to rubble instead of clearing a foundation for them to grow.
Strengths:
It's fast. The simple scoring system and uncomplicated format makes the 9-box grid easy to teach, easy to implement, and quick to read, cutting down on valuable time triaging employee performance.
It's forward-focused. The 9-box grid helps evaluators focus on the employee's future as much as on their current performance, making the evaluation more than a reaction to recent events.
It has broad application. The 9-box grid allows managers in different areas to provide leadership with a more accurate understanding of employee performance, even when that performance isn't based on concrete metrics like sales numbers.
It's straightforward. As long as leadership trusts managers in their judgements of an employee's performance and potential, the 9-box grid saves the time and effort leadership would spend learning about the role and the individual before making a decision.
Limitations:
It's imprecise. The aspects that make a 9-box grid straightforward also make it imprecise. How does each manager define performance and potential? Is an employee performing at 67% of peak performance a high performer in the top third, or did they earn a D grade and deserve to be in the Low group? When these definitions don't match up for two different evaluators, it leads to incorrect assumptions.
It's still vulnerable to bias. Human bias evolved to help us make quick decisions based on surface-level information like appearance or word association. While the 9-box grid includes potential as one of the measurements to encourage managers to consider the future, using labels for each box runs the risk of fixing employee reputations in their minds for future snap judgments. For example, a manager might dismiss an Inconsistent Player from consideration for a challenging project before giving the project to an overloaded High Performer.
It's just a (simple) measurement. Evaluating employees is only one small part of an effective performance management process. The 9-box grid gives you an idea of where to begin, but it can't take the place of an in-depth employee evaluation, much less guide your entire program.
Supporting the 9-Block Model with Additional Performance Methods
Summed up, an evaluation grid is only as good as the shared understanding that underpins it. That understanding is rooted in the knowledge that performance management is a multifaceted, time-consuming, incremental, and above all, human endeavor. Developing people takes time and thought and a hands-on approach from all sides by multiple influencers—it's the sum of many parts, not the number spit out by a simple grid or even a complicated performance analysis formula.
So, while the 9-box grid can be useful in helping organizations know how to invest in their employees and which areas need the most effort and care, it's a far cry from a substitute for even the most basic performance management program.
How BambooHR® Performance Management Supports Comprehensive Performance
BambooHR® Performance Management supports the idea of a score-based assessment, going beyond a 9-box rating and giving a 25-point range in its employee performance report. However, what makes this system comprehensive is that the rating system is only designed to supplement extensive conversations and contact with each employee.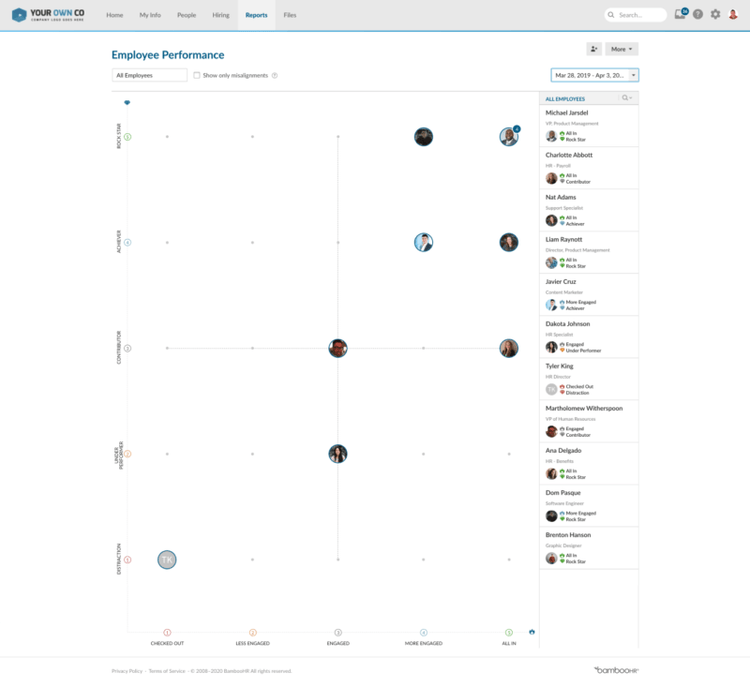 This goes to show that the number of ticks on a grid's scale matters less than the shared understanding underpinning each employee's movement through the program. With a comprehensive performance program, these evaluations of employee engagement and performance don't just come from their manager's most recent impressions (or biases, for that matter). They're shaped by regular, in-person conversations and software-assisted evaluations from managers, peers, and the employees themselves.
Consider the process BambooHR Performance Management uses to support in-depth performance evaluations:
Managers work with employees to help them set and achieve personal performance goals.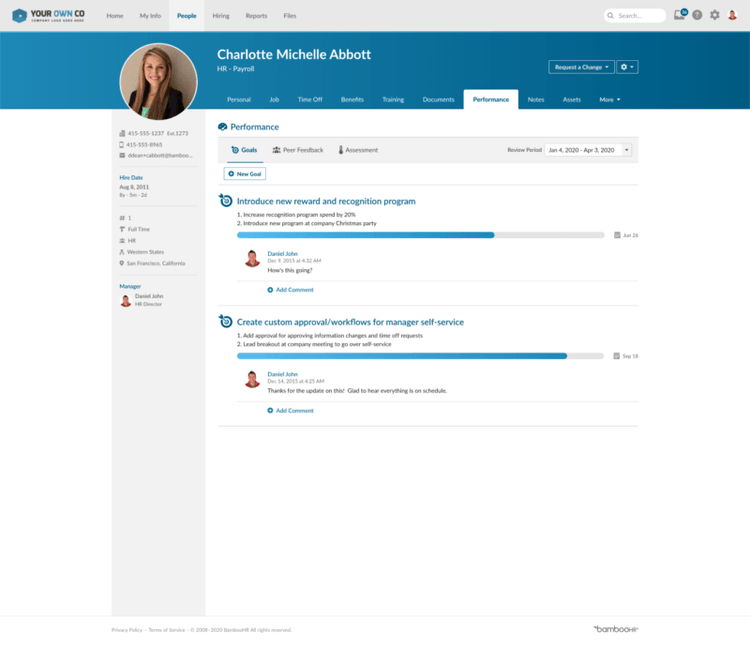 Employees record their impressions of their own performance.
Regular, anonymous peer feedback provides additional perspective from those who work closely with the employee.
Performance management data is displayed by team and department, so executives can spot performance and satisfaction trends and adjust accordingly.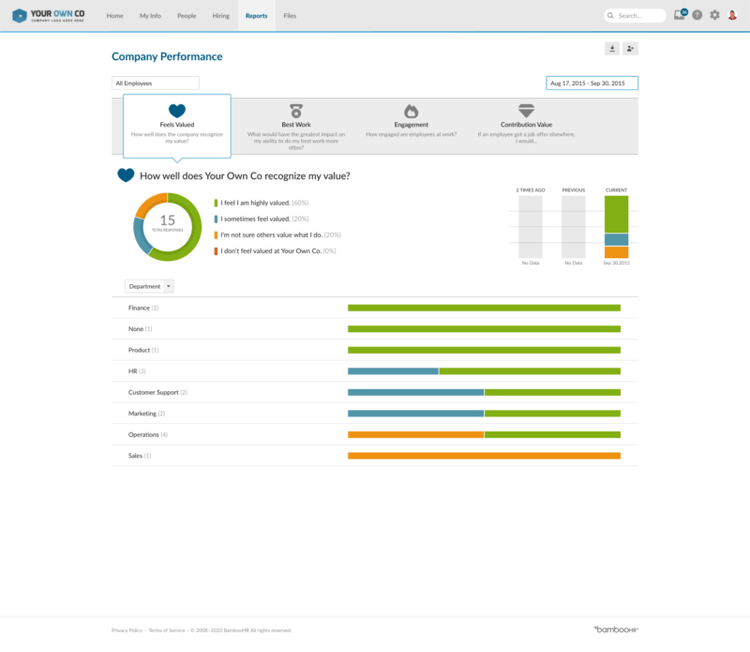 When done well, the results of performance management shouldn't be a surprise for anyone involved. Employees should know the strengths and weaknesses their managers have recognized during regular performance conversations, managers should have clear performance data to give their superiors, and leaders should have a consistent compensation plan that spans the organization.
The final verdict on the 9-box grid: it's a useful first step in visualizing performance results and making decisions. When supported with additional metrics and measurements, it helps align employee performance with the organization's business goals, letting everyone recognize the results of their hard work.
See how BambooHR Performance Management supports data-based performance decisions.