Ask an HR Expert: Creating a Successful Onboarding Program

In the Ask an HR Expert series, we chat with the HR pros who help make BambooHR a great place to work. In this article, Cassie Whitlock, director of HR at BambooHR, explains how we created an effective onboarding process. To see last month's Ask an HR Expert article, click here.
At BambooHR, we place a strong emphasis on creating incredible first days for new hires, and we think that even if you are doing a great job, there is always room for improvement. In fact, a study from Gallup found that only 12 percent of employees think their company did a good job onboarding them—which is one reason we are constantly evolving our onboarding program here at BambooHR to be the best it can be. To learn a bit more about our process, we asked our director of HR, Cassie Whitlock, to share how our onboarding process works and how organizations can make the most of their onboarding.
How long should the onboarding process last?
It's important to base your onboarding time frame around your company's needs. It isn't as simple as choosing a "good" or "adequate" amount of time. At BambooHR, we choose to have official onboarding classes once a week for the first five weeks of a new hire's employment—that's what seems to work best and give employees a balance of learning and on-the-job experience. But you need to decide for yourself how long you should spend on onboarding, which means you have to look at a few things:
What is the level of support you have for onboarding?
Do you have buy-in from your senior leadership and management teams?
Also, look at your infrastructure.
Do I have everything that I need for onboarding?
How can I tap into other teams to enrich the process?
Because we place an emphasis on employee experience and culture at BambooHR, we consider the first six months of employment as part of onboarding. We do our best to invest in their experience and create engagement before they start working and to continue that experience once they are here. BambooHR onboarding helps new hires feel valued and engaged while they are developing the necessary skills, behaviors, and brand awareness to become effective contributors within the company.
How do you evaluate and improve your onboarding process?
Evaluating our onboarding process starts with asking new hires how they felt about their onboarding experience. We'll send a survey or have recruiters follow up with them to ask what their experience was like, rather than if they think the program is effective. There is so much information to absorb during the onboarding process. So our follow up is to make sure employees got a feel for our culture and had a positive experience rather than finding out if they memorized every piece of information from onboarding. We also want to know what new hires think might be missing from our current onboarding process.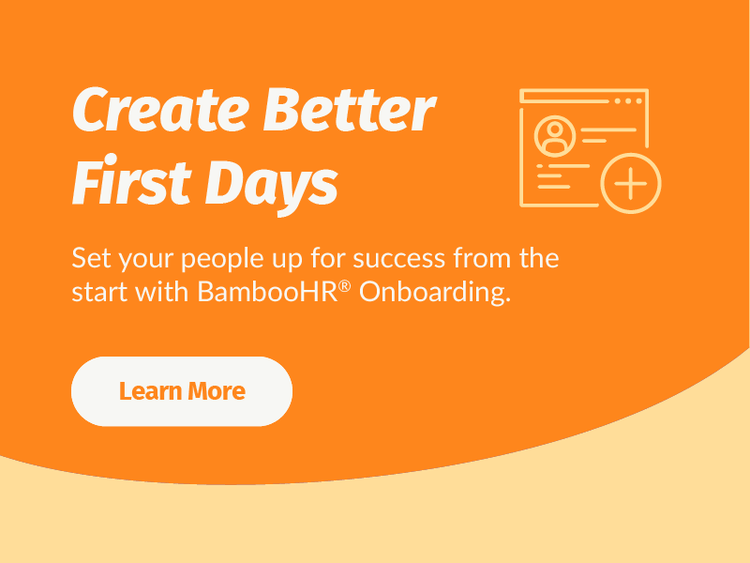 For every piece of the program, we've identified who is involved, the outcomes we are looking for, and how we can measure those outcomes. That makes it easy to launch something new, get feedback, and tweak until we start seeing the results and experiences we want.
For example, we launched a manager onboarding program this year. We recognized that as we grow, we have to be more deliberate about teaching managers the BambooHR way. One of the classes in the program is about policies and procedures. We know it might not be the most captivating topic, but it is incredibly important, so we needed to get deliberate about what we want to achieve with the class.
I am always listening for feedback to make sure everything we teach is exactly what managers need to know. We don't want to lower the value of the class by including surplus information. We check-in with managers after the class to find out what information was most useful and applicable to them. This way, we can adjust the class in the future to focus on the most useful information rather than overloading them with knowledge they won't need. I know we are achieving our objective by hearing from managers that this class helps them do their job.
How do you introduce culture during the onboarding process?
Experiencing and feeling what our culture is like is so much more important than anything we say during the onboarding process. I find that I get the highest volume of positive feedback after interactive experiences—much more than after a lecture—and I always get great feedback about our Q&A session with leaders. New employees love that class because you so rarely get that kind of access and raw feedback from an executive at your company, and it gives them a chance to see that our company culture is important at every level of the organization.
How do you get managers and other employees at the company involved in the onboarding process?
Managers have to be a part of onboarding. Employees spend a majority of their onboarding time with their team, not HR. But there might be certain messages managers can't teach or that you want to be sure don't get diluted. You'll have to decide what resources you have available at a company level to share those messages with your new hires. To help clarify what gets communicated where, we created a to-do list for and trained each manager on the things that need to happen when a new hire starts so nothing gets missed. Onboarding on a team level will be a little different for everyone, so we set the guidelines and then managers have control.
Make your onboarding program better than ever with The Definitive Guide to Onboarding.
What are some key components of an effective onboarding process that could apply to any industry?
You already know what you need to do as an HR employee, so make sure your onboarding process works for people outside of the HR team. Go talk to your managers. Go talk to your employees. Go be in their shoes so you can understand onboarding needs.
What is your favorite BambooHR Onboarding tool?
I love everything about BambooHR Onboarding, but I especially love how it helps engage people before they even show up on day one. My favorite part is the effect the welcome email has—how many new employees are stunned that people already know who they are on their first day, because everyone reads their welcome email. I love seeing people reach out about shared interests and create connections so quickly. It sets the tone for new employees to understand what BambooHR is all about.
The Takeaway
Your onboarding program works best when you get everyone involved in both the creation and execution of your program. This can be an excellent initiative for HR to lead, but your managers, employees, and executive team will be a valuable asset. Constantly seek input so you can create the best experience possible for your new employees.