Ask an HR Expert: Performance Management for Remote Employees

In the Ask an HR Expert series, we chat with the HR pros who help make BambooHR a great place to work. In this article, Cassie Whitlock, director of HR at BambooHR, explains how BambooHR has adapted performance management for our fully remote workforce. To see last month's Ask an HR Expert article, click here.
The initial shock of a quick transition to remote work has subsided at BambooHR and probably at many other organizations as well. Without a clear end in sight to the pandemic, companies and employees are starting to accept this new way of life and adapt to working from home or new restrictions in the office. But managers may have noticed that performance hasn't caught up. We want everyone working at full force and still expect high-quality output, but it's unreasonable to expect people to be as productive as under normal circumstances.
Just because companies have adjusted to remote work doesn't mean the distractions employees are battling at home have disappeared—kids off school, partners and roommates sharing a workspace, slow wifi connections, etc. But now that many of us are settling into remote work for the long haul, we can't allow company performance to slide. I want to share with you some of the ways we've adapted our performance management techniques at BambooHR to keep employee engagement and productivity high, while also understanding that things are far from normal.
When should you address lowered performance?
With collaborative work already strained by a distributed workforce, performance issues from one team member can quickly turn the whole team sour. People notice if a coworker isn't around, isn't answering questions, and isn't being a team player. When employees perceive that a teammate is slacking and "getting away with it," it can feel like permission for them to do the same. You have to build an environment where managers and individuals can and will speak up in a way that is non-judgmental and honest. Otherwise, you can foster a mindset of isolation and frustration.
Learn more about best practices for managing remote employees.
Very often, this issue can be fixed with better communication. Managers and teammates don't need to know what a fellow employee is doing every second of the day, but that employee can easily let others know when they won't be available by blocking out time on their calendar or messaging others that they will be focused on deep work and unavailable or are taking a midday break.
If someone is falling behind on work, it's up to the manager to decide if they are completing a reasonable workload. Everyone has a certain amount of work they need to get done. Managers can work with each employee to evaluate the amount of work that is appropriate for their role, and if that work is being completed. Under current circumstances, you may need to reexamine priorities, determine the work that is most essential, or rethink roles. You need to create a work environment where people are comfortable owning their work and owning their shortcomings, so managers and employees can create a plan to get back on track.
What performance indicators should managers look for in remote employees?
I think managers can usually sense when something is off. You'll notice if someone seems inactive or unresponsive and if their quality or quantity of work has reduced. It's more about figuring out how to approach things the correct way and actively giving employees feedback. At BambooHR, and I am sure at your company also, employees are here to do great work—not to be a "C" player.
One way to respond to an employee whose performance is slipping is approaching it not from a taskmaster mindset but from a coaching mindset. You need to teach your employee how to adjust their behavior to fulfill their performance requirements rather than just tell them what to do. Most employees know what is expected of them, but they might not know how to get there.
Together, you can identify the problem. Is it a productivity issue? A communication and availability issue? Trouble coping with stress? And once you understand the root of the employee's performance problems, you can work together to find solutions. To break down the steps you want to take:
Identify the issue
Engage in the conversation
Act as coach by helping create an effective plan
Execute that plan
Check in with your employee.
How can managers deal with performance issues caused by factors outside of work?
Like I mentioned before, employees are dealing with a lot of additional stressors and distractions, so 100 percent performance might not be possible for an employee who is attempting to homeschool children while working or who is experiencing intense stress due to the pandemic. But managers and employees need to have open communication about expectations from the company and what the employee can reasonably deliver.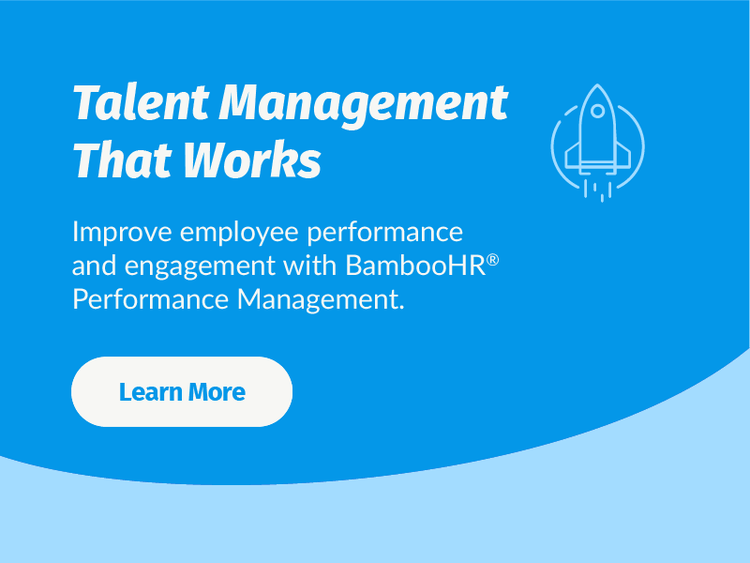 It's okay to be flexible and accept that for a short period a good employee may only be able to give 75 percent. But be creative about getting as much as you can. Decide what rules and regulations absolutely need to be followed and what variables can move around so the employee can perform as well as they can. Make a plan together and follow through.
How do we use BambooHR Performance Management?
We send out our performance management survey every six months. For managers, this helps them reorient and ask where things are with an employee. When you're in the middle of the day to day, sometimes it's hard to see the forest for the trees. Performance management shows you the forest. It can identify patterns in an employee's performance and influence major decisions.
For HR, performance management is all about those patterns. The HR department is less concerned about performance on the individual level—we trust managers to handle that. I look for patterns in teams, departments, and the entire organization. How consistently you assess performance determines how effectively you can find these patterns and use them to course correct.
While it might seem like the challenges from the pandemic and remote work have only caused problems for performance, crisis and change can become an opportunity for skill development. Look for ways to be creative and allow employees to step up and impress you with how they can adapt. And be sure to step back and celebrate performance wins. I know we could definitely all use a few wins right now.