Introducing Insights Dashboard and Homepage Redesign

There's a goldmine of data locked inside every HRIS, but only 12 percent of companies feel they've cracked the code. Meanwhile, HR professionals who use HR analytics are 10 times more likely to provide those powerful insights to executives and decision makers. That's why BambooHR is on a mission to make the complicated task of HR data mining as easy as possible. Introducing a new Insights Dashboard and redesign of the BambooHR account Home!
Here's how these new updates give our customers better visibility into their data, support better decision-making, and create a more valuable, flexible experience for every BambooHR user.
Account Home Page Redesign
The New Home Page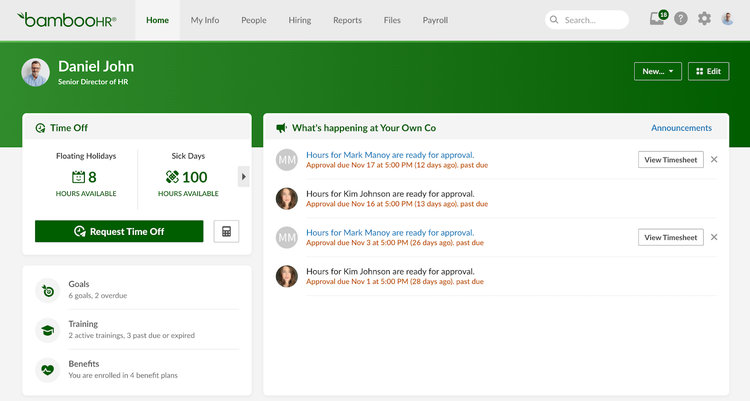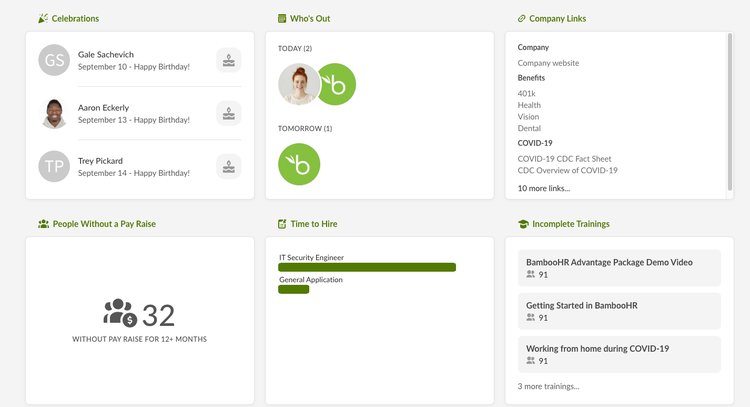 What's Changed?
We've made the Home page more efficient and flexible for every user, but especially for those in HR and leadership who regularly seek out and ask for data.
On the left-hand side of the page, you'll see we've kept your Goals, Training, and Benefits links handy under the Time Off widget. Next to Time Off, the What's Happening at… widget is fixed at the top of the page, keeping important company-wide news and announcements at eye level. Immediately below this is your new Insights Dashboard.
Insights Dashboard
What's New?
We want you to have better visibility into your data, so you can make better, data-driven decisions for your business. The Insights Dashboard makes it easier than ever to retrieve and interpret the data you need, when you need it.
In the top right corner of your new Home page, you'll find an Edit option. Here's where your new customizable dashboard gets really fun!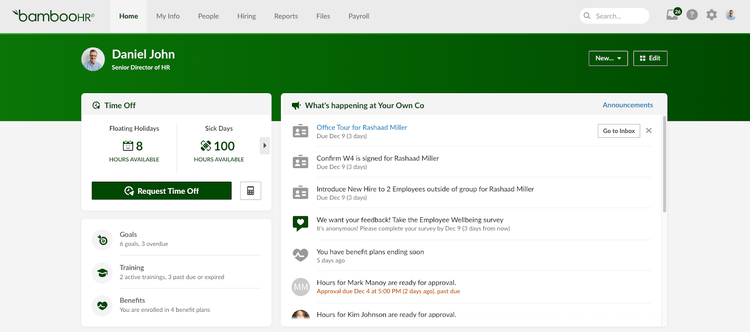 Each user starts out with the Celebrations, Who's Out, and Company Links widgets, but clicking Edit will let you add available Insights widgets from the library, remove them from your dashboard, and rearrange them exactly how you want them.
How Many Insights Widgets Are There?
We've launched the Insights Dashboard with 16 premade widgets in five targeted categories:
Demographic data
Employment data

Department
Division
Employment Status
Length of Service
Location

Hiring and Onboarding data

Candidates with Offers
Time to Hire
Joining Your Company
Incomplete Trainings

Compensation and Benefits data

People Without a Pay Raise
Benefit Plan Enrollments

Time Off data

Time Off Requests
Time Off Used
How Do the Widgets Work?
Each widget automatically displays high-level graphs and data, but when selected, the widget expands to give you a deeper look into the numbers in question. Apply filters to zoom in even further and pull out useful insights the moment you need them.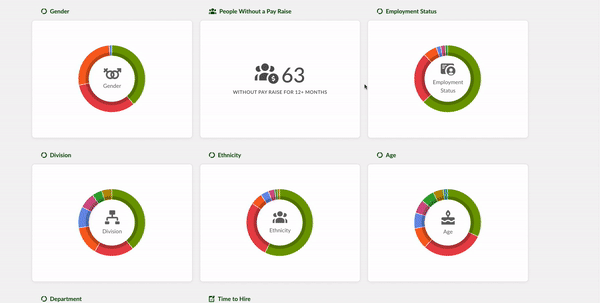 Who Has Access to Which Widgets?
Each user will only see widgets that are pertinent to their role, based on the Access Level assigned to them and the teams they belong to. For example, if the Marketing manager selects the People Without a Pay Raise widget, they'll only be able to see who hasn't had a recent pay raise on their own team.
When an employee adds all available Insight widgets, they'll see this message prompting them to provide feedback on any other types of widgets they'd like to see.

What Are People Saying
"Very helpful and time saving! I normally create reports for managers but this will create the reports for them." – Karyn Ward, HR Manager | Lighthouse Electric Company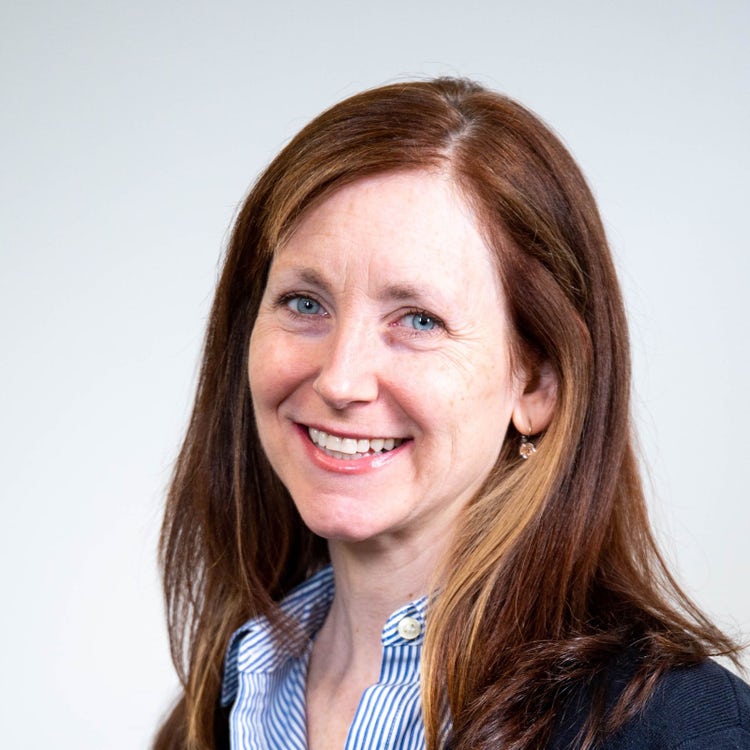 "New experience is awesome and easy, with all the things you need listed handy and the option to learn in detail." – Manickya Dumpala, Director of Engineering | Benevity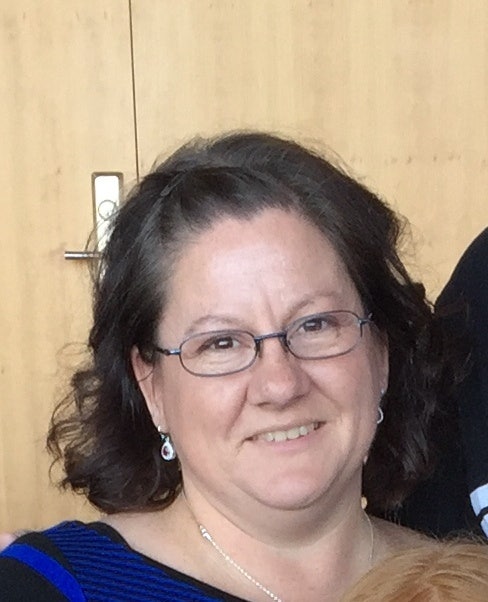 "The home page empowers people with more information, bringing data to the forefront." – Kristi Mack, HR Director | Human Society Silicon Valley
"It has made my processing much easier, it's also nice to have everything at a glance!" – Ericca Young, HR Generalist | Howell Laboratories
See how BambooHR saves you time and money
How to Use the Insights Dashboard
The Insights Dashboard spares HR from the burdensome task of data wrangling. Leaders in the company can now access key data points from their own Home tabs in BambooHR. But that's not all. This new feature also lets you be more proactive, helping you spot and resolve issues before they can become problems.
Stay Ahead of Potential Issues
As your company continues to refine its retention strategy, the People Without a Pay Raise widget is a boon to managers and HR, helping them get and stay ahead of engagement issues and turnover.
Ensure Ongoing Compliance
The Incomplete Trainings widget helps you keep a close eye on ongoing compliance and credentialing requirements for your entire workforce, so no required trainings slip through the cracks.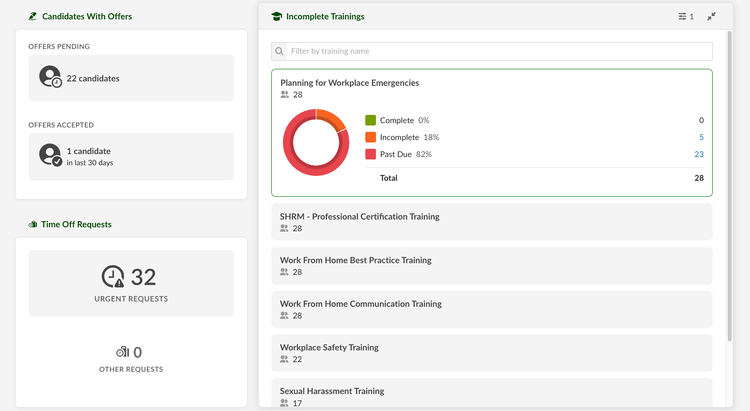 Never Lose Sight of Onboarding Tasks
The Joining Your Company widget serves as a persistent and effective nudge to keep you and your hiring team on top of outstanding onboarding tasks for all your new hires, making sure each new employee starts strong.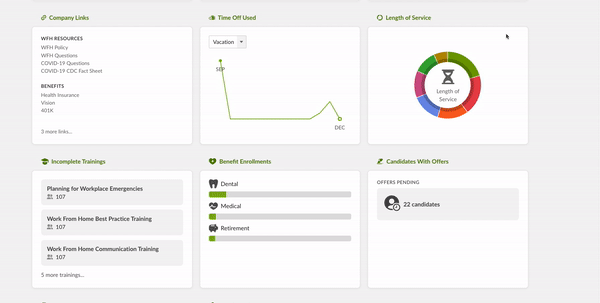 Future-Proof Your Business
The Insights Dashboard is easy to use but immediately powerful. Our collection of widgets is a targeted and evolving toolset that puts a magnifying glass to your data, helping you zero in on the different components of your company. Use it to help you future-proof your business for tomorrow by making smart, data-driven decisions today.