Celebrating One Year as CEO of BambooHR: Leading in a Pandemic

On October 15, I celebrated my one-year anniversary at BambooHR. Looking back at the past twelve months, I think it's safe to say my first year as CEO went a bit differently than I expected.
Just a few months after I started in October 2019, we started hearing rumblings about COVID-19, a virus that was canceling events, curbing travel, and creating anxiety here and abroad. Recalling past outbreaks and their relatively minor impact on daily life in the U.S., I didn't give it much thought.
I could never have imagined what would come next.
On March 12th, 2020, I told our employees that we were moving to remote work. In one day, we moved to a completely remote operation. This wasn't unique or special; many businesses made similar adjustments. What I've found over the last year that is special about BambooHR—something that has helped us navigate this pandemic—is our commitment to our values. A crisis is when your values get put to the test. When push comes to shove, do you believe them and act on them, or are they just nice posters on the wall?
As I reflect on the past year, I see how our values have made and continue to make this company, its employees, and myself stronger and braver together. I'd like to share a little more about what some of our values have meant for me during my first year.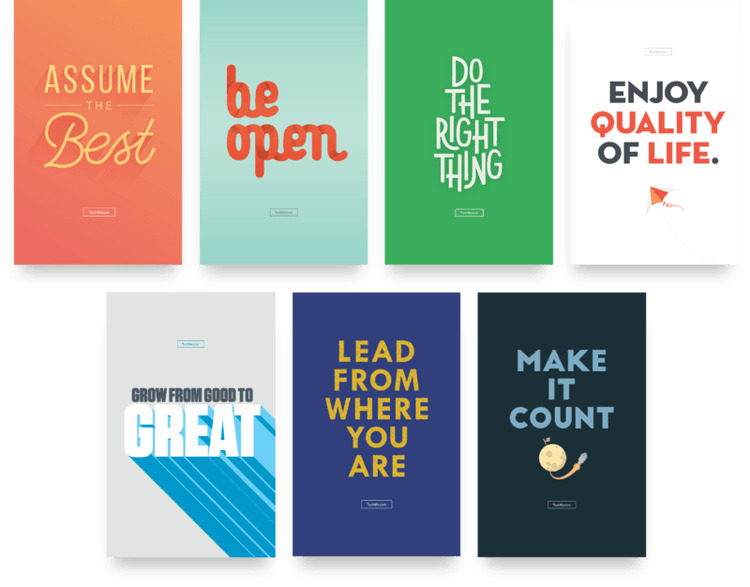 Make It Count
In his book, Good to Great, Jim Collins talks about Admiral Jim Stockdale's experiences as a prisoner of war in Vietnam. Collins highlights the paradox of Stockdale's unwavering faith that he would make it through despite the brutal facts of his situation. That faith in the face of overwhelming evidence to the contrary is known as the Stockdale Paradox, and it's something we have talked about frequently at company meetings as the kind of attitude we need to emulate. Personally, it has helped me navigate and work in this uncertain environment: by embracing our brutal facts and never giving up hope that we will prevail in the end.
That's also what making it count is about: seizing the moment and making the most of it, whatever the circumstances. As an organization, we're making it count by building for the future in the middle of this uncertainty. We didn't do layoffs or salary reductions. Instead, we decided to put faith in our ability to help our customers get through this difficult time and to seize the moment and show them that we provide something truly essential. We've been intentional about still investing in the business because, when we come out the other side, we want to emerge stronger in our ability to delight our customers with our products and services.
And all of this has paid off. The 647 incredible individuals I am fortunate enough to call my coworkers have pulled together, made it count, and delivered the best four months in our history from June to September 2020.
Assume the Best
2020 has been hard on many of our people. The pandemic has upended normal life and applied incredible emotional, mental, and financial pressure. For me, assuming the best means acknowledging that everyone is experiencing this crisis differently and giving them appropriate room to deal with something totally unfamiliar on their own terms.
Working from home has created a whole host of new situations for our employees. Parents suddenly found themselves juggling childcare and online school, employees with roommates discovered that their homes weren't ideal for focusing on work, and employees who live alone realized how much they missed working side-by-side with their colleagues.
To be able to understand and support people through these unexpected and difficult times, I've tried to operate with empathy as my core foundation. Someone once told me that if you assume that one in every two people you encounter and interact with are in an active crisis, you're in the right ballpark. I've found that this probably underestimates the number. It's impossible to know how people are experiencing the current environment, but starting with empathy has helped me to understand and give support.
Lead from Where You Are
It's not realistic to assume you can just keep working like you did before when practically every aspect of your life has changed. Expecting the old way to work when everything else is new is crazy. You have to be flexible in how you execute in today's environment.
As we've made changes to adjust to working from home and doing business in a crisis, we've learned we can do things differently and still have successes worth celebrating. For me, one of those successes has been our HR Virtual Summit. BambooHR has hosted this virtual HR conference since 2015, but 2020 required some obvious adjustments to effectively host over 45,000 registrants.
First, we had to coordinate everything internally while most of us were working remotely. We also decided to make this event bigger by adding a second customer-only day. We wanted to give back to our customer family by dedicating a whole day to them, with informative, inspiring sessions to help them do great work. And that meant a lot of hours creating, filming, and putting together presentations all while adhering to social distancing and safety measures.
We could have told ourselves that one day was enough—HRVS was already a fantastic, well-attended HR conference, and we had a wonderful lineup of speakers for our first day. But leading from where you are—leading in a pandemic—and helping others succeed required a deeper commitment.
Our commitment was successful because of our focus on being supportive and valuable. We received an overwhelmingly positive response on both days from attendees and customers who told us how helpful and encouraging the sessions were, and we had a quarter more attendees than the previous year. And that's all worth celebrating.
Be Open
At the individual, actionable level, open communication looks like promoting and perfecting the art of the 10- to 15-minute check-in on Zoom. I use that time to check in with employees and understand the challenges facing the broader team—this helps me get to know each team better and understand how they're doing. I take the time to talk about their family and about them as an individual. I ask them about their journey at BambooHR and how the executive team and I can help them be more successful. And I make that feedback specific (and manageable) by asking them to give me one thing that they need.
Being open has to be a two-way street, though, so I've made sure to implement some of the feedback by giving employees what they need. For example, a product manager told me that a paid version of Slack would unlock more opportunity for innovation and speed for her and her team. We rolled out a paid version of Slack the next week.
At the company level, I've learned to be open about how we're doing as a business and what our plans are for the future to build trust with our employees and show them that they are a valuable part of the company. This isn't something I just remind myself is important—I've incorporated it into my weekly rhythm of the business and how I spend my time.
Do the Right Thing
Doing the right thing can be challenging when you find yourself in a completely unfamiliar situation. What it has meant for us is a lot of trial and error, and for me, that includes admitting when I've made mistakes. For example, I had initially hoped that we would work from home for a couple of weeks and then come back to the office. But by continuing to push our return-to-work date out a couple weeks at a time for several months, we were creating unnecessary stress that was trickling into client interactions and employees' homes.
When we realized what was happening, we knew we had to stop hedging and deliver a long-term strategy around remote work. Things improved almost overnight, and I learned an important lesson. I had been too slow to realize the fundamental change this crisis was having on how BambooHR was going to work and how that uncertainty was affecting those around me.
There's no playbook for managing a business in a pandemic, but looking back, I wish I had been able to see the right thing to do much sooner and save everyone—myself included—a lot of lost sleep.
Grow from Good to Great
Sometimes you don't get what you thought you would get, but that's better for you in the end. To paraphrase Leslie Odom Jr. in his HR Virtual Summit keynote, 2020 has truly cracked me open as a leader and a human, and I find myself saying I don't know more often. I've decided that that's okay. There is much I don't know, but I am grateful for the things that I do.
I'm a better leader and executive and person for the experience in the last year—less sure, but more open. I see our employees for who they are in a more real way. Seeing kids and pets and basement home offices has helped me do this. What an amazing group of humans.
HR software with heart.
BambooHR® lets you focus on people, not processes.