Tapping into the Strategic Power of HR Data

We've entered the era of big data, and your human resources department is no exception. HR teams are increasingly using data to position themselves as strategic partners in their organizations. The Economist Intelligence Unit reported that 82 percent of organizations expect to either begin to use or increase their use of HR data in the upcoming years. To help you start sifting through the numbers, Mart Withers, director of product marketing at BambooHR, partnered with Brian Webber, senior HR business partner at PayScale, on a webinar all about the strategic power of HR data.
"Even though HR departments are generating more data than ever before, they often struggle to turn their data into valuable insights," says Mart. In fact, 58 percent of HR professionals believe HR analytics are very important, but only 16 percent view themselves as an expert in using HR data. So how can your HR department collect and leverage data for strategic use?
HR Data Management
When it comes to HR, your organization's concerns are people concerns, so data collected by HR can have a valuable impact on your company.
You can view the full "Where HR Data Makes a Difference" webinar in our content library.
There are two branches of HR duties, administrative and cultural, that play a vital role in helping employees obtain what is needed to meet their organization's objectives. The administrative tasks, like payroll, time-off management, and benefits administration, are the fuel that keeps your organization running. Cultural support, like long-term strategies and employee satisfaction, is how you steer your employees towards your company's objectives.
How to Manage HR Data
The most effective way to collect and analyze data is via HR software. A software system will help you keep track of your employees and manage employee and company data. But just having an HR platform in place won't instantly manage your HR data for you. Your role is equally important. You can use the HR data you collect for:
Ongoing analysis to help keep your policies aligned with what your employees value
Compensation analysis to help ensure fair pay
Employee satisfaction data to spot trends in your long-term experience
Regular performance management to provide ground-level data that offers a chance to improve the employee experience
You might have a bunch of HR information stored in your software or somewhere else, but what do you do with all that data?
How to Use HR Data Strategically
Your HR data can help you find areas of success and weakness across your company. Three areas you may want to look at are:
Employee satisfaction: How happy are your employees in their current role? And how emotionally committed are your employees to your company?
Compensation: Are you paying your employees fairly, and are they satisfied with their pay?
Employee performance: Are your employees engaged with their work and emotionally committed to your organization?
Let's take a closer look at each of these areas.
Employee Satisfaction
Are your employees satisfied with your organization? Find out with BambooHR Employee Satisfaction.
If you're not sure how to start strategically using your HR data, Mart suggests beginning with an employee Net Promoter Score℠ (eNPS) survey. "Starting with an eNPS survey can highlight the areas that will provide the most worth to your specific organization, not just the [areas] that most organizations struggle with."
An eNPS survey helps gauge employee satisfaction via an anonymous survey that asks employees how likely they are on a scale of 1 to 10 to recommend their employer as a place to work. Employees who respond 9–10 are considered promoters, 8–7 neutral, and 6–0 detractors.
To calculate your eNPS score, subtract the total detractors from the total promoters (neutral votes have no effect). Any positive score means that more of your employees would recommend your organization than not.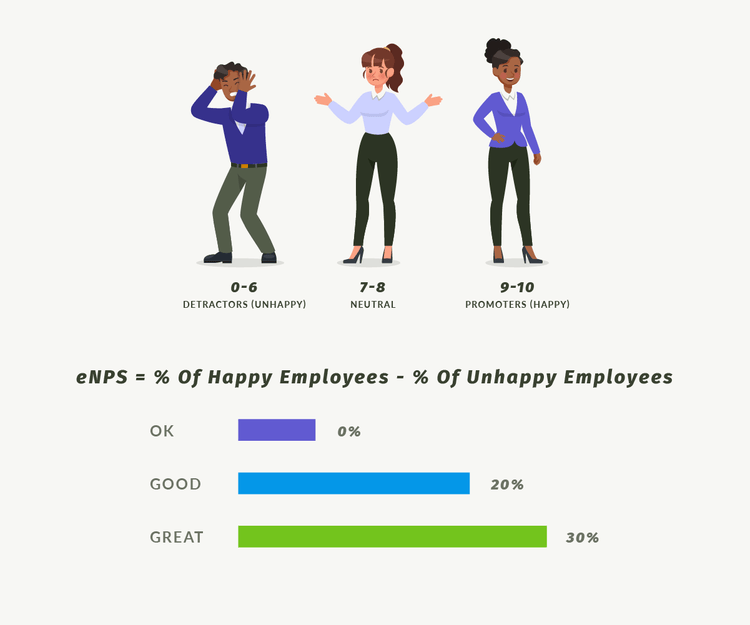 Try breaking this data down into different categories, such as age, department, and time at the company, to help spot specific groups in your company that aren't as happy to be there. That enables you to develop HR initiatives to boost employee satisfaction within those groups and for the company as a whole. High employee satisfaction generally means less employee turnover, which can save your company money and improve morale.
Doing an eNPS survey every 6 months can reveal change over time, and help you understand the effectiveness of any new policies, perks, or changes made by your HR team.
Compensation
"Compensation is often a source of dissatisfaction for employees as well as why companies have a hard time with hiring," says Brian. The hiring market in the U.S. and Canada is tight, it's no longer legal in many places to ask for salary history, and offer acceptance rates are declining. You need to have a data-supported strategy to offer compensation appropriately. Compensation data and metrics can help you and your organization:
Make sure you're paying all employees fairly and following your compensation strategy
Show how your company's plan compares to the market
Evaluate if you are rewarding employee behaviors needed to achieve business objectives
Identify over- and underpaid employees
Uncover potential gender and racial pay disparities
Clearly communicate your pay rationale to employees and managers, increasing employee satisfaction
Many organizations don't know if they are offering competitive pay. A compa-ratio can help you evaluate how competitive your employee salaries are within the market.
Conduct pay equity analysis ahead of budgeting season so you can create an "equity reserve" to make adjustments if necessary.
To find a compa-ratio, divide an employee's salary by the midpoint of the average salary range for that position. If the result is 1, you are paying your employee at market value. A 1.2 or higher is considered above market value, and 0.8 or under is considered below market value.
Paying employees too far off of market value can lead to pay compression: small differences in pay regardless of seniority, time at the company, experience, and skill. To avoid pay compression, regularly benchmark your positions to the market. Here's how:
Define your competitive salaries based on location, industry, organization type, and organization size.
Compare your jobs to other similar roles in the market to identify the "going rate" for a position.
Align pay for all employees in the same or similar job market rate.
Another compensation pitfall to watch for in your company is pay inequity. A pay equity analysis can detect pay gaps hidden in job titles, underpaid high performers and overpaid low performers, and discrepancies in pay based on gender, race, or age. "I recommend your organization proactively conduct pay equity audits under the guidance of legal counsel to understand whether there is a gap that exists at your company," says Brian.
"Having the knowledge [of a problem] and not doing something to rectify it puts your organization at significant legal risk," says Brian. Keeping legal counsel involved during your pay analysis process can help you learn the best ways to adjust for unjustified pay gaps. In addition to showing you spots where corrections need to be made, an equity analysis may give you clues as to what created the inequities, so you can create strategic plans to avoid future problems.
Backing up your compensation strategy with data helps ensure that everyone at your company is paid fairly and that employees feel satisfied with their salary.
Performance Management
Your compensation plan, as well as the health of your organization, are tied to employee performance, but "pay and performance assessments don't have to be connected," says Mart.
While an annual review is what most companies rely on, that won't get you enough objective data to assess employee engagement. Conducting anonymous, quarterly performance reviews through an automated system can decrease the amount of time it takes to administer assessments and give you more employee engagement data to inform HR strategy.
Over 50 percent of HR professionals report that measuring HR's impact continues to be one of their top priorities.
In addition to formal performance assessments, Mart suggests regular and informal feedback between employees and their managers. "One-on-one meetings give employees and managers a chance to discuss performance proactively instead of retroactively…[In one-on-ones] employees can ask their managers for feedback and resources they need to grow, and managers can stay connected and gain insights to determine ways to help their team succeed."
Managers can then report performance review findings to HR as necessary. Rather than HR trying to oversee performance reviews for every single employee, managers are able to more frequently assess and communicate with their employees.
Why You Need HR Data Management
Collecting and analyzing employee data will help your HR department see opportunities for improvement at your organization. If you're wondering why high-performing employees are leaving your company, or why you're having a hard time recruiting quality new hires, gathering data on employee satisfaction, compensation, and performance can help identify gaps. And once you know where the gaps are, you can create a plan for improvement.
But don't let that be the end of your collecting data. Over 50 percent of HR professionals report that measuring HR's impact continues to be one of their top priorities, and having data that shows how HR initiatives have improved employee satisfaction, solved compensation gaps, and increased employee performance can establish the HR team as leaders at their organization.