The Biggest HR Challenges In 2020

Looking back at articles speculating what the biggest HR challenges in 2020 would be, it's clear the HR industry had no clue what we were in for this year. But who could have predicted this? (If you somehow did, hopefully you were wise enough to buy stock in a loungewear company.)
Many HR teams had plans to expand their workforces or create new company culture initiatives, but instead, they found themselves dealing with a barrage of issues: fully remote teams, new workplace health guidelines, distracted and stressed employees, and for some, a need to downsize. Human resource management challenges in 2020 are looking a lot different than what you likely planned for. But that's the incredible thing about a well-functioning HR team—you're skilled at adapting to new challenges and keeping your company on a successful path.
Check out a few of the common HR challenges in 2020 and ideas for tackling these new problems.
Common HR Challenges in 2020
Maintaining Company Culture
At the beginning of the year, you might have been thinking about ways you could improve your company culture or potentially introduce new values or cultural initiatives. But it turns out one of the biggest HR challenges during 2020 has been simply maintaining culture through a crisis, rather than growing or creating culture. Here are some methods we've been using to maintain culture during this hectic year:
Focus On People
"When you're in crisis mode, it's easy to focus on to-do lists and transactional tasks. That type of work seems manageable, and it's comforting to feel like you're checking boxes," says Cassie Whitlock, director of HR at BambooHR in an article on adapting to remote work. "It's important for HR to take this opportunity to broaden their mindset. If there's ever been a time to prioritize relationships and 'peoplework,' it's now."
Try talent management that actually works
Communicate Often
Consistent communication builds a transparent work culture and trust between you and your employees. Frequent communication can also help you make sure you're not overloading your employees with information in single, lengthy dumps. At BambooHR, we send out weekly announcements updating employees on things like when we'll return to the office and giving them ideas for staying happy and healthy. We've also continued holding monthly, company-wide meetings but have moved them online to keep everyone safe.
Continue Recognition
Without seeing coworkers in person every workday, recognition can easily slow down or even come to a halt. Be sure employees have a channel for recognizing their coworkers and any incredible work. You can ask managers to set aside time for praise in their department meetings, encourage employees to send each other supportive messages, or provide an employee recognition software where coworkers can give each other a company-wide shoutout.
Managing a Remote Workforce
You might have already offered an occasional work-from-home day to your employees or even had a handful of employees who were fully remote. But now, there's a decent chance you are dealing with a fully remote workforce. In May, seven in 10 U.S. employees were working from home. It's been a few months, so most of your employees and teams have created a new routine and are getting to be video conference experts.
Keep remote employees engaged with tips from our free ebook.
Our HR director, Cassie, advises finding ways to replicate what you loved most about being in the office, like chatting about your weekend or just joking around, and including that in your virtual interactions. Her HR team has been doing a daily meeting: "We start by asking how each team member is doing and a get-to-know-you question for fun, then we go over announcements from the leadership team, and wrap up by reviewing any other relevant updates or assignments." While a video call can't replace being in the office all together, it can help your team stay connected in the meantime.
Virtually Onboarding New Employees
You're used to pulling out all the stops when onboarding employees—you give them the grand tour of the office, introduce them to their amazing new team, demonstrate what a great company culture you have, and maybe even give them some company swag. That can be tricky when you only get to meet someone through a webcam. Try out these tips for virtually onboarding an employee.
Send an electronic preboarding packet. How do you make a new hire feel comfortable they chose to work for your organization without an in-person welcome? You stay efficient and make sure they're for their first day, for example, by sending them a welcome letter from their manager that includes what to expect on their first day and forms to fill out ahead of time.
Make sure they're properly equipped. If your employee will need a laptop or company phone, make sure they're shipped ahead of time and will arrive before their first day.
Send some swag. A company-branded t-shirt or mug can help a new hire feel like a part of the team.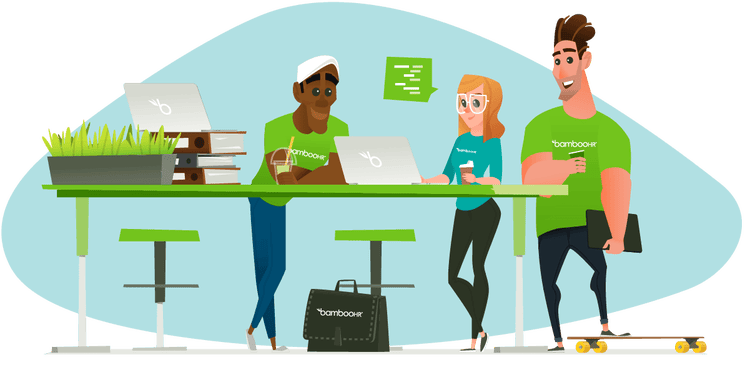 Set up communication. No one wants to spend their entire first day dealing with IT (even though we are sure your IT team is filled with great people). Email accounts, chat, and logins should be ready to go on day one.
Spread the word. Employees won't be able stop by a new employee's desk. Send out a department-wide email introducing the new teammate, and encourage coworkers to reach out and welcome them.
Help them settle in. Have a virtual welcome lunch, assign a buddy to answer questions, and provide opportunities to learn about the company's culture, mission, vision, and values.
No one expected things to go like this when we were planning for the year, but HR teams have been tackling HR challenges in 2020 with creativity and skill. Give yourself credit for jumping through some truly wild hoops as we've adapted to HR challenges during COVID-19. Here's to hoping 2021's challenges are more predictable.