What's New in BambooHR: Multiple Review Cycles
Want more flexibility in how you manage performance across your different teams? Now you can add groups of employees to multiple review cycles in Performance Management, giving you the flexibility you're looking for as you support the varying needs of your growing teams. With this new functionality, you'll be able to do the following:
Set up multiple assessment and feedback cycles.
Assign employees to single or multiple review cycles on demand.
Know employees are receiving separate reminders for each review cycle they're assigned to.
Add different custom questions to each review cycle.
How Multiple Review Cycles Work
Instead of being limited to a single review cycle that includes all or only select employees, with one set of custom questions and one reminder schedule, you can now have as many cycles as you want, each one tailored to your needs. This gives you infinite flexibility and specificity when it comes to how you're motivating and developing your employees across their different teams.
Here's how it works: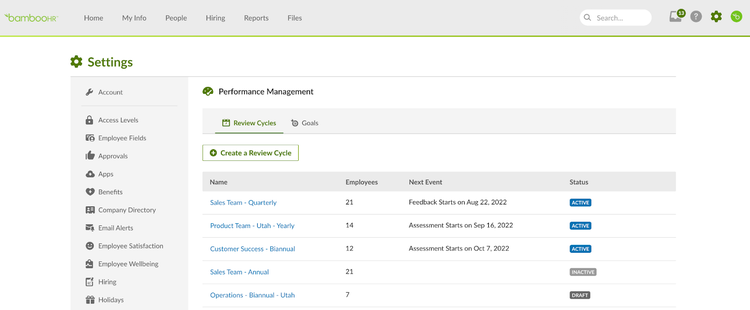 In Performance Management, you'll find a new Review Cycles tab next to Goals. All your active, inactive, and draft review cycles will be stored here, along with the date of the upcoming event scheduled for each active cycle (i.e., a Feedback or Assessment request).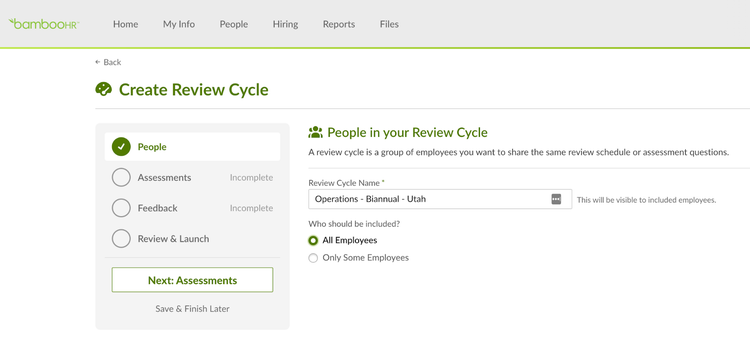 Click Create a Review Cycle to launch a simple, step-by-step set-up process:
Name your review cycle.
Identify the employees you want to include based on their department, status, location, and more.
Add or omit Assessments or Feedback (depending on the type of review cycle you want).
Determine if you'll use custom questions.
Determine the frequency schedule.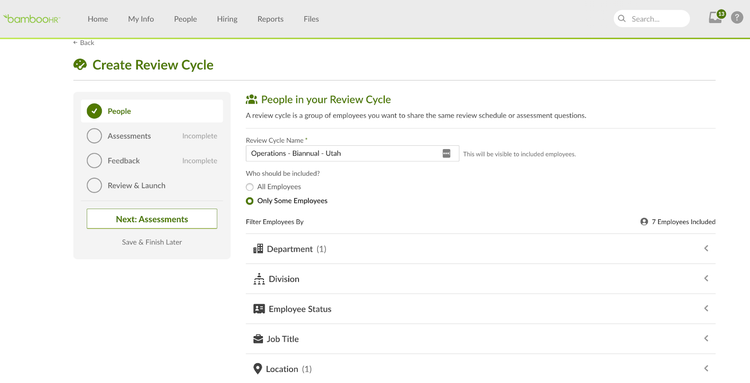 At any point, you can save your progress as a draft as you take your time to narrow down the specific needs of the employees assigned to each review cycle you create.
Want to see Performance Management in action?
Explore the engagement possibilities of multiple review cycles in a live demo.
Who Is This Update For?
The option to create multiple review cycles provides a valuable advantage to any growing company with specialized teams, because you can now tailor performance reviews to the specific needs of your employees, depending on the groups they belong to. Here are just a few scenarios you might see:
Reviews for Remote and In-Office Workers
With remote and hybrid work becoming a mainstay, there may be certain questions that you ask in a performance review that are pertinent to your remote employees. For example, you might want to ask your remote workers, "What helps you feel more connected with other team members and included in the company?" Or, for your in-office employees you might ask, "What helps you feel more connected to your remote team members?"
Team or Department Specific Reviews
Different teams have different priorities and different needs. You may want to ask your developers different questions than your sales team. Or, you may have certain teams that would respond well to semi-annual assessments while others prefer an annual assessment.
Short Quarterly or Semi-Annual Reviews
You may want to hold shorter quarterly or semi-annual reviews that ask only the standard questions, while having a more formal annual review that goes deeper into how employees are doing, how company values are affecting their work, and how they've experienced recent projects. Instead of having to adjust the same review before each send, you can now have separate reviews—a brief check-in and a comprehensive annual review.
With this update, there's no limit to the number of review cycles you can create or the strategic performance management possibilities you can explore.
Performance Management Software
Try talent management that actually works.