Get a demo of BambooHR.
BambooHR is an easy-to-use platform of people-centered solutions to help you hire, onboard, run payroll, and develop your culture.
Schedule a free demo now to:
Learn about the BambooHR platform from a product expert.
Discuss your specific HR goals and pain points.
Explore how our tools can help you succeed.
See pricing options.
See BambooHR in Action
Form
Join 30,000+ businesses that trust BambooHR
Partners
userTesting, zipRecruiter, postmates, Jacksonville Jaguars, change org, Jelly Belly
We set people free to do great work.
BambooHR software collects and organizes all the information you gather throughout the employee life cycle, and then helps you use it to achieve great things. Whether you're hiring, onboarding, preparing compensation, or building culture, BambooHR gives you the tools and insights to focus on your most important asset—your people.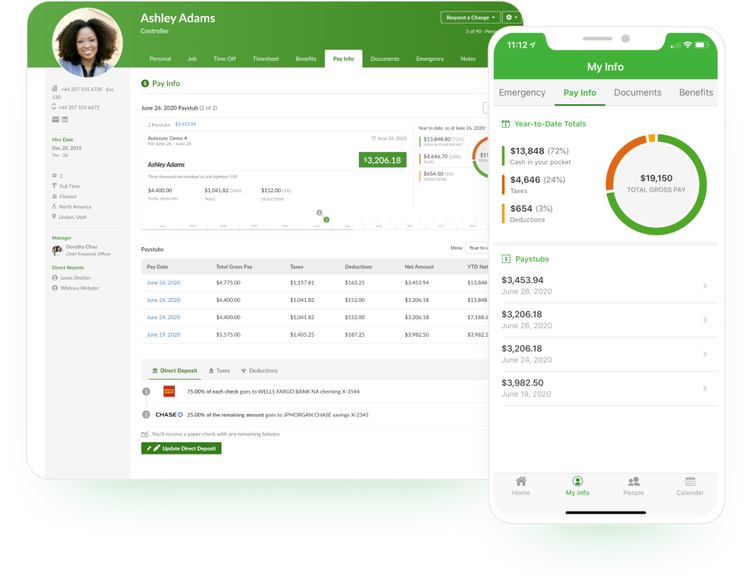 Built for SMBs
Starting small makes everything easier when it comes to building strong cultures and creating great places to work. That's why we're obsessed with crafting solutions for small and medium-sized businesses.
Easy to Set Up, Easy to Use
We built BambooHR to be intuitive, clear, and easy to use. People get it immediately, they love using it, and they'll love you for choosing our software.
Top-Rated Customer Service
No one else puts the customer experience at the heart of everything quite like we do. We're always listening to gain a better understanding of how we can help you succeed.
People are the key to workplace excellence. If you give HR the knowledge and time to work with people, they can build the kind of culture, policies, and practices that set entire organizations free to be better at what they do. And when you give employees the power to help themselves, they feel more valued and capable as contributors rather than simple assets. BambooHR is designed to do both. That's what makes us different.