Give your employees convenient, on the go access to HR info with the BambooHR® mobile app.
Modern HR for a mobile workforce.
Modern HR work doesn't always happen at a desk, or even in an office. Sometimes it happens at the bus stop, in the breakroom at lunch, or after your Tuesday kickboxing class. You need HR software that can keep up with your busy schedule.

We have just the thing. Whether you want to look up a coworker's phone number or approve a time-off request, our free mobile HR app gives everyone in your organization easy access to essential BambooHR functions at all times.
"Tracking PTO via BambooHR's mobile app is a game changer."
TJ Zawodniak, HR Manager | Huntington Steel & Supply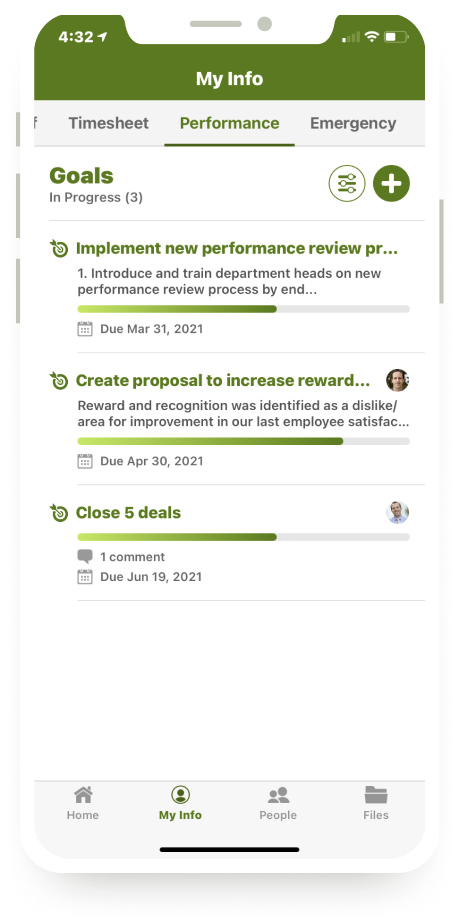 Support employee progression whenever inspiration strikes.
BambooHR® Performance Management helps your teams plan and document their career progression, with space for employees to record and track goals along the way. BambooHR Mobile gives employees and managers additional flexibility to engage with these performance tools, whether the eureka moment comes during regular work hours or in the middle of the night.
One easy-to-read calendar for everyone.
Remembering who's in and out of the office every day can be tough even with a small team, let alone when you're running an entire call center during the holidays. But just like you, our mobile HR app doesn't back down from a challenge.

The centralized calendar in the BambooHR app gives a clear view of who's currently out and who has time off coming up, which makes it easy for managers to coordinate coverage, maintain the customer experience, and keep work from piling up.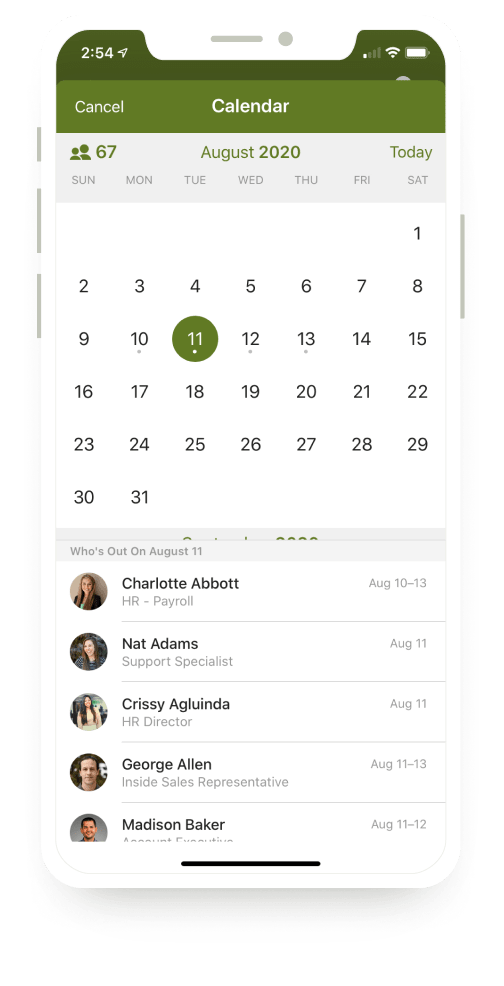 You don't have to take our word for it.
Give extra flexibility for important feedback.
Learning how employees feel about their jobs is an important first step toward creating a better place to work, and BambooHR Mobile makes it easier. Employees can complete BambooHR® Employee Satisfaction surveys where and when it makes the most sense, whether that's at their office computer or on the train home.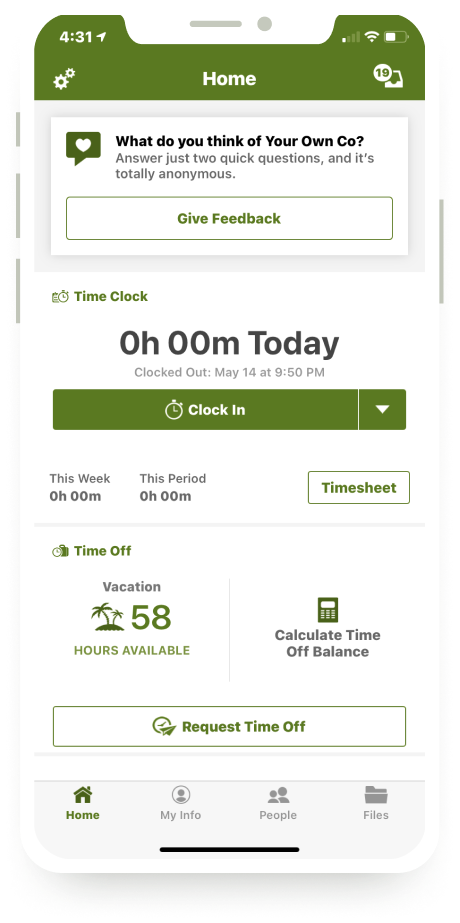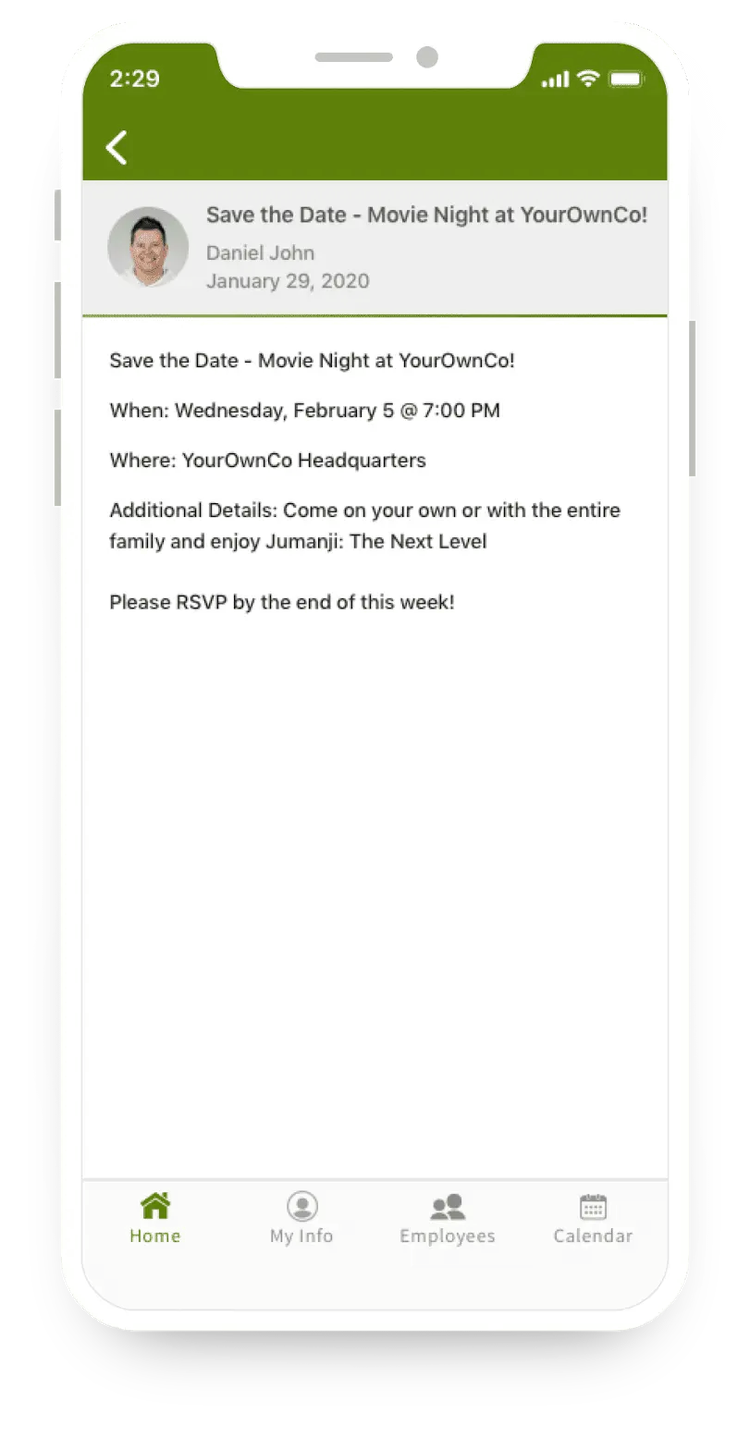 Company announcements keep everyone in the loop.
Frequent and timely communication isn't just good manners—it's crucial to creating a positive employee experience and excellent company culture. With our mobile app , company-wide communication has never been easier. Users receive push notifications anytime you send out important company announcements, so your people can be in the know while they're on the go.
Electronic signatures on the go.
One of the best ways to improve your employee experience is by incorporating user-friendly technology into your workplace. From acknowledging new office policies to confirming your people are aware of updates to the employee handbook, e-signatures in the BambooHR mobile app make it easy for employees to sign documents. Not only are electronic signatures great for the employee experience, but they also reduce turnaround times, save paper, and help you stay compliant.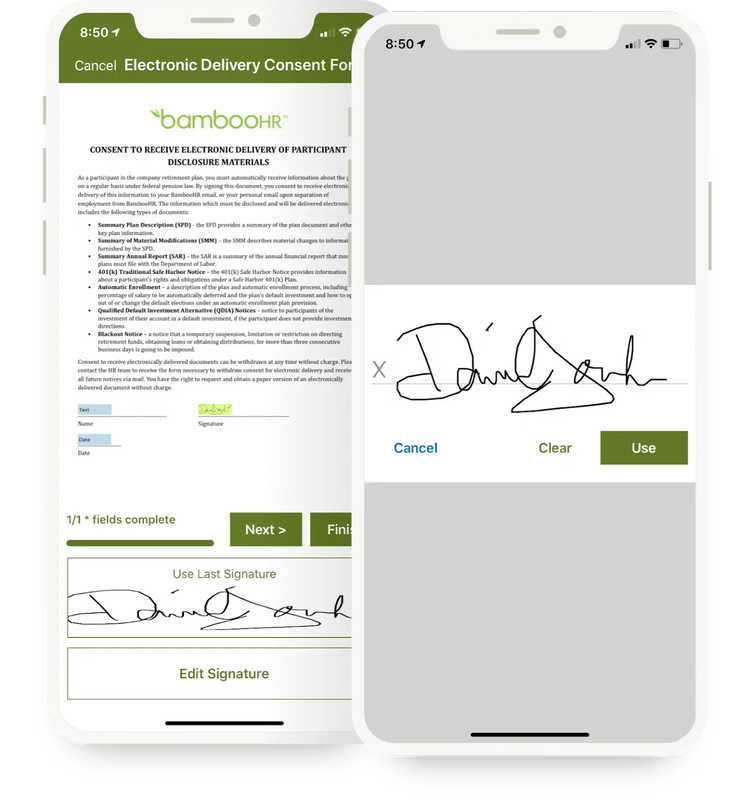 Our customers say it best.
We asked the professionals who use our hiring app daily to talk about how BambooHR® works for them in the fast-paced, overwhelming world of small-business recruiting.
It's freeing me up to do more of the stuff that actually matters in HR.
—Aaron Wheeler | Wistia
Our database provides a safe and easy way to track and report on sensitive employee data.
Move quickly and efficiently with custom workflows & approvals.
Generate detailed HR analytics reports so you can make more strategic, proactive decisions.