1-on-1s by Roots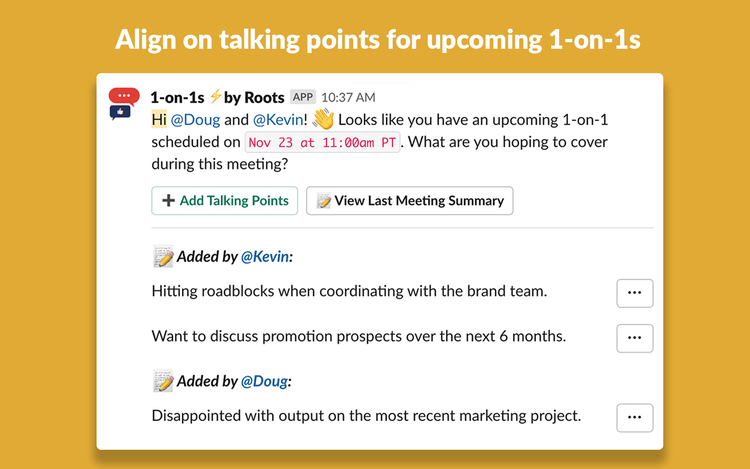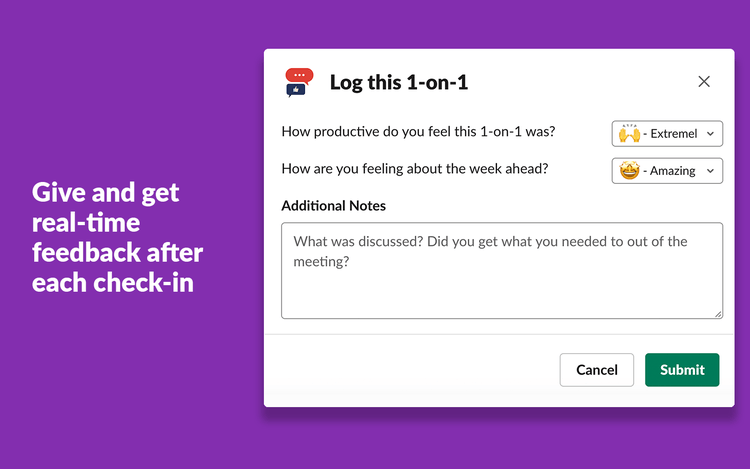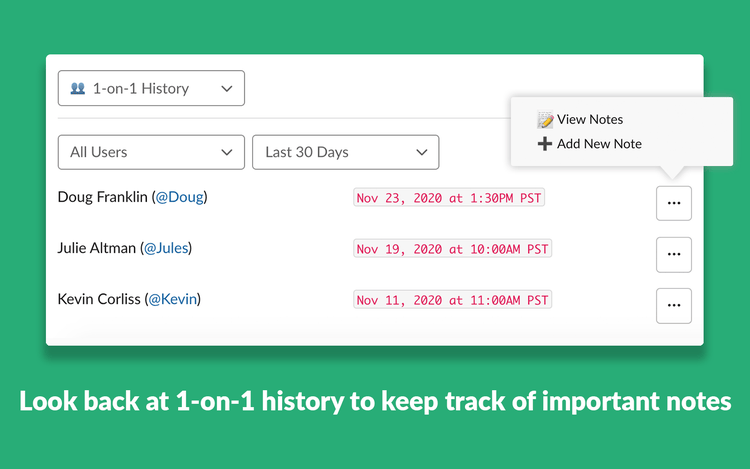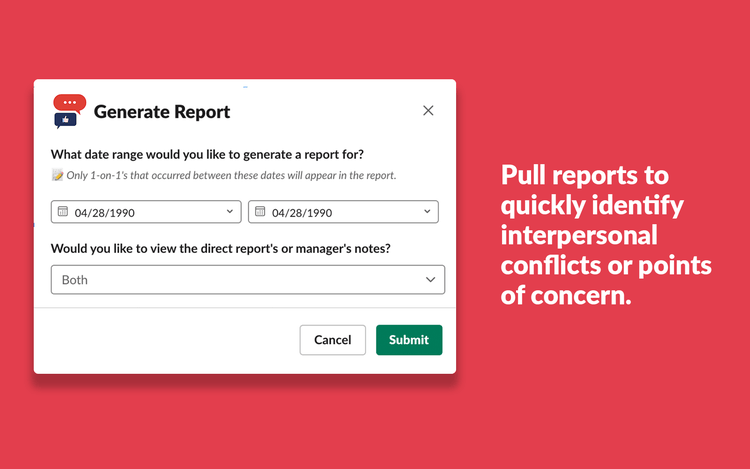 Overview
Align on talking points with ease
Make it easy for managers and their direct reports to plan and prepare for upcoming 1-on-1s and align on talking points. A shared Slack channel with built-in reminders encourages collaboration, shared agendas, and mutual ownership of meetings.
Give and get real-time feedback
Healthy and strong cultures start with feedback. An outgoing survey at the conclusion of each 1-on-1 documents action items, progress, and perspective on the week prior / ahead – giving each user actionable feedback to reference and work on.
Track 1-on-1 history to see trends in performance or mood
Using 1-on-1s as a point of reference, it's easy to see how team members are tracking throughout the year. Our robust reporting can allow you to pinpoint interpersonal conflicts and problem areas quickly, as well as offer complementary data for your quarterly and annual performance reviews.
Integration
How It Works.
The integration between Roots and BambooHR is easy to set up (takes <15 mins) and serves the following purposes:
New users added to BambooHR are automatically authorized for Roots.
Additional user information – manager, department, location, start date, etc. – can be passed to Roots automatically and fill out user profiles.
If the reporting structure changes or a user is added/removed/modified, Roots will automatically reflect those changes without any manual input from admins.
Head to https://app.tryroots.io/usersand click the "Add Integration" button near the top of the screen. Select BambooHR from the list of options, then add the login URL for your team's BambooHR account. You will be redirected to BambooHR where you can authenticate your user and finalize the connection by inputting your login credentials. You will then be redirected back to Roots and find your integration finalized.
​​What data syncs?
BambooHR Field
Sync Direction
Partner Field
Field Logic or Notes
Is this turned on by default or is it configurable?
Employee #
Employee ID
This is the identifying field for the integration. The two systems Employee #/ID must match.
Default
Supervisor #
Manager HRIS ID
The ID identifies who the employee's manager is in BambooHR.
Default
Location
Company Location
This assigns the employee to their appropriate region.
Default
Department
Company Department
This assigns the employee to their appropriate department.
Default
Country
Country
For identifying who falls under GDPR regulations.
Default
Publisher
1-on-1s by Roots
Updated: 07/20/2021
Phone Support:
4085084299
Email Support:
Support Hours:
9am - 6pm PT