15Five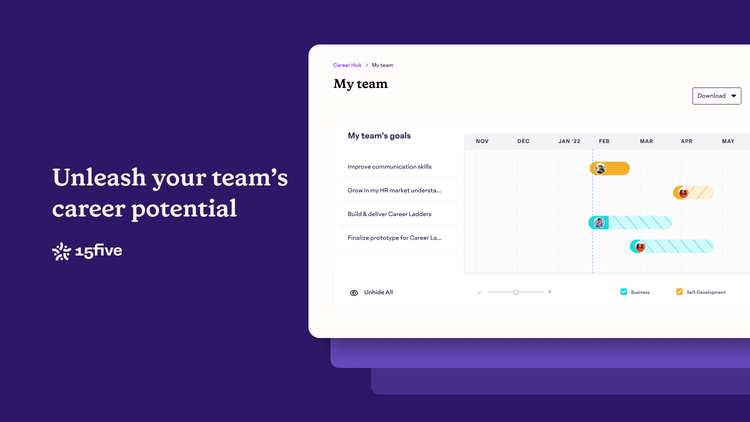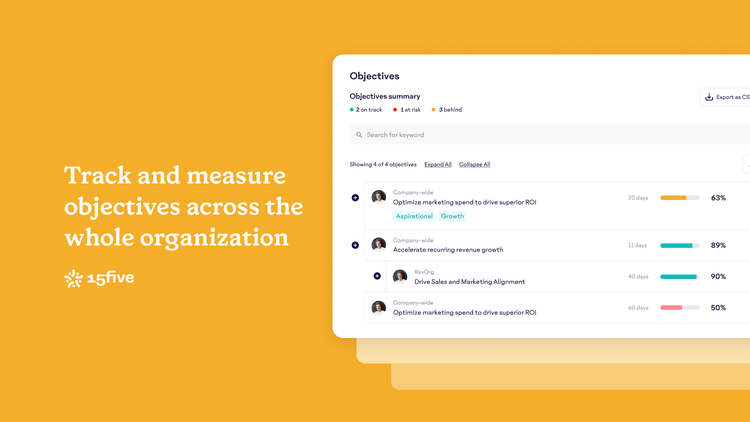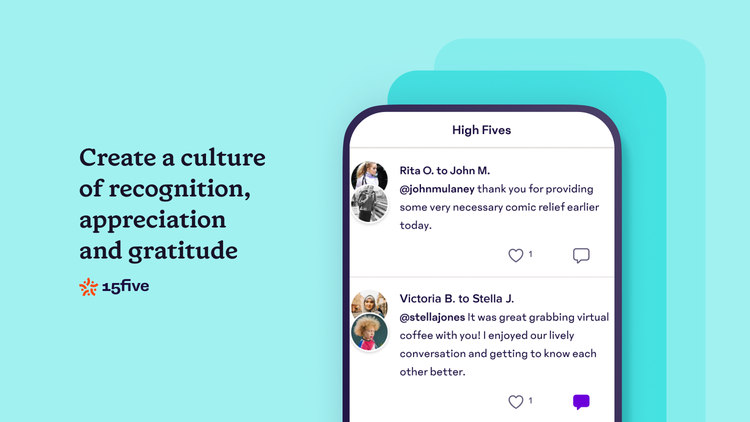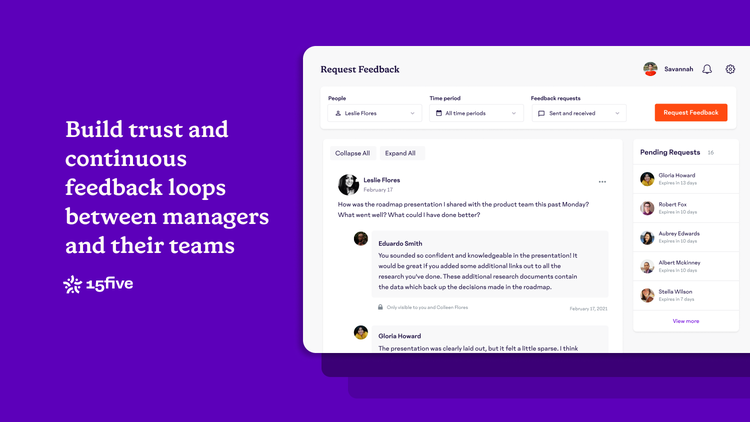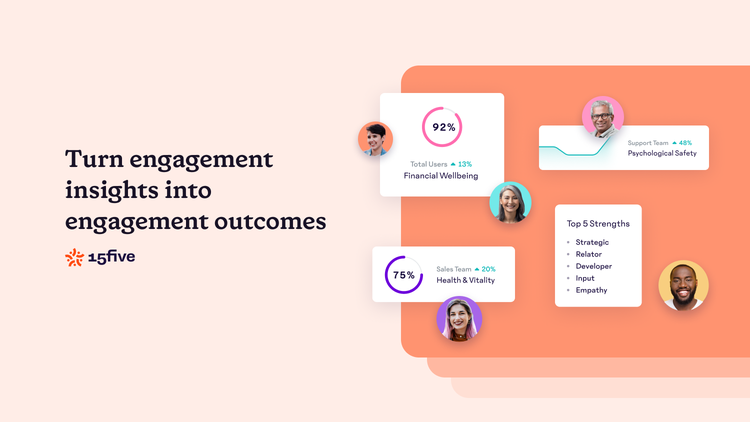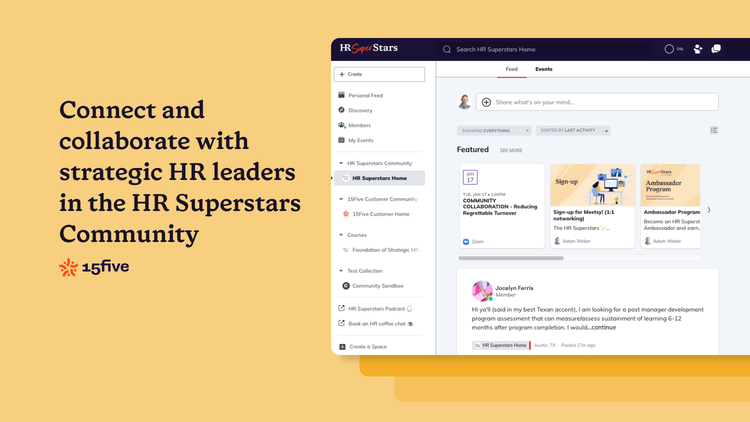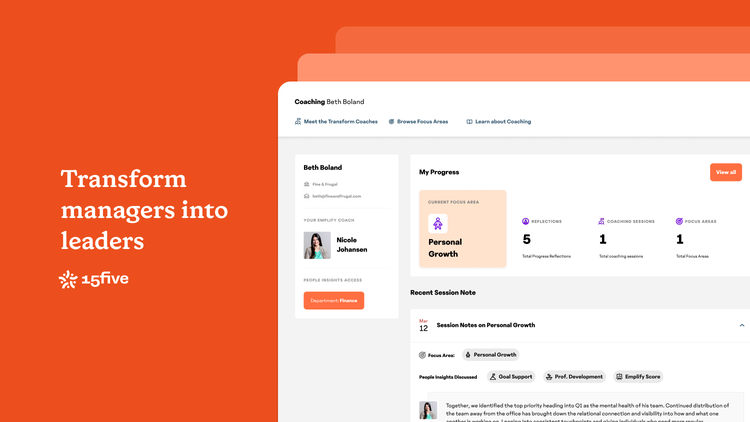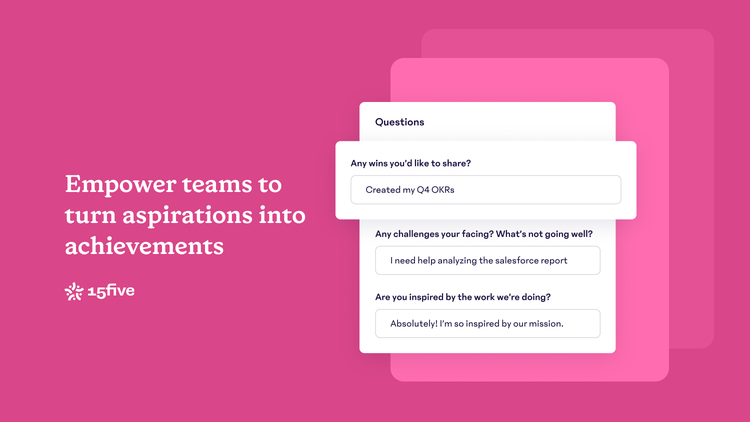 Discount Packaging
30% discount off of our Total Platform for any BambooHR referred customer!
Or
20% off of any of the Engage or Perform packages for any BambooHR referred customer!
Disclaimer: New customers only; Not applicable to renewal agreements. Contract minimum is still in effect.
Overview
*Awarded Forbes best talent management software in 2023*
15five is the platform transforming performance management. We help HR teams turn their managers into effective drivers of employee performance, engagement and retention by creating psychologically safe work environments to foster transparency, manager-employee relationships, and continuous improvement.
Turn engagement insights into performance outcomes
Tap into the pulse of your organization with our evidence-based assessment and easy-to-use analysis tools. Quickly find out what's working and not working in your organization. Then, take action by giving managers and employees tried-and-tested tools to drive engagement outcomes.
Maximize performance
Measure performance and inspire growth with our modern, multifaceted approach to performance reviews. Our intuitive solution helps managers to measure, support and elevate their team's performance. Designed to make talent decisions based on a 360 view of the employee.
Gain organizational alignment and super-engaged teams
We make OKRs and goal setting easier than ever. Clarify and track the top objectives for everyone across your organization. Actionable insights and planning tools inspire everyone to move forward together.
Upskill your managers
Through team-based insights, and flexible manager training and coaching, turn managers into leaders who know how to drive performance, retention and employee engagement.
Integration
How it works
Sync your team from BambooHR into 15five, and automatically onboard and offboard employees. Keep user account details in sync with the BambooHR integration. Simply enable the BambooHR integration from your 15five account to get started.
When you integrate BambooHR with 15five, you can:
Choose daily automatic or manual syncs
Customize employee invite email
Exclude employees from being added to 15five by excluding specific departments, locations, divisions, or emails
Decide if you want start dates imported
What data syncs?
BambooHR Field
Sync Direction
15Five Field
Field Logic or Notes
Status
Status
15Five will check for the "status" field. If it is left blank, employment status will be checked.
Employment Status
Status
The status can come in one of two possible fields
Supervisor
Reviewer Display Name
Employee Number
Employee ID
Preferred Name
Preferred Name
Publisher
15Five
Updated: 3/8/2023
Email Support:
Support Hours:
9:00 AM - 8:00 PM EST
Monday - Friday