BambooHR® Applicant Tracking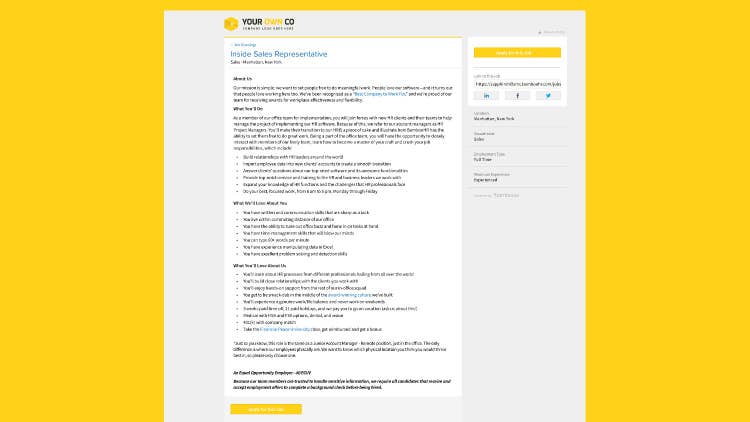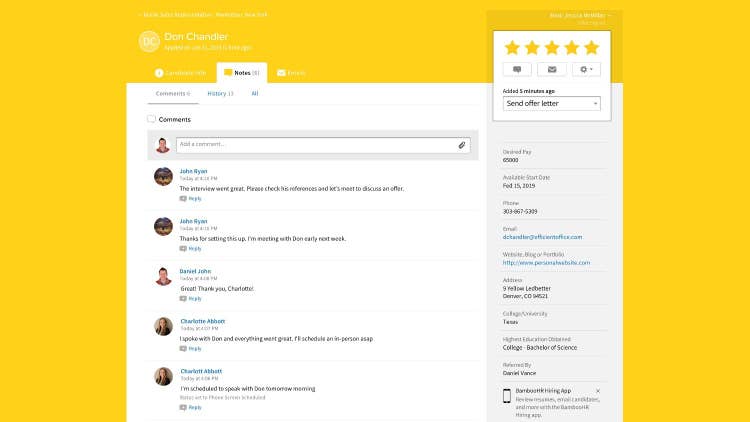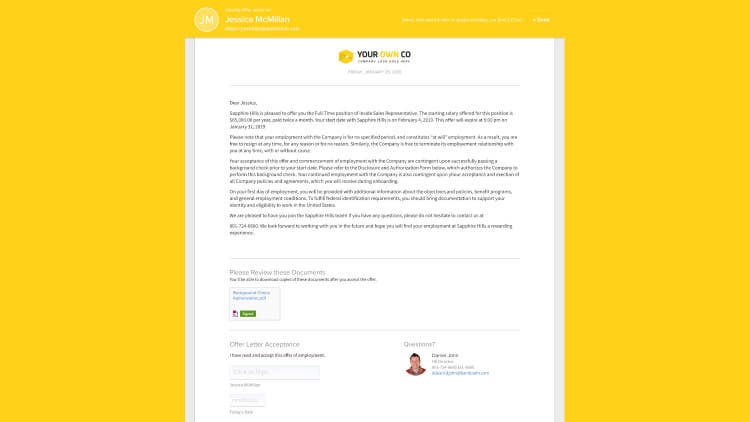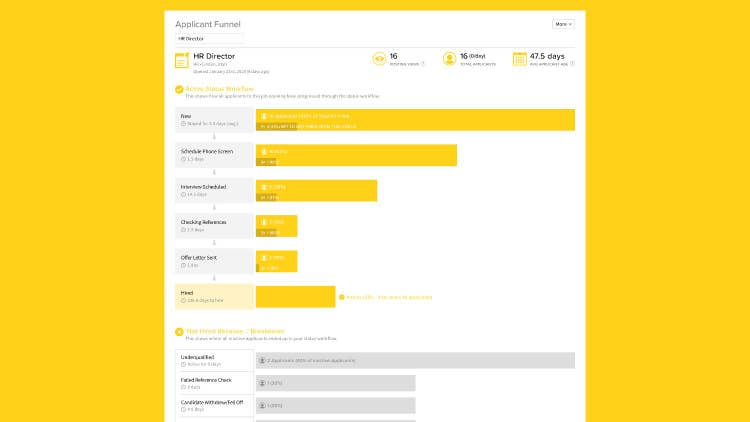 Overview
The BambooHR Applicant Tracking System (ATS) gives your in-house recruiters and hiring managers the modern recruiting tools they need to help find and hire the right talent fast. The BambooHR ATS is fully integrated with BambooHR and includes the BambooHR Hiring mobile app (available for iOS and Android) for hiring on-the-go
Get organized and get ahead of the game.
Just like the early bird gets the worm, the swift and savvy recruiter nabs the best candidates, so employers want every advantage they can get. BambooHR applicant tracking software gives you that advantage, keeping applicant information organized through every phase of hiring so you can focus on finding the right talent for the job and creating a great candidate experience along the way.
A candidate experience they'll write home about.
A great candidate experience feels seamless through all the stages of the hiring process. If applying for a job is difficult or communication is slow and spotty, you'll lose star talent to competitors and damage your employer brand in the process. BambooHR makes the application process easy on candidates and ensures timely communication at every step of evaluation, so applicants feel acknowledged and informed and your hiring team looks like all-stars.
Make an offer they can't refuse. Quickly.
When you find that perfect applicant, sending out an offer can't happen fast enough. BambooHR makes it as fast as humanly possible—faster, actually—with auto-populating candidate info and customizable offer letter templates you can save for different positions, job types, and more. On the candidate side, electronic signatures make accepting an offer as simple as sending an email—no more hunting for a printer and fax machine.
BambooHR® Hiring: our ATS app for iOS and Android.
Recruiting doesn't stick to a nine-to-five schedule, and it doesn't care if you're stuck in traffic. But thanks to the BambooHR® Hiring mobile app, your hiring team can post jobs on the go and begin reviewing candidates the instant they submit an application. Collaborators can see resumes, view responses to application questions, and provide ratings and feedback from home, the beach, or even the carpool lane. Just not from the driver's seat, please.
Demo Video
Integration
Our Applicant Tracking System is fully integrated and built on top of the award-winning BambooHR platform from the ground up. It is included in the Advantage package of our product.
Publisher
BambooHR
Updated: 03/01/2015
Phone Support:
(866) 387-9595
Email Support:
Support Hours:
6:00AM - 6:00PM MT
Monday - Friday