Benefits Administration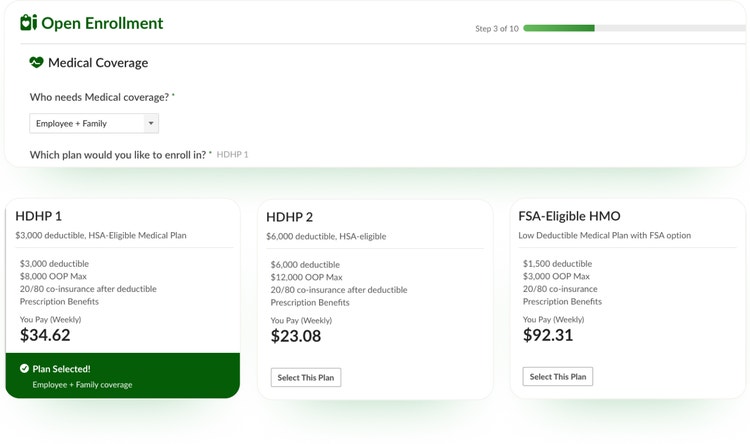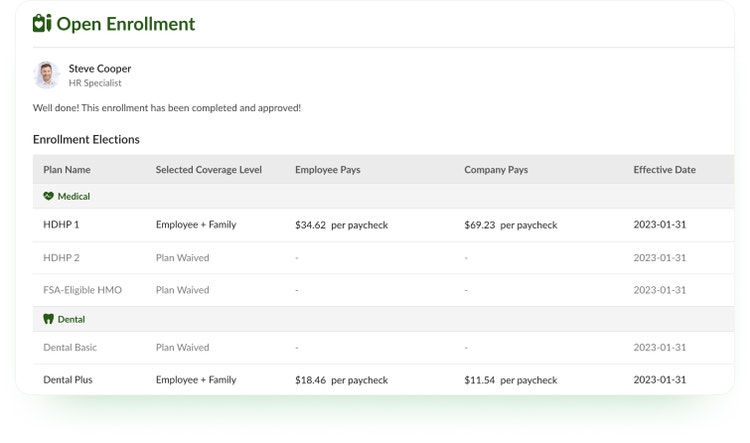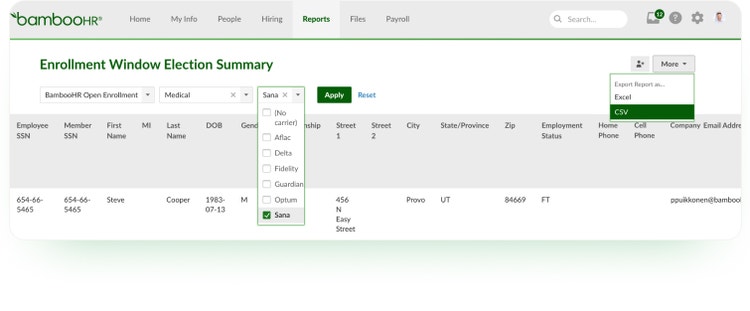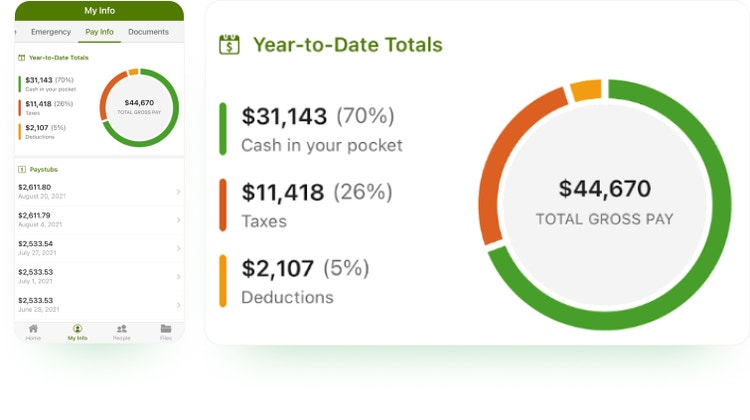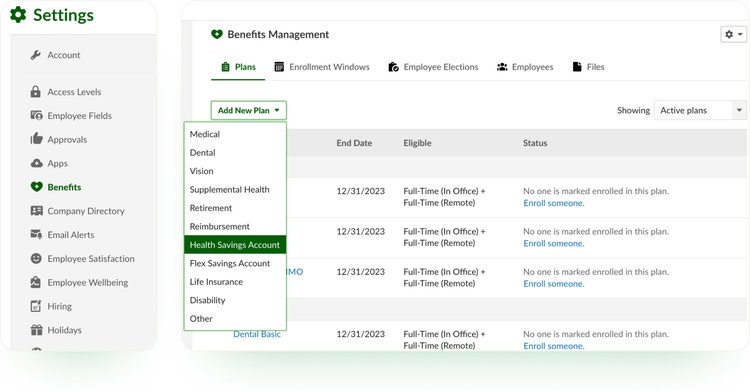 Overview
Faster, friendlier, more accurate benefits management.
From onboarding elections to annual open enrollment, BambooHR® Benefits Administration for US-based employees provides a benefits experience that's easy to see and easier for everyone to manage—all the way through the employee life cycle.
Open enrollment, new hires, and QLEs? Covered.
Forget searching through folders for the right forms, sending them out, chasing them down, and painstakingly entering them into your system. Whether it's for a new hire, annual enrollment, or a qualifying life event, simply create an enrollment window in BambooHR and every entry automatically saves to the employee record.
Election approvals in seconds, not days.
BambooHR lets you see every employee and their enrollment status—incomplete, awaiting approval, or approved—at a glance. In the same view, you can review and approve elections, send sign-up reminders, and even make edits to coverage levels, effective dates, and rates if necessary.
Comprehensive reporting for effortless data review & export.
The Enrollment Window Election Summary report shows you all of your employees' approved elections in one place, and exporting the data for your broker or benefit providers is a snap. Meanwhile, the Benefit Election Changes report helps you keep tabs on your insurance carriers and payroll providers to ensure they're up-to-date with any recent benefit changes.
Automated carrier connections to top benefits providers.
Carrier connections take the hassle and error out of open enrollment and ongoing employee benefits management. With seamless connections to a growing list of top benefits carriers, you can sync enrollment data to your carrier from within BambooHR, saving you hours of time and trouble manually updating information across multiple systems.
Got BambooHR Payroll? Goodbye, double entry.
Longing for an all-in-one experience that really delivers? When you combine Benefits Administration and Payroll together in BambooHR, entering deductions is a one-and-done deal—no more double entry or double checking. That's all-in-one the way it should be!
Manage all your benefit plans in one easy-to-use hub.
BambooHR makes benefits easy to see, easy to manage, and easy to communicate across your organization—and it supports all common plan types:
Medical, dental, and vision
Retirement and life insurance
HSAs and FSAs
Short- and long-term disability
Your broker is going to love BambooHR.
Your broker is an essential partner for finding the best plan options that fit your organization, and if their work gets easier, you'll benefit (see what we did there?). Whoever your broker and whatever your plans, Benefits Administration makes managing and collaborating on benefits convenient and efficient.
Integration
How it works.
No 3rd Party Integrations or File Imports Needed.
Employee elections are saved straight into your BambooHR employee records, and if you're also a Payroll customer, all benefit deductions sync automatically.
Publisher
BambooHR
Updated: 02/15/2023
Phone Support
(866) 387-9595
Email Support:
Support Hours:
6:00 AM - 6:00 PM MST
Monday - Friday