Checkr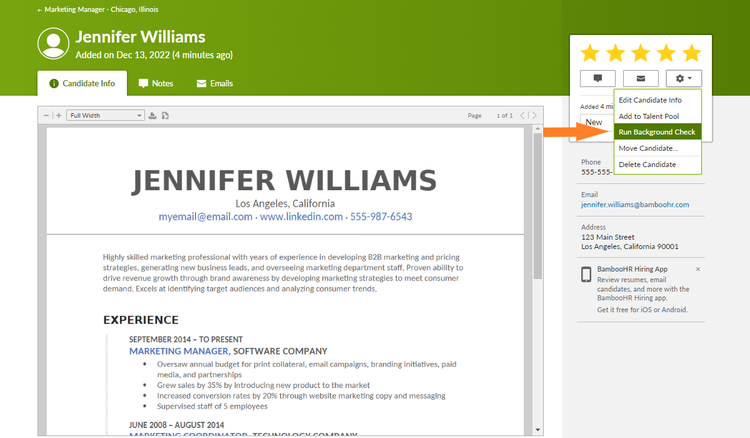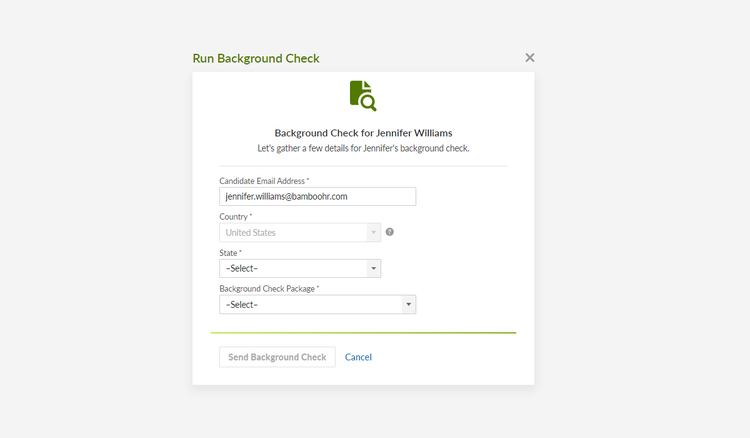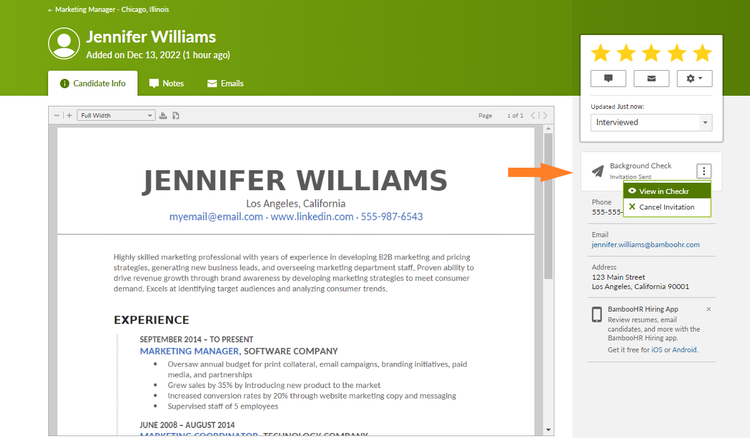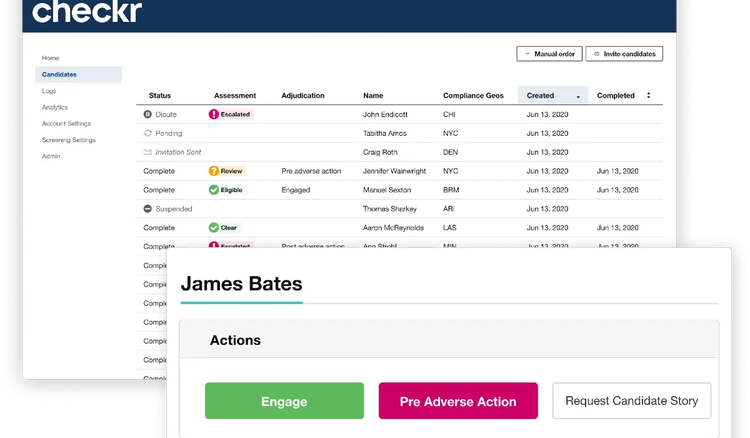 Discount Packaging
Your First Background Check, For Free!
Run your first background check for free by using promo code bamboohr50 during the Sign Up process.
Checkr offers an online, self-service background check product designed specifically with small businesses in mind with no setup fees. We know you have a lot on your plate, so our all-in-one platform ensures you're covering all your bases. And we'll give you your first background check for free*.
*Only valid for BambooHR customers that are new to Checkr
Overview
Tens of thousands of companies trust Checkr for their background screenings. The Checkr AI-powered background check platform is built to help you hire great people faster, while maintaining compliance, trust, and safety. Checkr integrates directly with BambooHR to make overseeing the screening process simple and reliable.
Checkr is the only background check company using artificial intelligence and machine learning to make hiring more inclusive and efficient. Learn how Checkr is setting a new standard for speed, accuracy, and safety.
Solutions Tailored to Your Needs
Checkr helps you hire at scale, improve compliance, and streamline operations. Checkr works with companies and hiring leadership roles of all kinds.
Increase operational efficiency
Improve candidate experience and conversion
Expand and optimize your candidate pool
Differentiate your brand to attract candidates and customers
More Efficient Screenings
AI can identify, classify, and filter data faster than legacy background checks, which allows you to screen faster, with fewer resources.
Background Check ETAs
Gain insight into the expected completion date of a report so you can set expectations with your candidates.
Workflow Automation
Expand your candidate pool, improve compliance, and cut time on adjudication by more than 90% with better filtering and evaluation tools.
Dynamic Compliance Tools
Lower your risk with our dynamic compliance tools, which generate relevant paperwork, manage legally reportable results, and optimize filtering.
Expedient Onboarding
Easily complete and manage Form I-9s with our digital I-9 employment eligibility verification. I-9 is currently available directly from your Checkr dashboard.
Integration
How it works.
Seamlessly initiate Checkr background checks directly from a candidate's profile in BambooHR. Simply select the desired background check package and then receive a notification and link to the report in Checkr when it's ready.
See Checkr and BambooHR together!
What data syncs?
BambooHR Field
Sync Direction
Checkr Field
Field Logic or Notes
Candidate ID
Candidate ID
This is the identifying field for the integration. The two systems Candidate #/ID must match
Applicant First Name
First Name
Applicant Last Name
Last Name
Applicant Email
Email Address
Background Check Statuses
Background Check Statuses
Publisher
Checkr
Updated: 01/07/2023
Phone Support:
n/a
Support Request:
Support Hours:
6:00 am -5:00 pm (PST)