Criteria Corp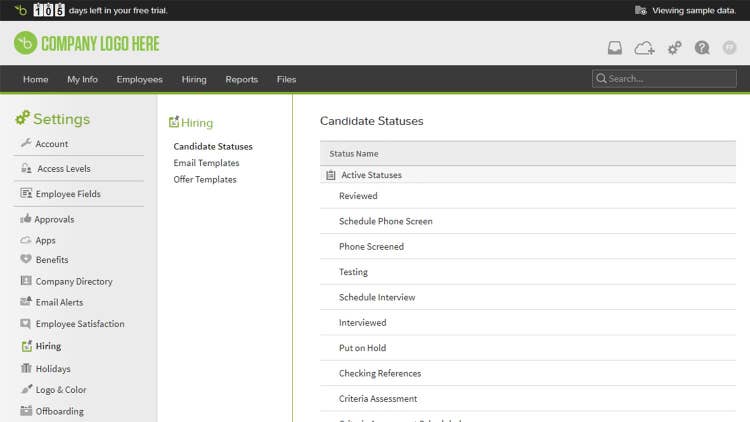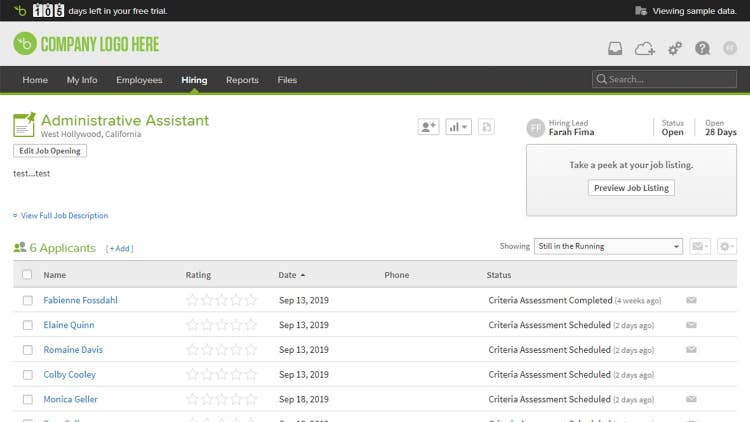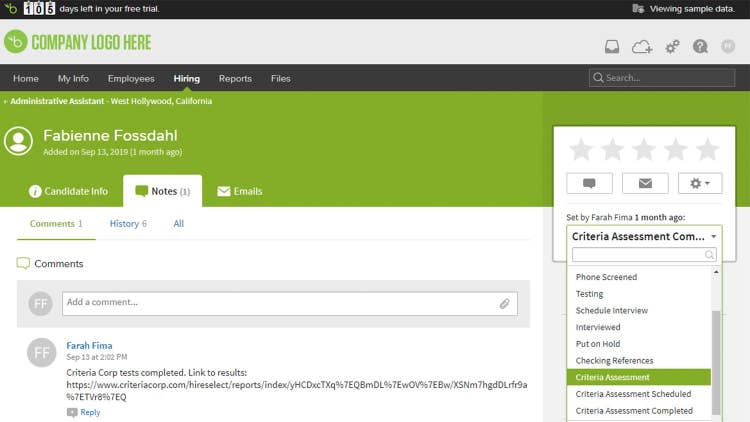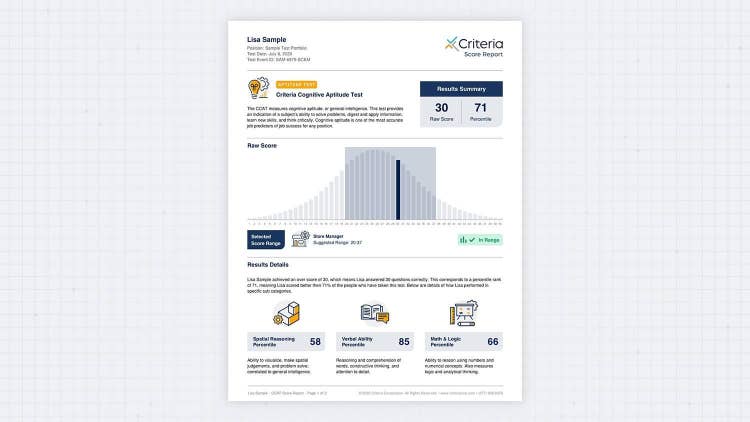 Overview
Criteria's assessment platform, HireSelect, is a pre-employment testing platform that includes:
A robust integration with BambooHR
Comprehensive testing with all your testing needs in one place, including aptitude, personality, emotional intelligence, and skills tests for over a thousand positions
A dedicated Customer Success Manager to help define your testing strategy and interpret results
Unlimited testing with flat-fee pricing, allowing for unlimited use of all the tests throughout your subscription
Some of the benefits you'll experience from leveraging evidence-based assessments in your hiring process:
Lower turnover from better job fit
Faster time to hire and time to contribution
Lower hiring and training costs
Comprehensive and simple test selection process
Greater hiring efficiency with automated test administration
Aptitude Tests
Criteria's cognitive aptitude assessments are by far the most predictive indicator of job success, providing a rapid and precise way to measure the abilities required to succeed in nearly every occupation. Use our aptitude tests to measure:
Problem-solving
Critical thinking
Attention to detail
Mechanical aptitude
The ability to learn, digest, and apply new information
Personality Tests
Personality tests are a valuable tool for gaining insights into the interaction style, personality traits, and behavioral tendencies of individuals. They are designed to assess the aspects of a person's personality that remain relatively stable throughout an individual's lifetime. Properly designed personality tests are therefore meant to pinpoint permanent personality "traits" (for example, an individual's level of extroversion) rather than temporary "states," (for example, an individual's current level of anger).
When given to prospective or current employees, personality tests are intended to assess job fit from a behavioral perspective. Does a candidate have behavioral traits that are statistically linked to success in this job? Is he/she likely to be happy or comfortable in this role? Research has also shown that personality tests can be especially useful in predicting job performance in those jobs that require frequent social interaction (with other employees, the public, or customers).
Emotional Intelligence Tests
Emotional intelligence is one of the most valued abilities in organizations today. Research has found strong correlations between EI and important organizational behaviors, including leadership, job performance, commitment, job attitudes, stress, well-being, and teamwork. As a result, organizations typically use emotional intelligence assessments for roles that involve heavy interaction with other people, including customer service, leadership, or roles that involve a lot of teamwork.
Skills Tests
Skills tests measure a candidate's acquired skills that they can bring to the job on day one. Criteria offers a selection of skills tests that measure basic competencies, from computer skills to job readiness.
Integration
How it works.
Contact your Criteria Corp CSM to enable the integration
Add the following statuses in the Hiring Settings section of BambooHR: Criteria Assessment, Criteria Assessment Scheduled, Criteria Assessment Completed
In HireSelect, go to the integrations settings section, enter your BambooHR subdomain and log into BambooHR when prompted
Now you're ready to start using the integration!
What data syncs?
BambooHR Field
Sync Direction
Criteria Corp Field
Notes
Applicant ID
Employee ID
This is the identifying field for the integration. The two systems Employee #/ID must match.
Applicant Status
Assessment Status
Three statuses must be setup in BambooHR: Criteria Assessment, Criteria Assessment Scheduled, & Criteria Assessment Completed
Comments
Assessment Summary Link
Publisher
Criteria Corp
Updated: 10/14/2019
Phone Support:
(877) 909-8378
Email Support:
Support Hours:
6am pst - 6pm pst