Deel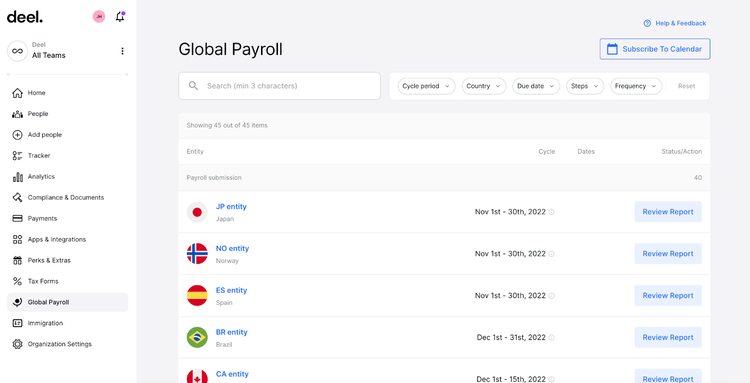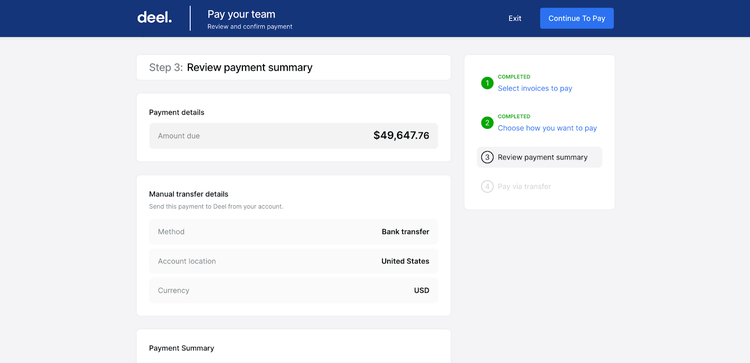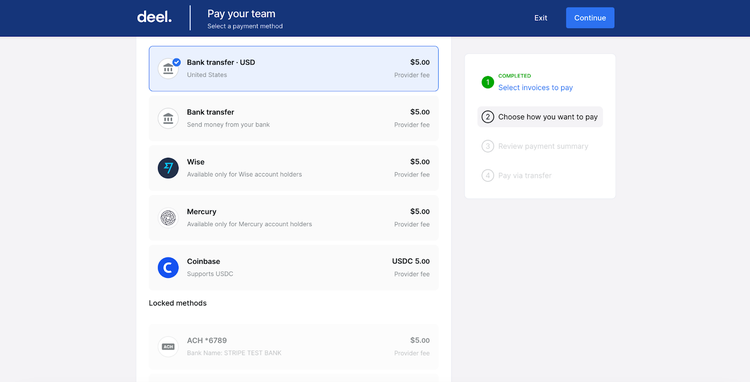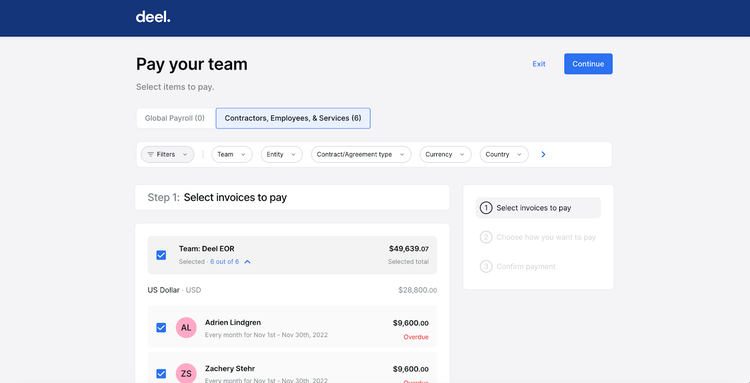 Discount Packaging
Preferred Pricing
BambooHR clients get preferred partner pricing, which includes 20% off contractors and 15% off employees for the first year. Preferred pricing is exclusive to new Deel customers. Click the "request more information" button or schedule a demo directly at letsdeel.com/partners/bamboo.
Overview
Deel
Deel is the market leading international payroll system. Deel makes onboarding employees and contractors in 150 countries painless. From payroll to compliance, you don't have to worry about local laws, complex tax systems, or global payroll. We handle it all.
Full Global Compliance
Use templates from Deel's global network of legal partners to ensure your contractor agreement is fully compliant with local labor and tax laws. Each contract gets vetted quarterly.
Compliance Document Collection
Automatically collect the required forms and information to verify contractors in each country to ensure they're compliant.
One-Click Payments
Quickly pay your entire team of contractors with a single ACH using your bank account, giving them the flexibility to withdraw in over 120+ currencies.
120+ Currencies Supported
Contractors have access to 7 different payment options ranging from local payment networks (to avoid wire transfer fees) to cryptocurrency. Also, Deel Card allows workers to avoid foreign transaction fees altogether by loading funds directly onto a Visa card.
Automated Invoicing
Streamline your invoicing process. You'll save time and gain visibility into your contractor payments.
GDPR Compliant and Secure Data
Deel's firmly committed to providing clients and users with the highest security and privacy assurances. We remain dedicated to being GDPR compliant, along with all relevant privacy laws.
Integration
How it works.
Deel makes it easy to auto-push contract profile and job information from Deel to BambooHR. It allows you to streamline your hiring and ongoing HR processes by:
Creating BambooHR profiles and pre-populating them with information from Deel, and
Updating job information relevant to signed or amended contracts on an initial and ongoing basis
All of this will minimize time spent on monotonous data entry.
What data syncs?
BambooHR Field
Sync Direction
Deel Field
Field Logic or Notes
Name and Surname
Name and Surname
Mandatory
Status
Status
Mandatory. New Profiles Will Be Created In Active State
Work Email
Email
Mandatory
Personal Email
Email
Mandatory
Date of Birth
Date of Birth
Optional
Work Phone
Phone Number
Optional
Address - Street 1
Address
Optional
Province/State
State/Province
Optional. If Address is in Australia, Canada, or USA than province or state mapped
Postal Code
Zip/Postal Code
Optional
Tax File Number
Tax ID
Optional
NIN
National ID/ Passport
Optional
SIN
Social Security Number
Optional. Just available for those contractors that are marked as US Tax Residents in Deel
Hire Date
Effective Date of First Contract
Optional
Effective Date
Contractor's Start Date
Mandatory
Employment Status
Contract Type
Mandatory. Irrespective of specific Deel Contract, this maps to the Contractor
Comment
Deel Contract Type, Contract Name, Contract Link
Mandatory. The specific Deel contract type, Contract Name and Contract Link will map over to this field.
Effective Date
Contract Start Date or Contract Amendment Date
Mandatory
Pay Rate - Amount
Rate
Mandatory. For task-based or milestone contracts, we don't map over the rates.
Per
Per
For fixed rate contracts: Monthly → Monthly Twice month → Pay period Weekly → Week Every other week → Pay period For PAYG Hourly → Hourly Daily —> Day Task → Piece For milestone: * We don't map over compensation
Pay Type
Contract Type
Mandatory. For contractors, this is always mapped to Contract option
Comment
Deel contract type Contract rate period Invoice cycle details Invoice due date setting
Mandatory. Integration will automatically input details about the Deel contract type, pay type, pay schedule, invoice cycles and invoice due date settings.
Documents
Employee or contractor documents
Any employee or contractor-facing document uploaded or generated on Deel (excluding invoices) such as contracts, payslips, compliance documents and more!
Publisher
Deel
Updated: 02/11/2022
Phone Support:
N/A
Email Support:
Support Hours:
9AM - 9 pm ET