Engagedly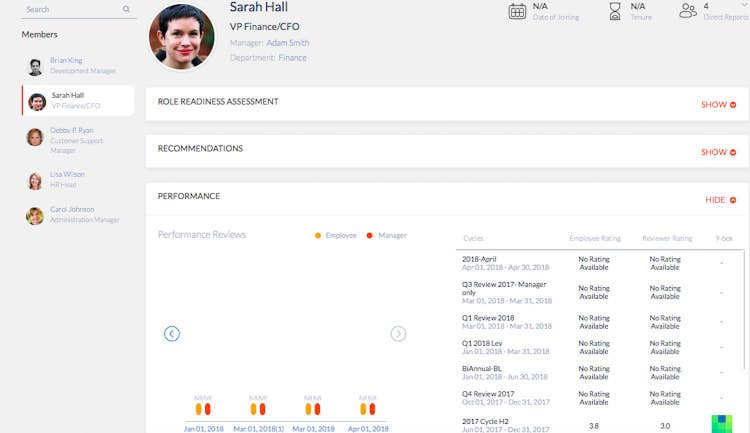 Overview
Visionary organizations with 100 to 10,000 employees use our research driven talent management platform for Performance Management, 360 peer reviews, Real time feedback, social praise, Goal management and cascading. Developmental and feedback based approach also includes modules for collaboration, LMS, survey, and rewards. Based on best practices, our engaging approach to performance management is proven to improve employee engagement.
Goals/OKRs
The Engagedly Goals module makes goal-setting very simple. You can set goals at the beginning of the year and continue to tweak them throughout the year, according to the progress made. Goals can even be shared with direct reports or team members and customized to suit your needs. In addition to feedback, goals too can be viewed during a performance review cycle. Our aim is to make it easier for you to give constructive reviews.
Flexible 360 Performance Reviews
No more one-size fits all. Customize review templates according to the people who are being reviewed. The right questions make it easier to get the right answers. Managers too have the ability to create performance templates for their teams. Make your employees happier by ensuring they participate in an intuitive review process that allows them to play an active part in evaluating their own performance, help in setting goals and requesting feedback.
Engagedly's world class 360 module enables organizations to execute on the promise of employee development and feedback with settings for anonymity and visibility for employees, managers and HR
Ongoing Check-ins
Frequent conversations between Managers and employees is the best determinant of successful outcomes. Engagedly's check in module helps managers and team leads to automate check ins with predefined templates and customize cadence of these check ins to make it a habit.
Recognition, Rewards, and Gamification
Engagedly makes it very easy to recognize good employees. Praise a deserving employee at the click of a button and share your appreciation with everyone in the organization.
With our gamification (points and badges) engine, organizations can incentivize performance correlated behaviors. Optionally with the add on Rewards module, these points can be redeemed for gift cards.
Integration
How it works.
The BambooHR and Engagedly integration is extremely easy to install and use. Upon configuration, your BambooHR employees, along with their job details, will sync into Engagedly. New employee additions, terminations, and updates will sync every 5 minutes and reflect in your Engagedly account.
What data syncs?
BambooHR Field
Sync Direction
Engagedly Field
Employee Number
Employee ID
Supervisor EID
Manager ID
Publisher
Engagedly
Updated: 09/14/2018
Phone Support:
(650) 485-1642
Email Support:
Support Hours:
24/7