Finch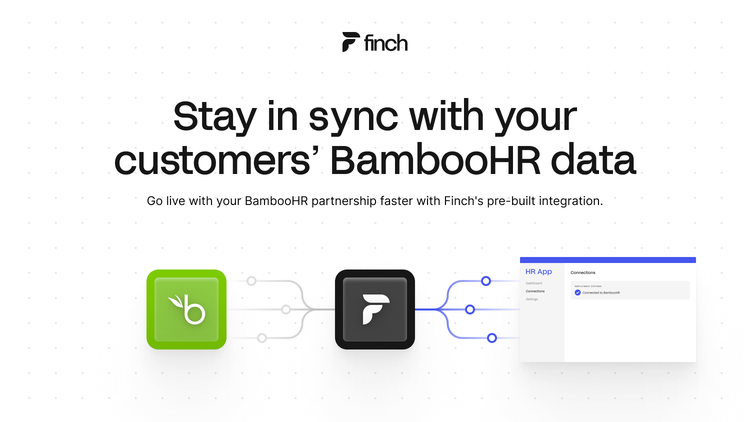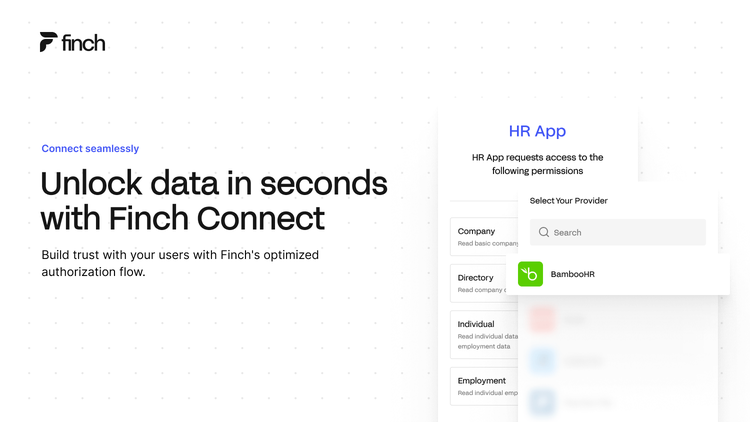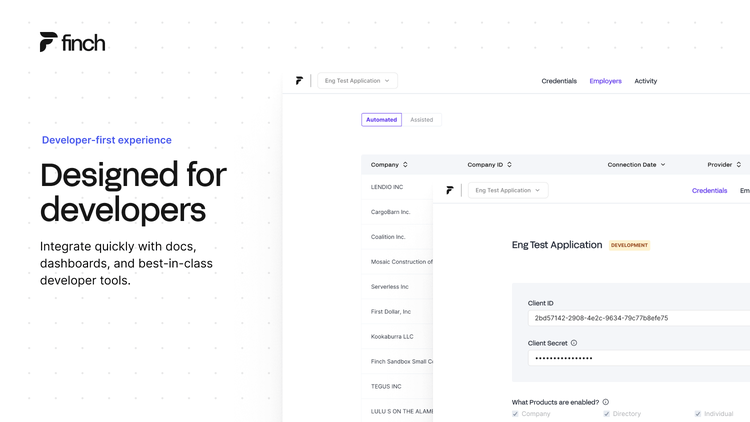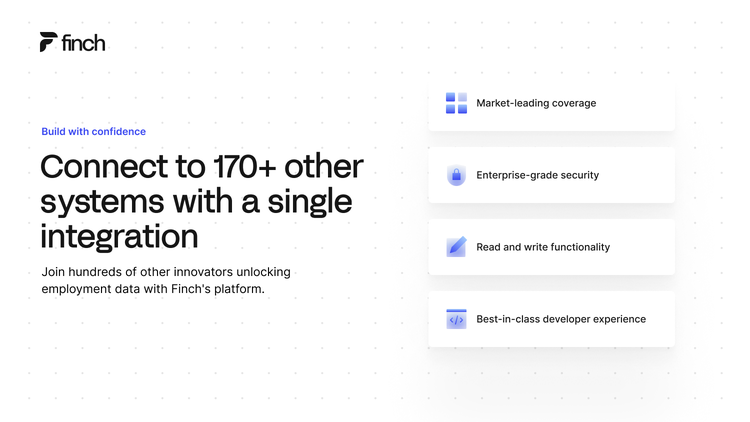 Overview
Finch
Finch offers a unified API for trusted developers to securely access employment data on behalf of employers from leading payroll providers and HR information systems, such as BambooHR.
Market Leading Coverage
Instantly support 170+ employment systems with one integration.
Comprehensive Data Compatibility
Access standardized employment data, down to the individual pay-statement level.
World-Class Developer Experience
Gain access to white-glove support, sandbox environments, and live performance analytics.
Integration
How it works.
Sign up for Finch's universal API for employment data in order to streamline your BambooHR integration experience.
Embed Finch Connect into your application. The optimized authorization flow allows your customers to securely and compliantly share their BambooHR data directly within your product.
Integrate with Finch's standardized employment data endpoints. Build once and unlock compatibility with all supported HRIS and payroll systems. If you're a BambooHR Marketplace partner, Finch offers support for the partner authorization flow, allowing you to go live and scale with your partnership in hours, not months.
That's it! Finch takes care of the API responses, error handling, and API maintenance so you can offer your customers a seamless data syncing experience. In addition, our technical support and developer success teams are available to help you deliver the best possible data syncing experience for your customers.
What data syncs?
BambooHR Field
Sync Direction
Partner Field
Address 1
residence.line1
Address 2
residence.line2
Country
residence.country
department
department.name
employmentHistoryStatus
employment.subtype
homeEmail
email_data, email_type
homePhone
phone_numbers.type
mobilePhone
phone.data, phone.type
preferredName
preferred_name
workEmail
email.data, email.type
workphone
phone_number.type
zipcode
residence.postal.code
Publisher
Finch
Updated: 08/01/2022
Email Support:
Support Hours:
9am - 6pm Pacific time