Gifted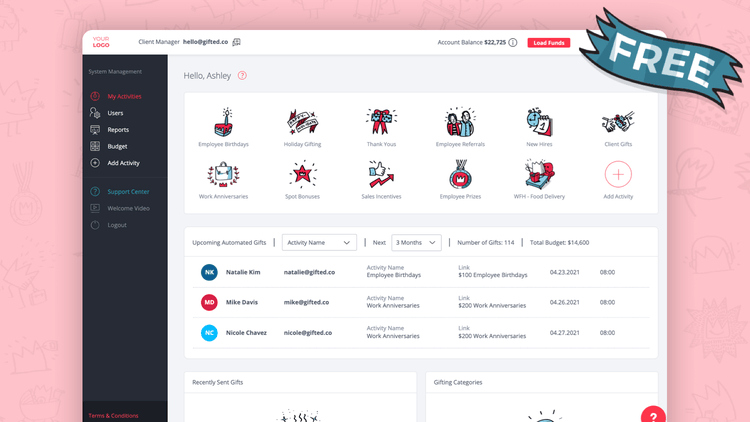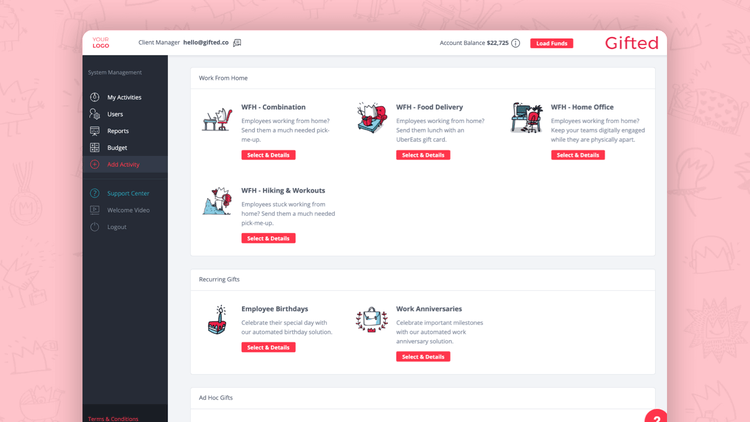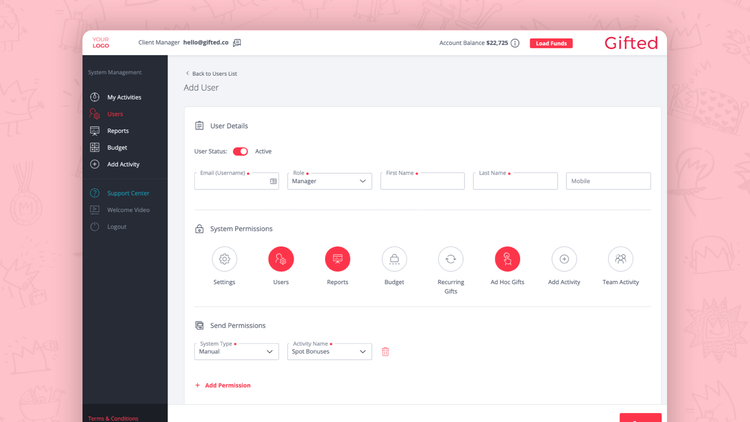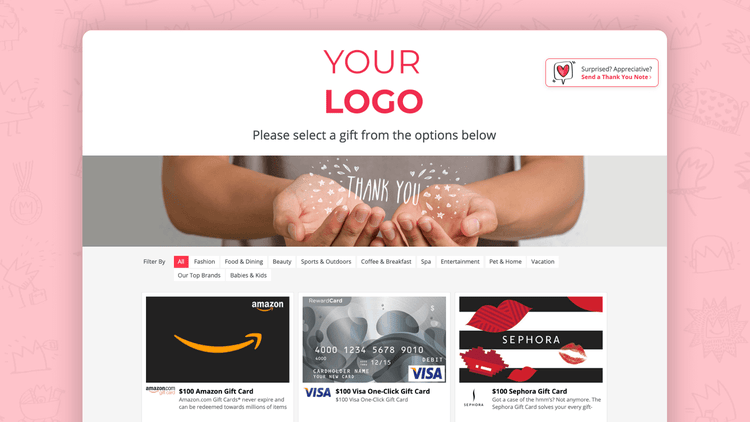 Overview
Save time and energy with Gifted's fully customizable and personalized employee, client, and business partner gifting solution. Send gifts they'll be sure to love (they get to choose them!) with the click of a few buttons.
Your company's recognition and rewarding for recurring special occasions (anniversaries and birthdays), as well as ad hoc events (spot bonuses, sales incentives, thank yous, referrals, client loyalty, etc) just got simplified. Gifted's easy-to-use, fully BambooHR integrated, and completely free dashboard enables you and your finance department to track all of your company's gifting in one place. And with a vast and ever-growing selection of gift card options from leading, nationwide and international brands, there is something for everyone.
Join now, it's FREE.
Fully Integrated with BambooHR:The heavy lifting's been done for you
Your BambooHR employee list syncs with Gifted, meaning that you can locate and send gifts to your valued teammates within seconds!
Pricing: It's completely free
Our platform costs zero, zilch, nada. You'll only pay the face value of the gift cards you send.
Personalization: Make it memorable
Long gone are the days of generic gifting or overthinking what your recipients' need or want, only to get it wrong. Welcome to gifting done right. Let them choose the gifts they want from leading brands, customize your design and add your company's logo, create a personal greeting message, set the date and time you want the gift sent, and sit back knowing you just made their day.
Automation: Save time
Sick of chasing down expense reports or receipts? Do those birthday calendar reminders always seem to pop up when you're in a meeting or stuck in traffic? We developed Gifted as much for you as for your finance team so that all of your company's gifting can be managed in one place. Whether you need to send recurring gifts (without having to remember) or ad hoc rewards, pick-me-ups, and thank yous, we've automated and thought of everything, so that you don't have to. Gifted is straightforward, easy, and most importantly, time-saving.
A Gift For Everyone: More than just employee gifting
Company culture extends beyond your employee and peer-to-peer gifting. We know how important not only your talent is to you, but the relationships you've cultivated with your clients and business partners. Gifted allows you to quickly and easily edit templates and change messaging and reward amounts according to your recipient.
A Gift For Every Occasion: Set it and forget it
Need to send out gifts for a future date and time? No problem! Need those gifts to be sent out weekly, monthly, or annually without you having to remember to resend them? We've got you covered there as well.
Designed For HR: We've thought of you AND your finance department
You can do everything from setting user and budget permissions so that your managers and their teammates can send gifts, to sending your finance department a detailed gift breakdown for expense purposes. Don't want to deal with balance top-ups? You'll receive low-budget alerts and your desired method of payment will be charged the amount you pre-determined. Interested in tracking when gifts are opened, which gifts are selected, and having the ability to resend misplaced gifts with the click of a button? Our detailed reporting feature lets you do that as well, and so much more.
Demo Video
Integration
How it works.
The API integration syncs basic employee information for the purpose of automating gifting programs such as birthdays and work anniversaries. A nightly sync adds and removes team members from the Gifted platform based on the updated list of employees from BambooHR.
What data syncs?
BambooHR Field
Sync Direction
Gifted Field
Date of Birth
Birth Month / Birth Day
Profile Photo
Profile Photo
Publisher
Gifted
Updated: 11/22/2019
Phone Support:
+1-646-568-7686
Email Support:
Support Hours:
9:00 AM - 5:00 PM PST
Monday - Friday