Gifted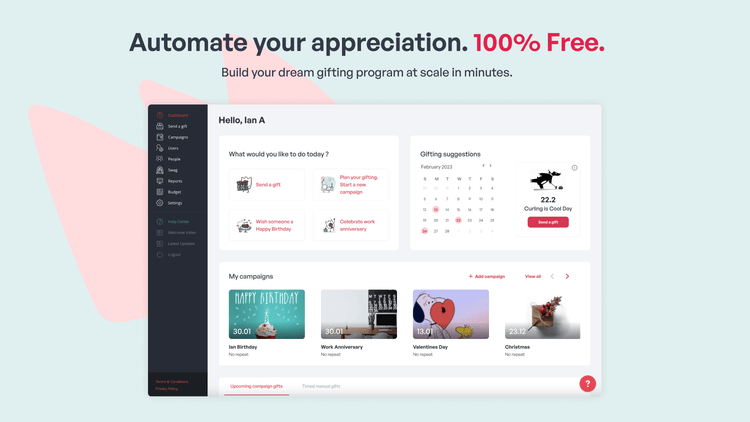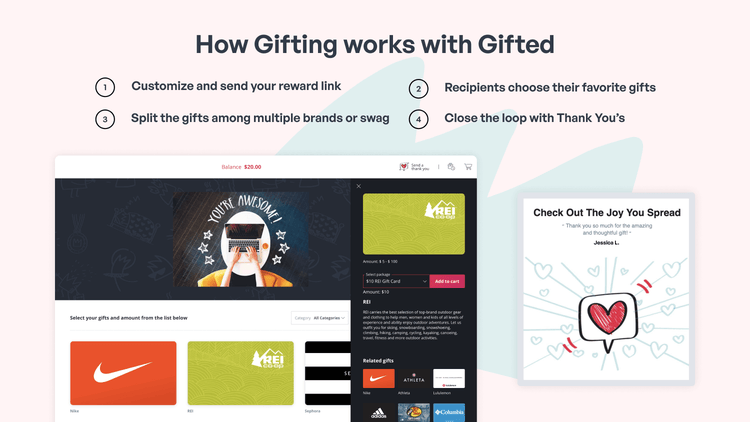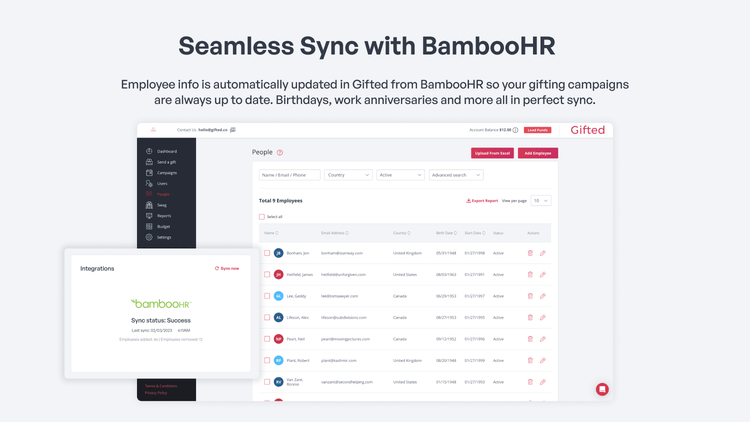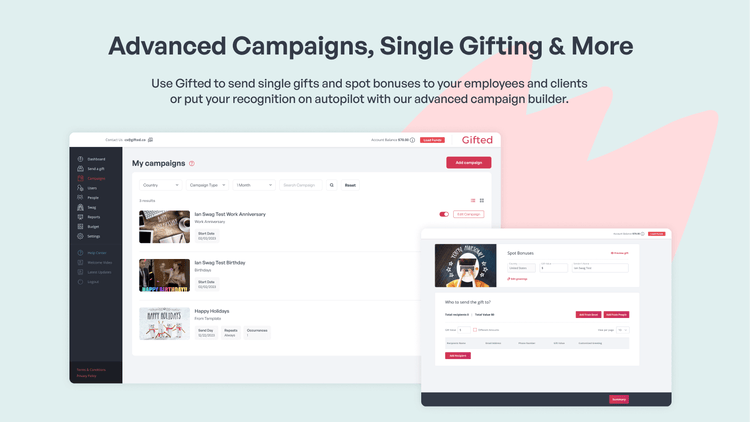 Overview
Build your dream gifting program at scale in minutes… for free.
With unlimited users, gifts, automations and integrations, Gifted gives you the tools to show your appreciation to all your employees, clients, and business partners in a single, intuitive platform.
Our fully customizable gifting solution enables you to send personalized, thoughtful gifts that your recipients will love (because they get to choose them themselves). Gifted simplifies and automates the process of recognizing and rewarding your team for special occasions, important events and more. It is intuitive to use, fully integrated with BambooHR, and 100% free to use.
Available in 85+ countries with thousands of gift card options from top brands, there's something for everyone.
Join now, it's FREE.
Our platform costs zero, zilch, nada. You'll only pay the face value of the gift cards you send.
It may sound too good to be true, but it's not and our model is super simple: Every time a you send a gift on our platform, that brand pays us a small percentage of the cost of the gift. This way, we keep our platform completely free to use, while adding new features that make gifting easier and more powerful.
It's a win-win and one of the truly "no-risk" decisions you'll make for a long time.
Fully Integrated with BambooHR: The heavy lifting's been done for you
Gifted brings everything together with it's native BambooHR integration, syncing your people, birthdays, work anniversaries and more so that your gifting campaigns are always update to date.
Budgets, gifts, people, all in perfect sync.
Campaigns: Your new gifting superpower
A cup of coffee at the end of the first day for every new hire... A personalized birthday gift that is never late... A perfect, personal gesture for the work anniversary of every colleague... All handled automatically... How?
Well, that's the magic of Gifted Campaigns. With Campaigns, you can build and automate a multi-year gifting program in just a few clicks. You customize it and it syncs all your people, occasions, budgets, brands and more to put your recognition on autopilot... with you in the cockpit.
Built For HR: We've thought of you AND your finance department
With advanced reports and permissions, you can manage everything – from user and budget permissions that control how managers and teammates can send gifts, to detailed gift breakdowns that your finance department will love.
Don't want to deal with balance top-ups? Receive low-budget alerts and the option to have your desired method of payment charged an amount that you've pre-determined.
Interested in tracking when gifts are opened, which gifts are selected, and having the ability to resend misplaced gifts with the click of a button? Our detailed reporting feature lets you do all this and so much more.
Integration
How it works.
The API integration syncs basic employee information for the purpose of automating gifting programs such as birthdays and work anniversaries. A nightly sync adds and removes team members from the Gifted platform based on the updated list of employees from BambooHR.
What data syncs?
BambooHR Field
Sync Direction
Gifted Field
Date of Birth
Birth Month / Birth Day
Profile Photo
Profile Photo
Publisher
Gifted
Updated: 06/08/2023
Phone Support:
+1-646-568-7686
Email Support:
Support Hours:
9:00 AM - 5:00 PM PST
Monday - Friday