Hireflix One-Way Video Interviewing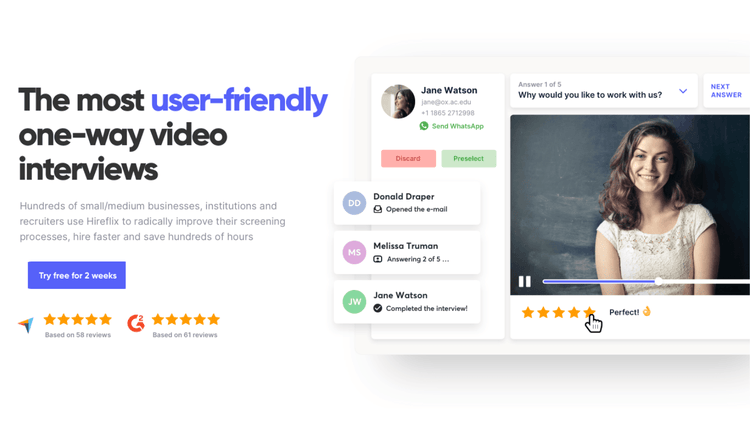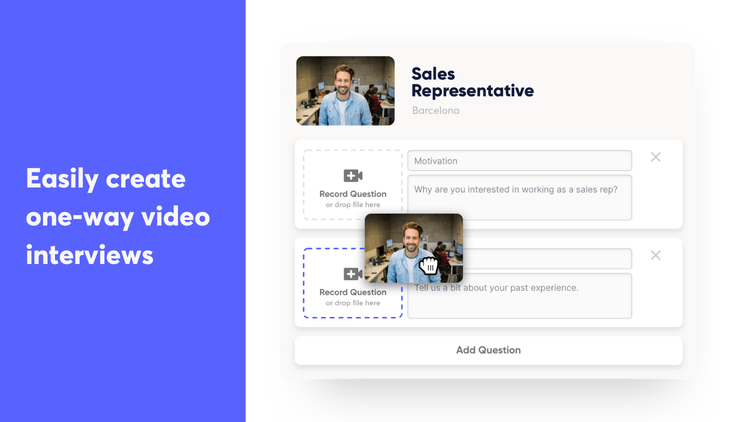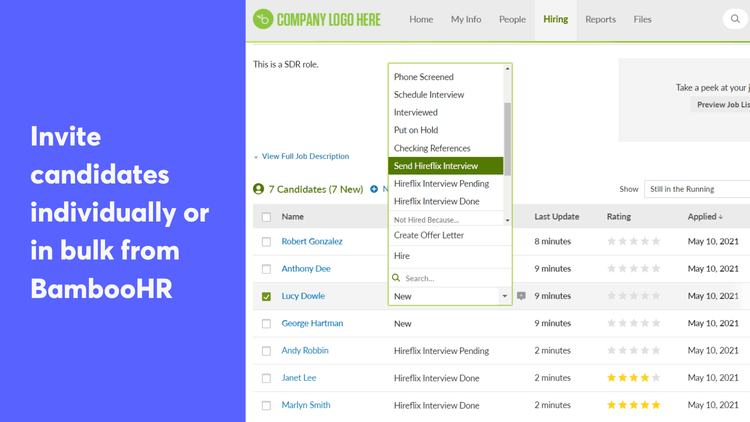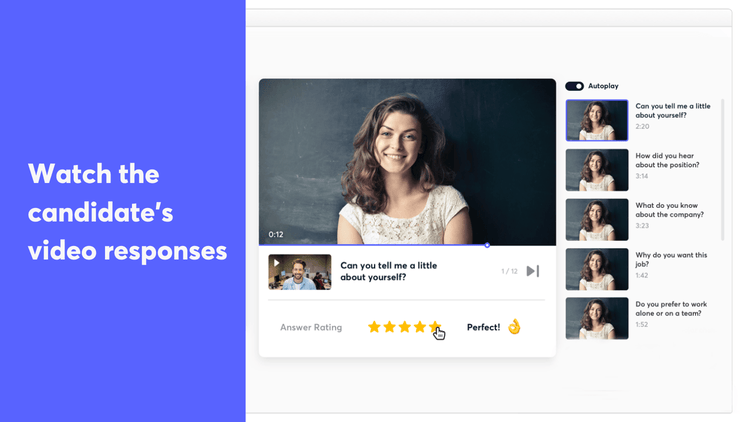 Discount Packaging
BambooHR customers who mention this discount can now enjoy 2 months free! This offer is available to new Hireflix customers only!
Overview
Hireflix enables one-way video interviewing in BambooHR so that you can save hundreds of hours,standardize your pre-screening and make better hiring decisions, all with the most user-friendly and simple user interface both for your company and your candidates. Hireflix plans are also the most affordable in the market and they will support you during a free trial so that you can fully test their system.
One-way video interview builder
Ask questions with text or video. Hireflix also allows you to add a video introduction and farewell to your interviews to create an even better candidate experience.
Configure and brand your video interview
Set the time to think, maximum answer time, and add your logo and brand colors to the interview so that it conveys your brand.
Invite candidates to a one-way interview from within BambooHR
Invite candidates individually or in bulk by changing their candidate status in BambooHR to "Send Hireflix Interview". You can set automatic Email / SMS / Whatsapp notifications to choose how candidates will be invited to the interview.
Automatically remind candidates of their interview
Set automatic reminders so that candidates get notified if they don't complete the interview in a specific time frame.
Review responses in BambooHR
Once a candidate completes the interview, a link to their interview will appear on the BambooHR notes section. Your team and hiring managers can watch the interview on that link.
Hireflix + BambooHR Integration Video Demo
Integration
How it works.
This integration will allow you to link your BambooHR account with your Hireflix account so that you can invite candidates to one-way video interviews from within BambooHR itself. The integration has been set up so that you can invite candidates in bulk. Once a candidate replies to a video interview their status will automatically change and the links to view the responses will come into your BambooHR account.
What data syncs?
BambooHR FIeld
Sync Direction
Hireflix Field
Field Logic or Notes
Job ID
position_id
Used to match BambooHR to Hireflix positions in order to sync applicants and trigger video interviews.
Application ID
interview_id
Used to match BambooHR applications to Hireflix interviews.
Applicant Status
candidate_status
Used to trigger Hireflix Video interviews and to change the status of the video interview back to BambooHR.
Applicant First Name
canddiate_first_name
Used to customize Hireflix interview notifications with the applicant's name.
Applicant Last Name
applicant_last_name
Used to customize Hireflix interview notifications with the applicant's name.
Applicant Email
candidate_email
Used to send Hireflix interview invitations to the applicant's email.
Publisher
Hireflix
Updated: 03/05/2021
Phone Support:
202-813-1933
Email Support:
Support Hours:
9 am to 5pm - EST