Hive HR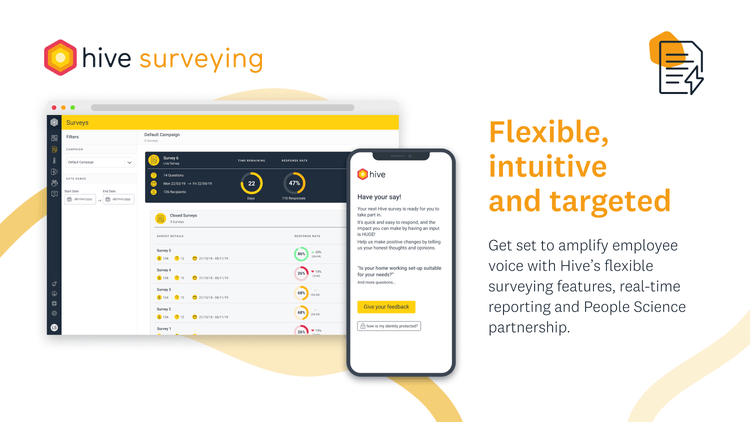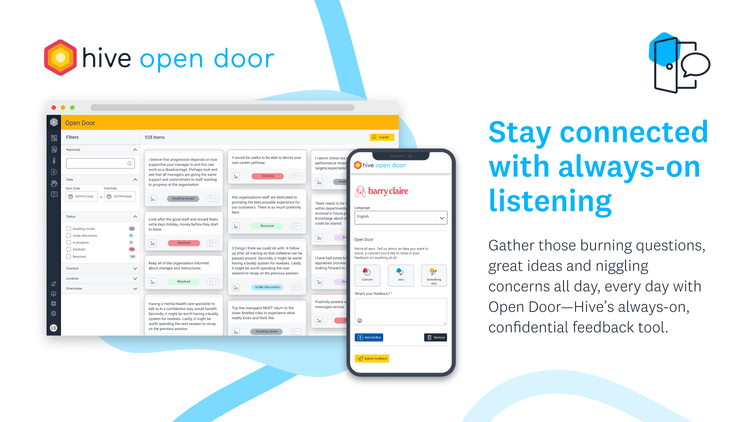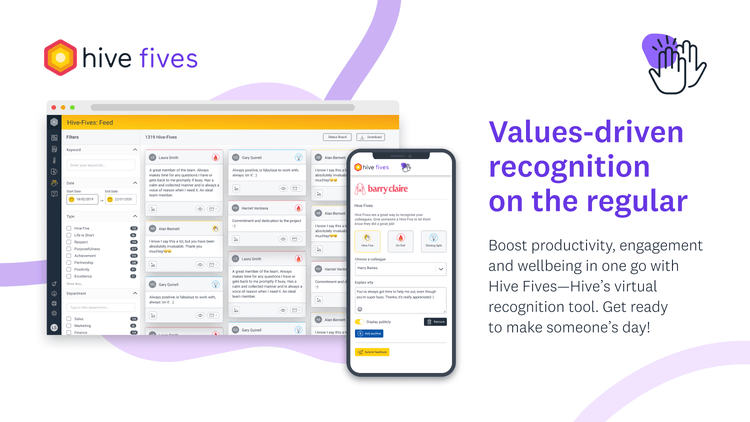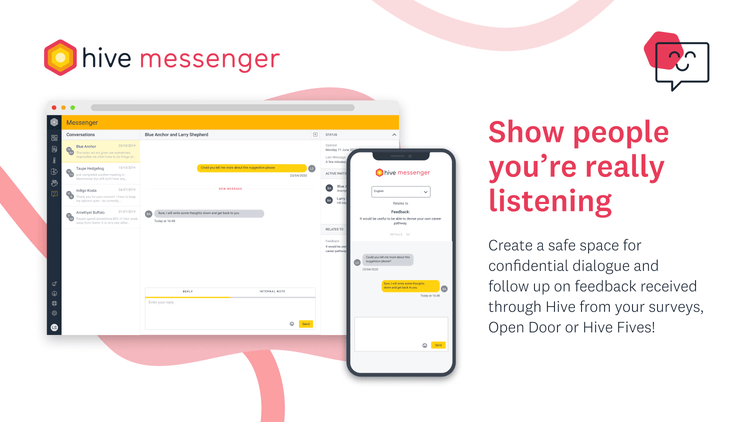 Discount Packaging
10% off your first year of using Hive!
Overview
Hive is an employee feedback platform and strategic HR partnership. We give our customers the tech, the insight, and the coaching to manage change and amplify employee voice.
Our accessible, cloud-based platform has four flagship features: Hive Surveying with flexible question sets, Hive Open Door for always-on listening, Hive Messenger to engage in two-way conversations, and Hive Fives to cultivate coworker recognition.
But it takes the perfect blend of technology and people to drive change, so our People Scientists are on hand to help HR teams and managers harness employee feedback and uncover the real story behind the data.
With Hive, over 150 organizations (including Travelodge, Sheffield Hallam University, The Very Group, Dorset Council, and Tarmac) are making people-first decisions about the future of their workplace to build more engaged, productive teams.
Flexible and targeted feedback with Hive Surveying
Hive's confidential surveying features give you the freedom to ask what you want, when you want—empowering your team to ask the right questions at the right times. Baseline, pulse or themed? We've got you covered!
Ask meaningful questions and get relevant feedback, with complete freedom over survey crafting with a choice of 130+ in Hive's question bank designed by our People Scientists.
Our People Scientists are on hand to help you design a feedback strategy unique to your organisation and needs, craft bespoke question sets, tell powerful stories with your data and take purposeful action off the back of feedback.
Not forgetting our intuitive reporting dashboard to help you dive into results yourself, with sentiment analysis, heatmaps and quick reports to engage your stakeholders.
Always on listening with Hive Open Door
Hive Open Door is a confidential way to get feedback, concerns and ideas from your workforce—staying connected to the people to matter most. It allows you to keep your finger on the pulse, understand how people are feeling and figure out what might help things run more smoothly.
Your people have a great understanding of how to improve your organisation, so show you're always open to burning questions, brilliant ideas and niggling concerns outside of your usual employee surveys—driving positive change from the ground up!
As well as capturing general feedback, Open Door can be customised and categorised to drive feedback on topics that matter to your organisation and you can follow up for more details via Hive Messenger.
Recognition on the regular with Hive Fives
Our peer-to-peer recognition tool, Hive Fives, is one of the easiest ways to boost employee engagement. It gives people the ability to recognise their colleagues for a job well done, at any time, for any reason.
A virtual pat on the pack through Hive Fives empowers productivity by boosting team confidence, enthusiasm and wellbeing—inspiring great performance at work. Plus, it's our only non-confidential feature; making names visible means every achievement can be recognised and celebrated across your wider organisation.
From customiseable categories for values-driving recognition to rewards programs based on Hive Fives, the benefits are endless. Get ready to nurture a culture of recognition!
Dive deeper into feedback with Hive Messenger
Hive Messenger lets you continue the conversation by responding to their feedback, showing people that their voice is heard. With instant, two-way communication, you can develop a better understanding of feedback and really get to the crux of the issue.
Employees' identities remain completely protected to create a safe space for confidential dialogue and encourage honest conversation. While employees' remain confidential, they will know who they're talking to—whether that's HR, managers or leaders—so you can escalate conversations to the right people in your organisation and close the feedback loop.
You can use Hive Messenger to follow up on survey responses, Open Door submissions and Hive Fives! By responding to all types of feedback gathered in Hive, you can involve people in driving the change they want to see.
Integration
How It Works:
The Bamboo/ Hive integration pushes Bamboo employee data into Hive, via Tray.io. The integration is oneway via webhooks and API. The initial data sync will be API based and is initiated manually by Hive's support team. Subsequent data syncs will be triggered by an event in Bamboo (eg. new joiner, field change, termination)
BambooHR Field
Sync Direction
Partner Field
Field Logic or Notes
Is this turned on by default or is it configurable?
Employee #
to and from
id
This is the identifying field for the integration. The two systems Employee #/ID must match.
Default
First Name
to and from
First Name
Default
Last Name
to and from
Last Name
Default
Publisher
Hive HR
Updated: 09/23/2021
Phone Support:
N/A
Email Support:
Support Hours:
9am-5pm UK Time