JazzHR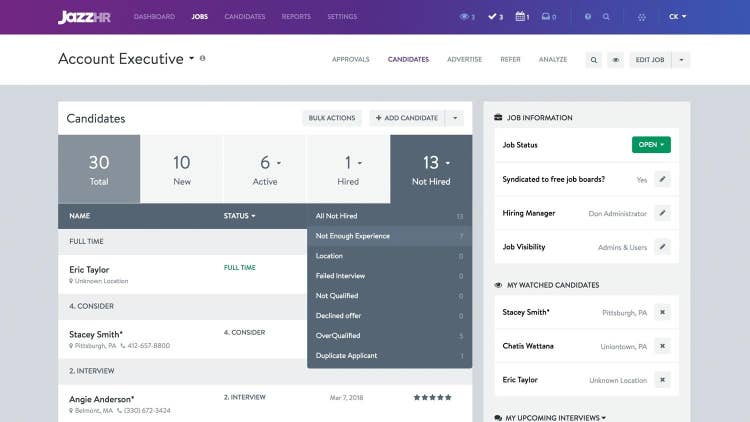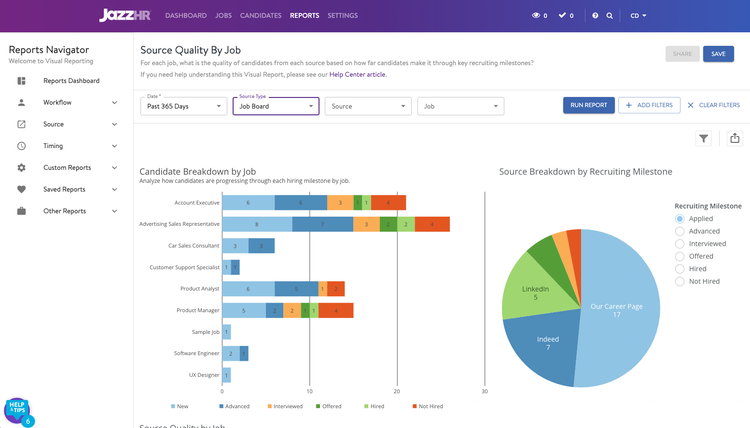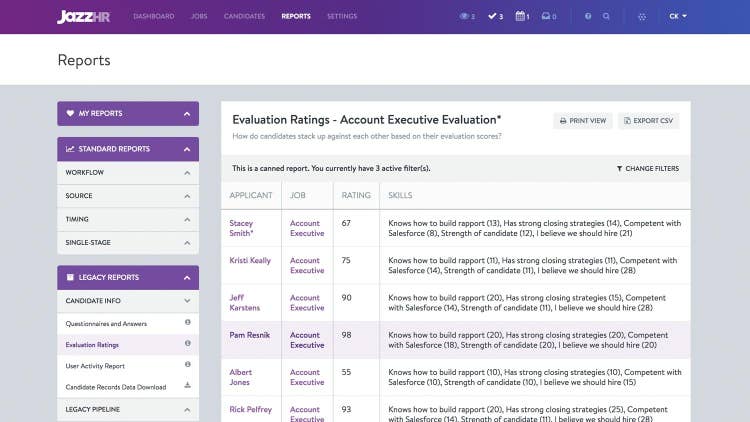 Discount Packaging
Get your 13th month free when you sign up for an annual JazzHR Plus or Pro plan!
Overview
JazzHR is simply the easiest and most efficient way for growing businesses to hire. It instantly replaces any cluttered HR email inbox with powerful, yet simple online tools for promoting jobs, reviewing resumes, and streamlining the hiring process
Interviews and Assessments
Interview scheduling is made fast and simple with automatic syncing to your Google or Outlook Calendar. Now you can view your entire hiring team's availability at a glance and seamlessly schedule interviews to keep your hiring process on pace. As candidates move through interview stages, your hiring team can utilize digital interview guides and collaborative tools to organize, rate, and accelerate the interview decision making process.
Key Features:
Candidate Self-Scheduling
Background Checks
Recruiting Calendar
Gmail & Outlook Calendar Sync
Interview Guides
Candidate Evaluation Templates
Skills & Coding Test Integrations
Video Interview Integrations
Applicant Tracking System
Managing candidates through recruitment stages is simple with JazzHR's powerful applicant tracking system. A profile is created for each candidate that applies and is updated every time there is activity, such as a phone screen, interview, or reference check. Your hiring team can instantly see all tasks that have been performed in relation to each candidate and use powerful workflows to automate all aspects of the hiring process.
Key Features:
Knockout Questions
Candidate Texting
Workflow Reporting
Job-specific Recruiting Teams
Custom Job Workflow Stages
Email Message Templates
Email Sync
Roles & Privileges Management
LinkedIn Recruiter Integration
Bulk Action Candidates
Contacts Manager
Job Approval
Auto-send Emails
Job Postings and Syndication
JazzHR provides intelligent and modern tools sourcing to help you find candidates and fill your jobs, fast. Not only can you write an engaging job ad and post it to the most popular job and social media sites with a single click, but you can also build effective employee referral programs and leverage passive sourcing tools like the JazzHR Candidate Importer chrome extension.
Key Features:
Candidate Importer Chrome Extension
Mobile Friendly Job Board
Customizable Job Applications
Post Jobs to Free Job Boards
Purchase Premium Job Listings
New Candidate Email Alerts
Mobile Resume Screener
Resume Uploader & Parser
Searchable Resume Database
Employee Referral Management
Import Candidates to HRIS
Offers and eSignatures
After hiring decisions have been made, digitize the onboarding process to help reduce time-consuming bottlenecks and get your employees into positions with ease. Offer letter templates can be created, revised, and sent digitally in seconds to eliminate paperwork and tedious hiring tasks. Best of all, once a new employee has been hired, all of the information you've gathered during the recruitment process can be easily synced with one of our many HRIS integrations.
Key Features:
eSignatures Integration
Document Storage & Organization
eTemplate Management
Enhanced Security Privileges
Tokened Offer Templates
Offer Letter Generator
Offer Drafts & Version History
Automated eSignatures
Integration
How it works.
JazzHR integrates with BambooHR through our API allowing information to be transferred into BambooHR with the click of a button.
What data syncs?
BambooHR Field
Sync Direction
Jazz Field
Publisher
JazzHR
Updated: 02/01/2023
Phone Support:
(888)-885-5299
Email Support:
Support Hours:
9:00AM - 6:00PM ET
Monday - Friday