Kazoo Recognition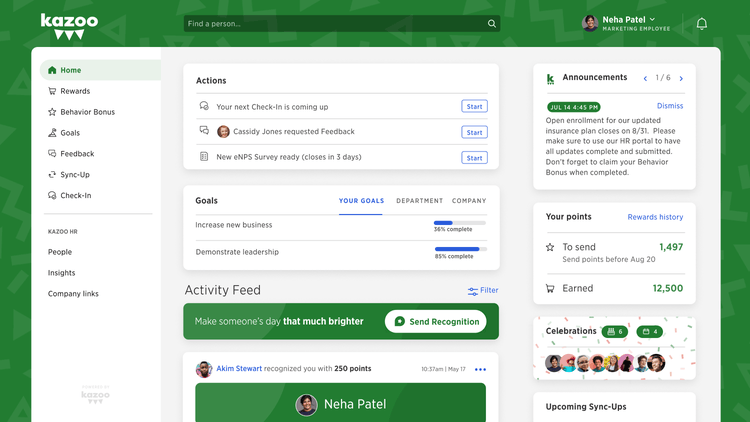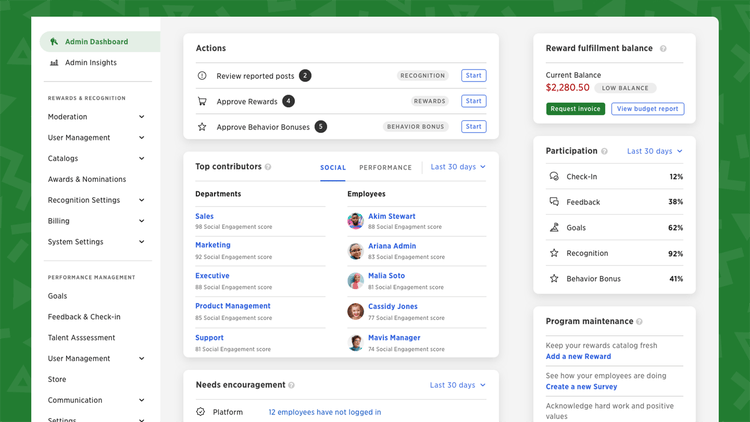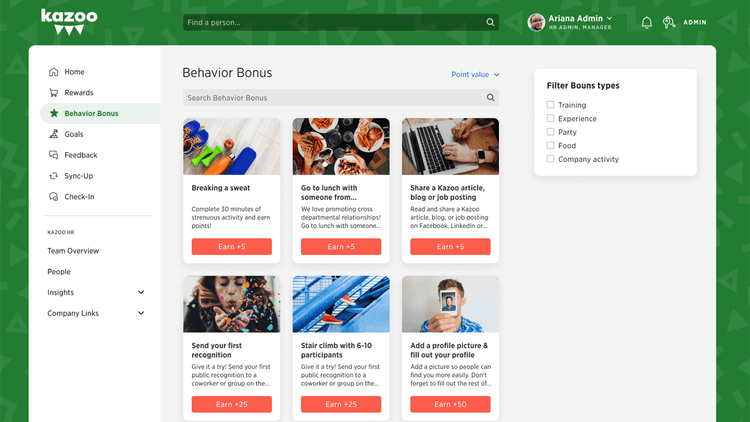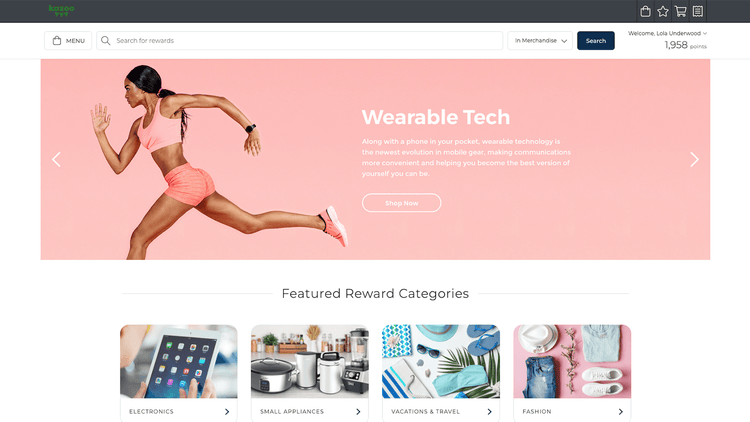 Discount Packaging
50% off of Implementation!
Overview
Kazoo delivers a more engaged workforce with everything you need to improve the employee experience in a single, powerful platform. Kazoo Recognition features peer-to-peer social Recognition, Rewards, Behavior Bonuses, and Awards to strengthen company culture, create alignment, and help employees feel more appreciated.
Join the hundreds of people-first companies who turn to Kazoo to help create a workplace where all employees can thrive.
Activity Feed
Similar to popular social platforms, the real-time Activity Feed reveals recognition, bonuses, and successful project outcomes — connecting everyone to the positive pulse of your company.
Recognition
Peer-to-peer recognition is a powerful way to create a culture of continuous recognition across all levels of your company.
Behavior Bonus
Create custom bonuses to encourage employees to participate in activities that are good for them and the business.
Nominations & Awards
Create and schedule custom awards that reflect your core values, business goals, and company culture — in just a few minutes.
Rewards Catalog
Use our robust global rewards catalog containing over 30,000 products to configure and customize the rewards that are right for your business — we have something for everyone, everywhere.
Insights & Reporting
Powerful dashboards and reports provide your managers with insights into who is participating — by department, location, etc. — to better understand how your recognition is driving collaboration and company culture. Have a clear understanding of what motivates employee collaboration and performance, as well as your costs and budget over time.
Integration
How it works.
When you integrate BambooHR with Kazoo, you are able to keep all your employee data nice, neat, and in sync:
Sync your employee data from BambooHR to Kazoo
Mirror and update the organizational structure from BambooHR
Add or remove team members automatically as those changes are completed in BambooHR
Kazoo will use birthday and anniversary data from BambooHR, which can be made public or private
What data syncs?
BambooHR Field
Sync Direction
Kazoo Recognition Field
First Name
Preferred Name or First Name
Work Email
Login Email & Notification Email
Publisher
Kazoo
Updated: 04/15/2020
Phone Support:
+1 877-445-2966
Email Support:
Support Hours:
8:00 AM - 6:00 PM CST
Monday - Friday