Kazoo Performance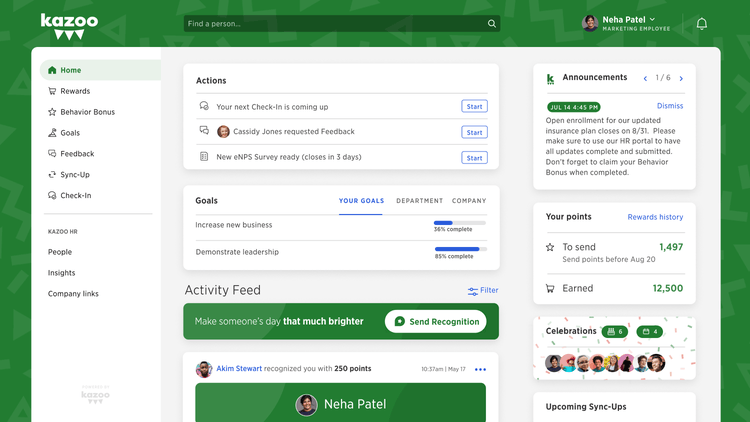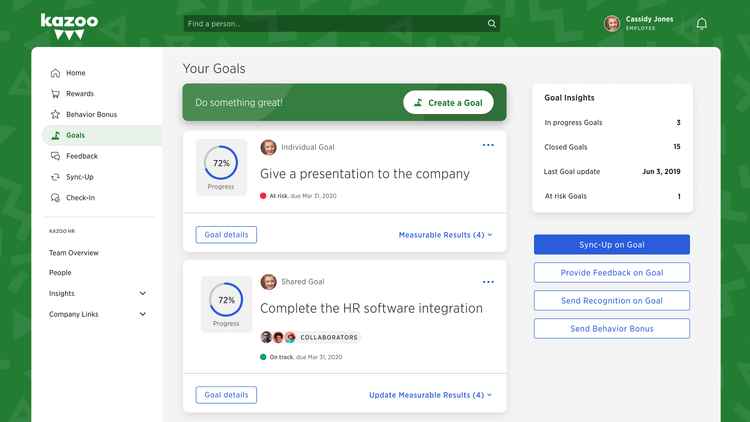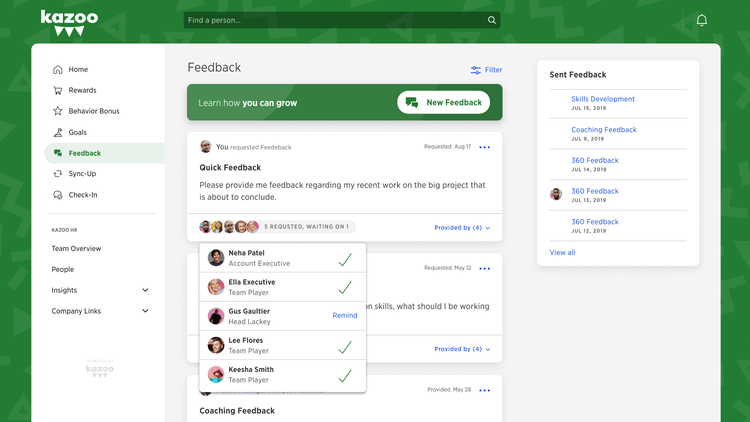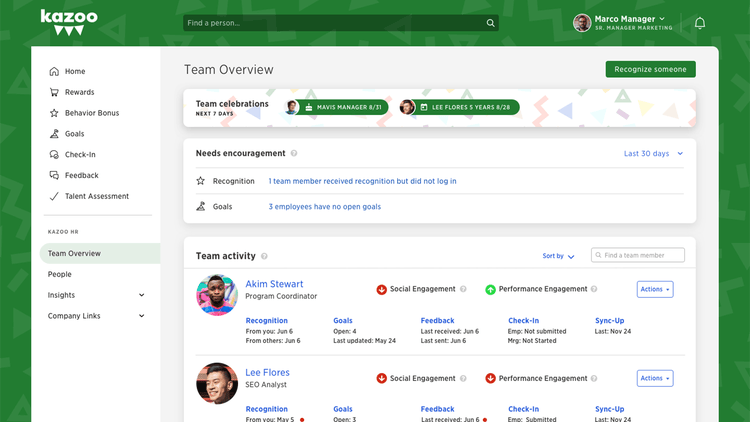 Discount Packaging
50% off of Implementation!
Overview
Kazoo delivers a more engaged workforce with everything you need to improve the employee experience in a single, powerful platform. Kazoo Performance features Goals and OKRs, Sync-Ups, Feedback, Check-Ins, and Talent Assessments designed to create alignment and ongoing conversations about priorities, employee performance, and development.
Join the hundreds of people-first companies who turn to Kazoo to help create a workplace where all employees can thrive.
Goals & OKRs
Create alignment up, down, and across the organization by empowering your employees to set and track goals or objectives and key results (OKRs) aligned with larger, company-wide initiatives.
Sync-Ups
Whether it is regular 1:1s or ad hoc status updates, essential conversations happen off-cycle and across teams. Sync-Ups addresses this by making it easy for individuals, managers, and groups in your organization to meet to talk about Goals, Feedback, or other agenda items ― any time they need.
Check-Ins
Easily facilitate manager and individual conversations about goal progress, recent accomplishments, performance feedback, and longer-term career objectives.
Feedback
Continual feedback is critical in high-performing organizations as it supports communication, collaboration, and innovation. Thoughtful, templatizeds forms make it easy to receive feedback from peers, managers, or a complete 360.
Talent Assessments
Your go-to tool for identifying high-potential employees, enabling proactive leadership development, and building data-driven succession plans.
Insights & Reporting
Powerful dashboards and reports provide your managers with insights into activities and goal progress across the organization, as well as overall usage and employee adoption.
Integration
How it works.
When you integrate BambooHR with Kazoo, you are able to keep all your employee data nice, neat, and in sync:
Sync your employee data from BambooHR to Kazoo
Mirror and update the organizational structure from BambooHR
Add or remove team members automatically as those changes are completed in BambooHR
Uses Single Sign-on via OpenID to ensure seamless use of both applications
What data syncs?
BambooHR Field
Sync Direction
Kazoo Performance Field
Publisher
Kazoo
Updated: 04/01/2020
Phone Support:
+1 877-445-2966
Email Support:
Support Hours:
8:00 AM - 6:00 PM CST
Monday - Friday