Kudos®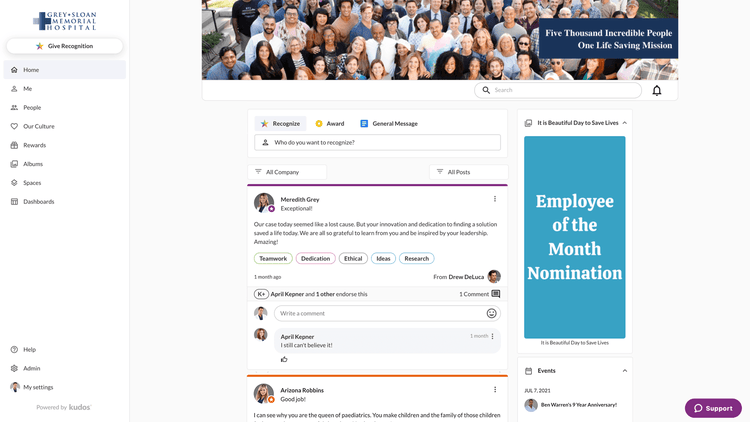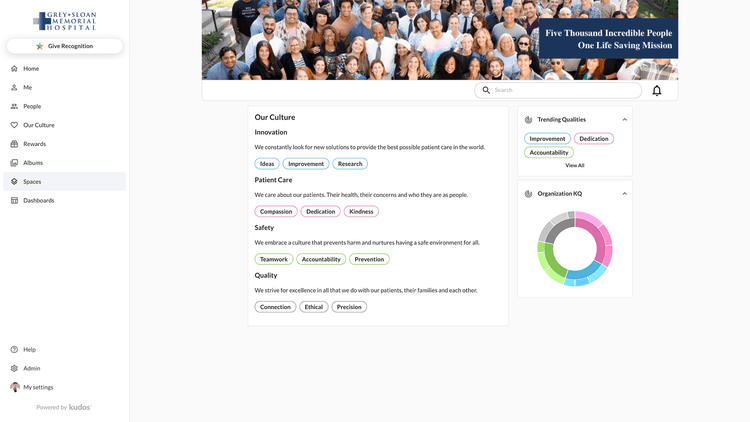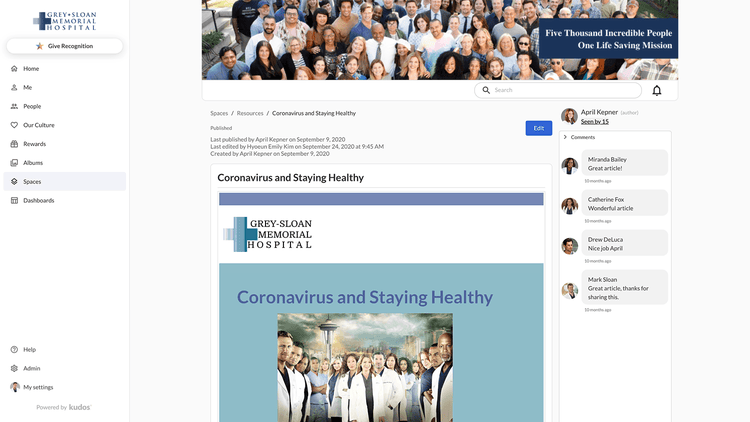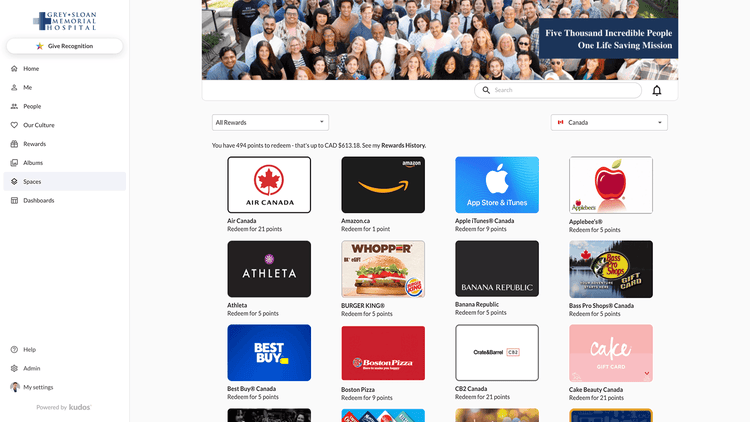 Overview
The modern workplace culture is changing – employees demand meaningful appreciation while traditional milestone and reward programs don't cut it any more. Kudos® is the online employee engagement and culture platform that embraces the power of social software to help organizations share meaningful value-based recognition to create an irresistible workplace culture. Engagement programs powered by Kudos see higher employee retention, improved employee happiness, and a boost in overall company performance.
Peer-to-Peer Social Recognition & Feedback
Your employees want recognition, and they want it more often. Leverage the power of social by enabling everyone in your organization to send Kudos to each other – you'll be amazed by the difference it makes!
Social Engagement Hub
It all begins with YOUR brand, vision, mission, MTP, values, and behaviours. This is what makes your organization unique and what makes you great. Kudos has developed a digital Hub that brings together the power of what makes us social beings, ensuring that there is always a positive 'Kudos' spin to it.
Customizable Rewards and eGift Cards
At Kudos, we believe that every single one of us craves recognition. We also believe that every individual and every organization is unique in how they see rewards and recognition working in their organization. Whether you're looking for recognition with or without rewards, we have a solution that does not have to break the bank.
KQ® & Culture Biorhythm® Kudos Analytics
Every organization has a pulse. Using the analytics built-into Kudos, you'll uncover insights about the engagement levels in your organization. Discover how business decisions impact resonate with your business' values or your overall level of employee engagement.
Integration
How it Works
The Kudos-BambooHR integration makes managing your Kudos employee engagement and recognition program even easier! New employees are automatically added into your Kudos account with all future changes to information automatically synchronized into Kudos. Termed employees are automatically archived in Kudos when their work term ends. When configured, Kudos can also automatically celebrate your team's Years-of-Service awards and Birthday.
Note: You can disable automatic sync. Automatic sync will sync user data automatically once per day. You can also manually do the sync.
What syncs?
BambooHR Field
Sync Direction
Kudos Field
Work Phone Extension
Extension
Publisher
Kudos
Updated: 08/14/2018
Phone Support:
1-888-915-8367 x Dial 2 for Support
Email Support:
Support Hours:
8:00 AM - 5:00 PM MST
Monday - Friday