Leapsome Engagement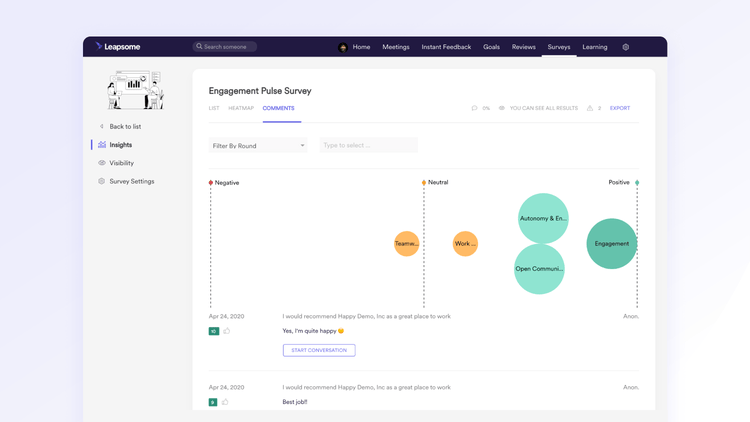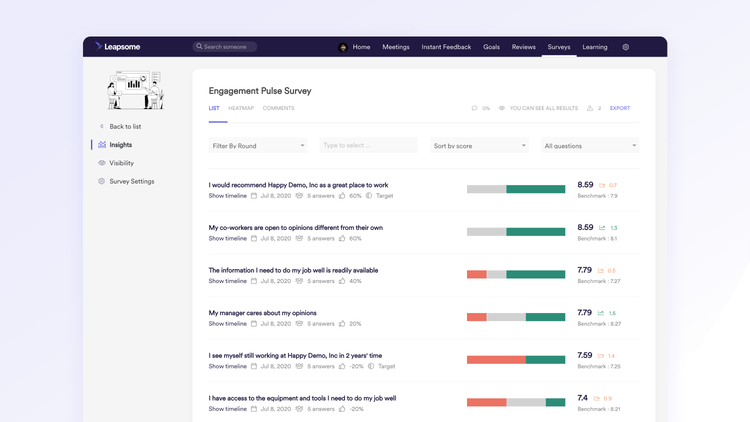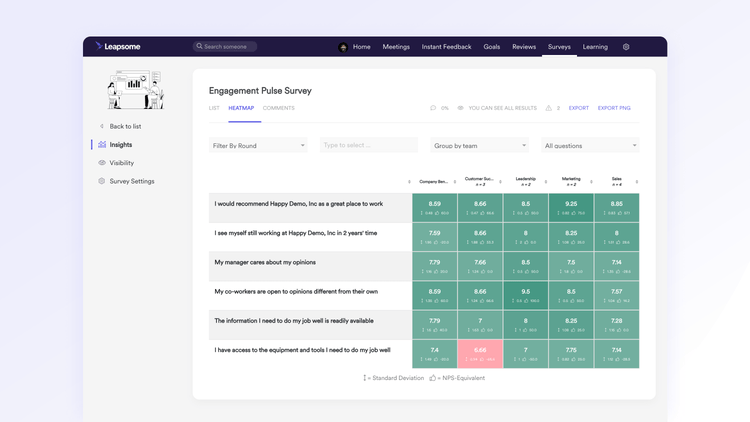 Discount Packaging
We offer a special partner price for all BambooHR customers. Discounts are given out after review by the sales team and are made on an individual basis, based on the needs.
Overview
Leapsome is the leading platform for performance management, employee engagement and learning. CEOs & HR teams in forward-thinking companies such as Spotify, Trivago, and Babbel use Leapsome to create a continuous cycle of performance management and personalized learning that powers employee engagement and the success of their business.
Understand your employees
Collect meaningful feedback to understand the sentiment in any part of your organization with company-wide, leadership-only, or team-specific surveys. Measure and improve the engagement drivers that matter most to build a great company culture.
Gain the insights you need
Create custom questions or use our question templates — backed by scientific research and verified by experts. Surveys can be anonymous or identified, and you can set them up to automatically recur. Track changes in engagement levels and indicators such as the employee Net Promoter Score (eNPS) over time.
Decipher the overall experience of your employees, discover common themes, and undertake data-driven actions to tackle the biggest challenges with the help of our Natural Language Processing and Machine Learning technology that analyzes and scores the sentiment of written responses to each of your open-ended questions.
Discover relationships between performance and engagement
Use Leapsome's powerful survey analytics, to understand the engagement drivers that impact performance levels and employee churn so you can develop and retain your team. You can also segment responses by tenure, team, or manager to help spot important correlations.
Integration
How it Works
Sync your users from BambooHR into Leapsome. All user details will automatically be synced on a daily basis, and employees will automatically be onboarded and offboarded.
What Data Syncs?
BambooHR Field
Sync Direction
Partner Field
Field Logic or Notes
Turned on by Default or Configurable
Employee #
Employee #
This is the identifying field for the integration. The two systems Employee #/ID must match.
Default
Status
Status
Required for automatic on / offboarding
Default
First Name
First Name
Default
Last Name
Last Name
Default
Job Title
Job Title
Default
Hire Date
Hire Date
Required for onboarding surveys / segmentation by tenure
Default
Termination Date
Termination Date
Required for offboarding surveys
Default
Location
Location
Required for segmentation
Default
Gender
Gender
Required for segmentation
Default
Date of Birth
Date of Birth
Required for segmentation
Default
Department
Department
Default
Supervisor ID
Supervisor ID
Default