Lucidchart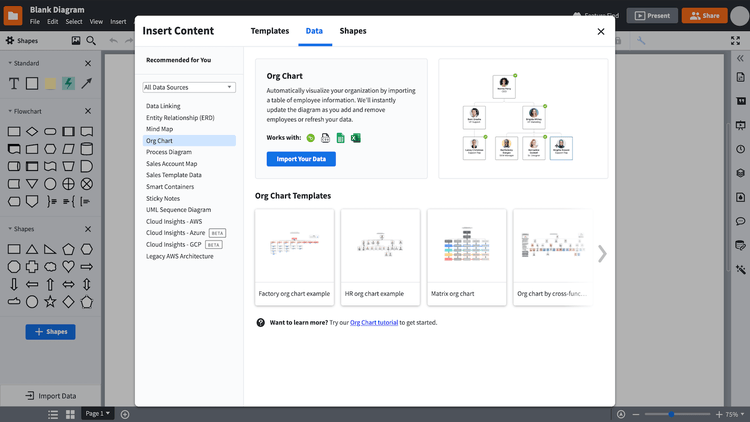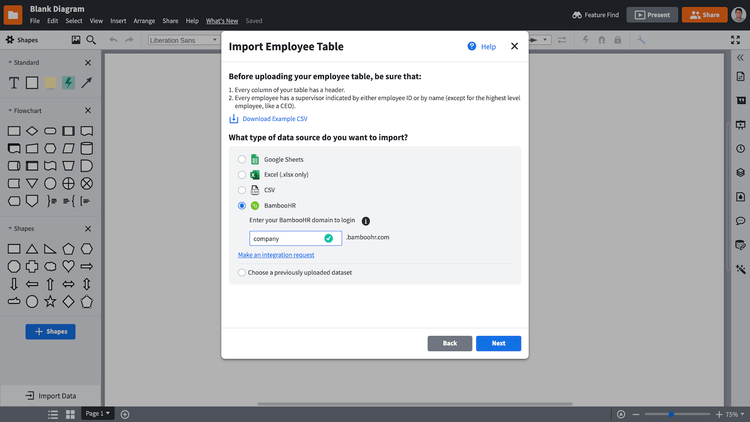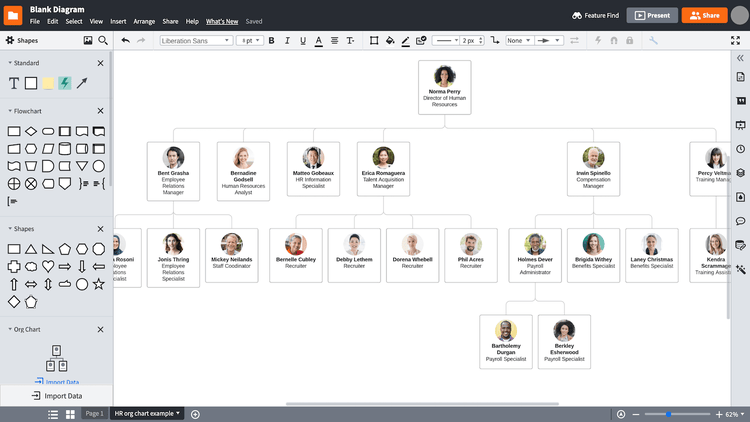 Overview
Lucidchart is utilized in over 180 countries by more than 15 million users, including business leaders looking to improve process flows, technical professionals mapping out network infrastructures, and people managers needing to create org charts. Ninety-nine percent of the Fortune 500 use Lucidchart, and customers include Google, GE, NBC Universal, and Johnson & Johnson. Since the Utah-based company's founding in 2010, it has received numerous awards for its product, business, and workplace culture. For more information, visit lucidchart.com
Bamboo HR
Lucidchart is a visual workspace that combines diagramming, data visualization, and collaboration to accelerate understanding and drive innovation. With this intuitive, cloud-based platform, you can import employee information from BambooHR and automatically create org charts that can help you visualize your company's structure and plan for future changes.
Share your org chart externally
Need to present your org chart to individuals outside of your organization, such as board members or potential investors? Lucidchart makes it easy to gain stakeholder buy-in as you share org charts with the appropriate permissions, including view-only access, or embed them into PowerPoint, Word, or Google Drive.
See all employee info at a glance
With this integration, you can overlay any data from BambooHR onto your org chart, such as the employee's department, hire date, and pay rate, so you can make better, data-driven decisions. (Note: Users can only access BambooHR data that they have permission to view in BambooHR.)
Experiment with your org structure
In Lucidchart, you can visualize new reporting structures without having to implement those changes in BambooHR. Once you have created your org chart, use drag-and-drop functionality to reorganize teams, show the reporting structure for temporary teams, or plan for new talent as your company scales. Smart shapes will automatically connect direct reports to managers to maintain a clean layout.
Visualize ideas, information, and processes
Lucidchart isn't just for org charts—you can use this intuitive, versatile solution across your organization to visualize anything from simple workflows to complex systems. Create additional diagrams to bridge the gap between people and processes.
Integration
How it works.
After you sign up for a Lucidchart account, you can import data through the org chart shape library. Select BambooHR as the data source and select the employee information you would like to import, and Lucidchart will generate an org chart based on your preferences. From there, you can make changes to your org chart by using the editing panel or moving shapes on the canvas. Lucidchart will automatically connect direct reports to their managers and adjust the layout.
What data syncs?
BambooHR Field
Sync Direction
Lucidchart Field
Employee Number
Employee Number
Preferred Name
Preferred Name
Address Line 1
Address Line 1
Address Line 2
Address Line 2
Canadian Social Insurance Number
Canadian Social Insurance Number
Employment History Status
Employment History Status
Supervisor ID
Supervisor ID
Original Hire Date
Original Hire Date
Last Changed
Last Changed
Termination Date
Termination Date
Work Phone + Extension
Work Phone + Extesion
Mobile Phone
Mobile Phone
Work Phone + Extension
Work Phone + Extension
Work Phone Extension
Work Phone Extension
Marital Status
Marital Status
BambooHR Employee ID
BambooHR Employee ID
Date of Birth
Date of Birth
Pay Group Id
Pay Group Id
Pay Schedule
Pay Schedule
Pay Frequency
Pay Frequency
Pay Change Reason
Pay Change Reason
Pay Rate Effective Date
Pay Rate Effective Date
FLSA Employee Exemption
Exempt
Publisher
Lucidchart
Updated: 09/12/2018
Phone Support:
N/A
Email Support:
Support Hours:
N/A