Nectar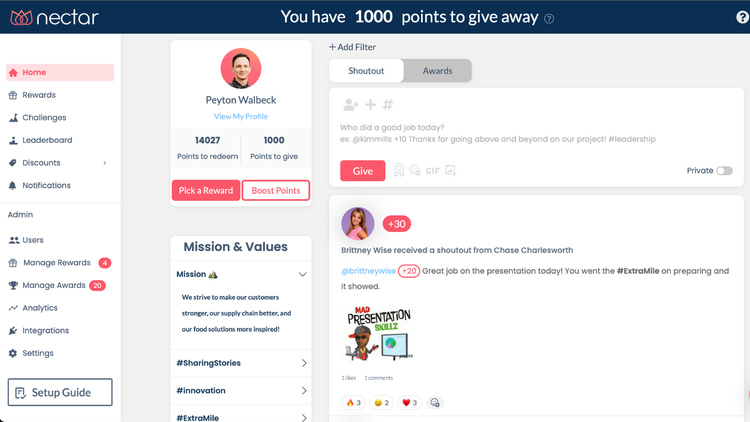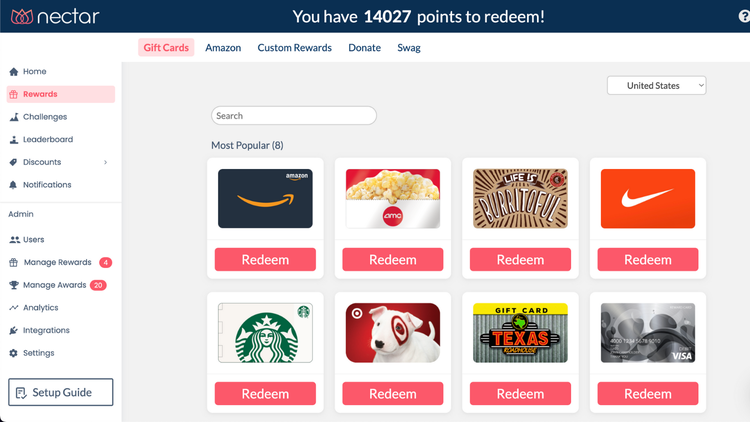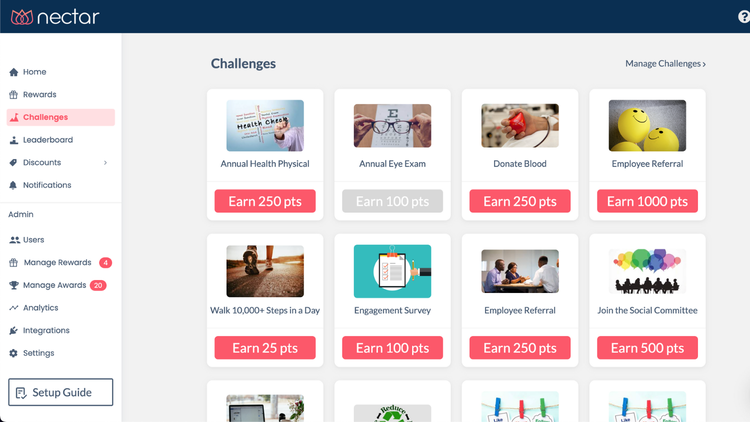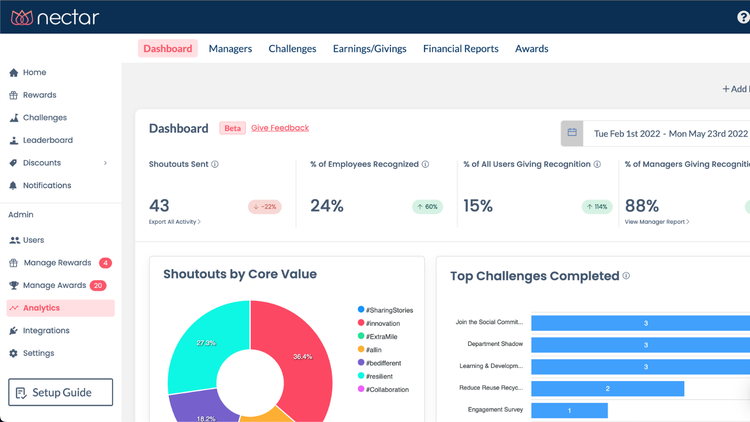 Discount Packaging
10% off for BambooHR customers who are new to Nectar! Discount must be presented before purchase. Not eligible for minimum pricing plans.
Overview
Nectar helps team members feel valued, connected and engaged no matter where they work. Build camaraderie and celebrate wins both big and small.
Our 360 recognition & rewards platform enables everyone (peer to peer & manager to employees alike) to send meaningful recognition rooted in core values. Nectar has the most extensive rewards catalog so users can choose from company branded swag, Amazon products, gift cards or custom reward types. Integrate with your other tools like Slack and Teams to make sending recognition easy.
360 Recognition
Create a fun and engaging work environment that will help your employees feel valued and appreciated. Nectar offers solutions that will help you be intentional about creating a culture that people won't want to leave! Attach a company core value and redeemable points to shoutouts that display in the Nectar social feed for the rest of the org to see.
Robust Rewards Catalog
We all like to be rewarded for the hard work that we do, but not every person is going to like the same kinds of rewards. Nectar offers a vast array of ways to redeem rewards including an integration with Amazon, gift card options, company swag, donating to your favorite charity, or any other custom rewards you'd like to include. Don't limit yourself on how to redeem rewards!
Fun and Engaging Challenges
Who's up for a little challenge to receive even more points to redeem? Create challenges to incentivize vital behaviors you would like to see from your employees. For example, you can promote employee wellness by offering a weekly exercise challenge. We will offer up some ideas to get you started, but you can customize any challenge you would like.
Actionable Analytics and Insights
To assist you in being intentional about your company culture we have created analytics with the most actionable and relevant metrics that you need to keep a pulse on how to continually improve your culture. Get a high-level view of overall company culture or even go down to the personal level to know how each individual is doing and how to ensure that everyone feels valued and appreciated.
Integration
How it works
Once you've connected Nectar and BambooHR, you'll be able to sync your users in BambooHR to Nectar. User information such as Name, birthdate, Hire Date, Department and other information will be sent to Nectar to populate the user list. This sync occurs daily and if someone joins the company or is terminated, once the changes reflect in BambooHR they will also reflect in Nectar.
What data syncs?
BambooHR Field
Sync Direction
Nectar Field
Field Logic or Notes
Is this turned on by default or is it configurable?
firstName
First Name
Default
lastName
Last Name
Default
preferredName
Preferred First Name
Default
workeEmail
Work Email
This is the key field that is used as the primary key to identify users
Default
supervisorEid
Manager Email
Default
location
Office Location
Default
dateOfBirth
Birthdate
Default
hireDate
Hire Date
Default
department
Department
Default
Publisher
BambooHR
Updated: 02/01/2023
Phone Support:
(385) 213-0195
Email Support:
Support Hours:
8am - 5pm, Monday through Friday, Mountain Timezone