Onboarding by Roots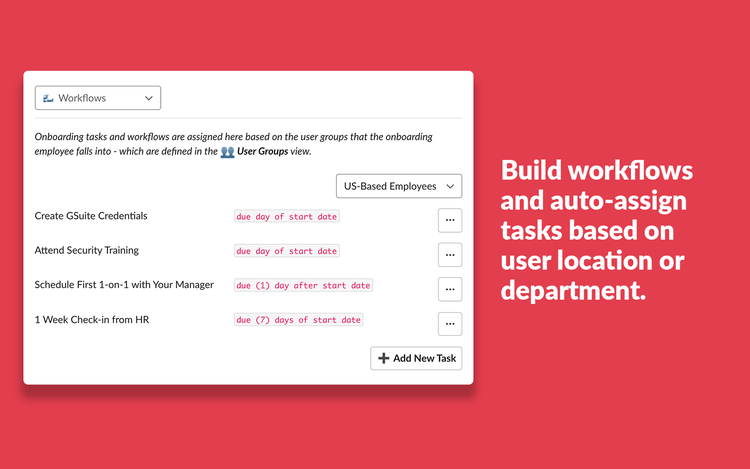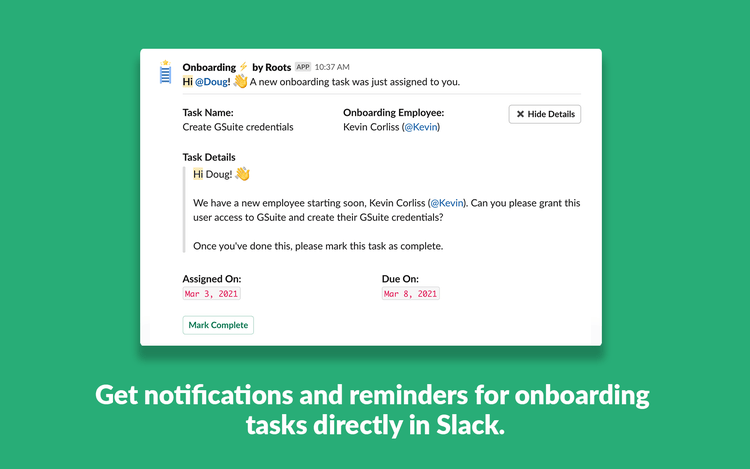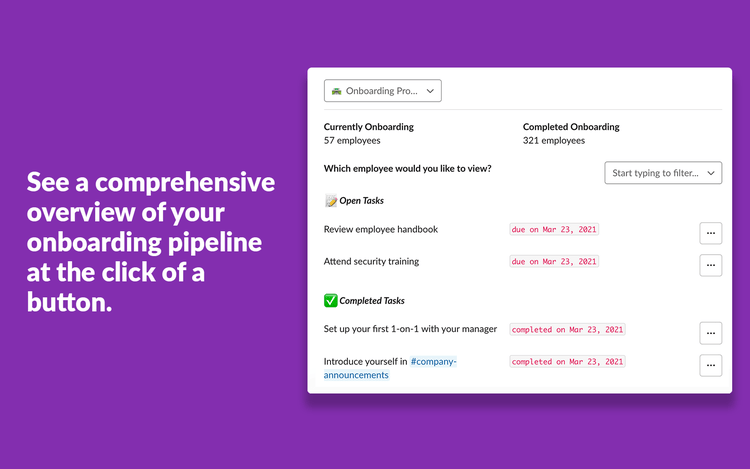 Overview
Onboardingby Roots is the #1 Slack app for integrating new hires into your organization. Create workflows and auto-assign tasks to users based on their department or location. Have onboarding triggered automatically through the creation of a new user in BambooHR.
Roots is used by 1,200+ teams in 65+ countries around the world and is perfect for startups, remote companies or any organization that uses Slack as their core communication platform. Start your free trial today!
Auto-assign tasks based on user location or department.
Create user groups for different departments or locations and establish a unique workflow for each group. Roots will automatically segment users that join Slack, kick off onboarding, and assign tasks based on the groups the onboarding user falls into.
Onboard new hires right in Slack, no external login needed.
Why send new hires to a separate platform that they'll never use again after month 1? Get them acclimated right in Slack, the tool that will become their home. Users receive task assignment notifications and reminders directly in Slack, making it easy for them to stay on top of and complete tasks before they are due.
Get a comprehensive overview of your onboarding pipeline.
Get high-level visibility of your onboarding pipeline or deep dive a specific individual's progress with just the click of a button. You'll be shocked at how much power is packed into the reporting features of a seemingly simple Slack plugin!
Integration
How it Works?
The integration between Roots and BambooHR is easy to set up (takes <15 mins) and serves the following purposes:
New users in BambooHR are automatically authorized for Roots when a matching user is found in Slack.
User information will update regularly without manual interview. If the reporting structure changes or a user is added/removed/modified in BambooHR, Roots will automatically reflect those changes without any manual input from admins.
Tasks can be auto-assigned in Slack based on user department, location, and start date pulled from BambooHR
What Data Syncs?
BambooHR Field
Sync Direction
Partner Field
Field Logic or Notes
Turned on by Default or Configurable?
Employee #
Employee ID
This is the identifying field for the integration. The two systems Employee #/ID must match.
Default
Supervisor #
Manager HRIS ID
The ID identifies who the employee's manager is in BambooHR.
Default
Location
Company Location
This assigns the employee to their appropriate region.
Default
Department
Company Department
This assigns the employee to their appropriate department.
Default
Country
Country
For identifying who falls under GDPR regulations.
Default
Publisher
Roots Technologies, Inc.
Updated: 04/28/2021
Phone Support:
4085084299
Email Support:
Support Hours:
9am - 6pm PT