OrgChart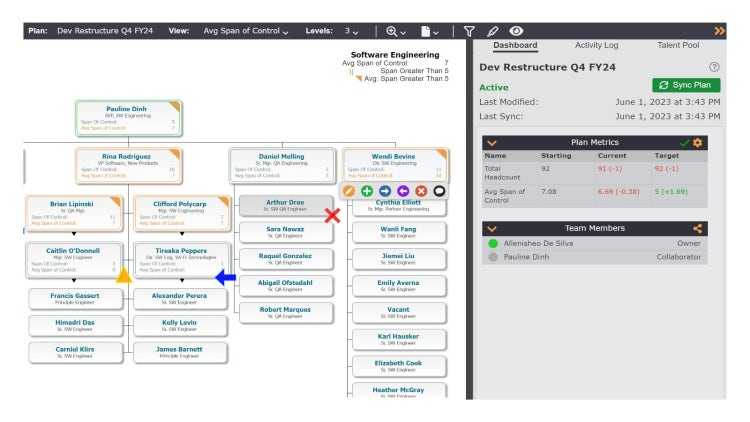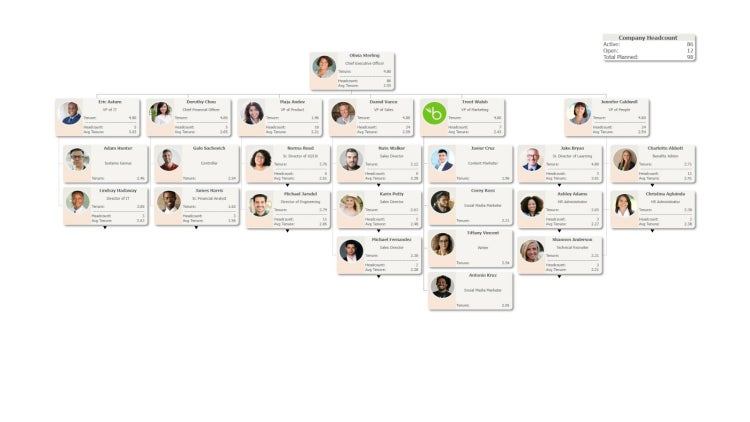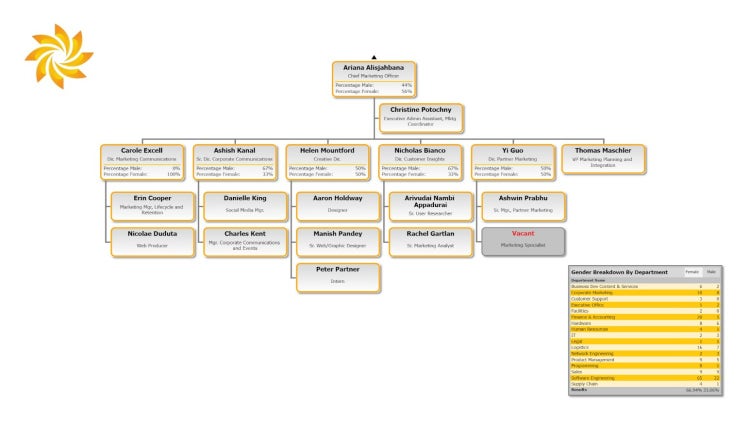 Discount Packaging
10% off for being referred by BambooHR!
Overview
OrgChart automatically generates org charts using your BambooHR data to provide real-time visibility into your organization.
OrgChart aggregates the data from multiple HR systems for optimal insights into the data that drives business decisions.
Visibility
Discover your organization's structure with OrgChart's comprehensive view
Unified visualization of employee data from multiple sources
Real-time filtering and highlighting of employee information
Easy embedding of live charts into your intranet or SharePoint
Insight
Unveil crucial insights from complex people data using OrgChart
Develop custom formulas for tracking priority metrics
Generate data-driven chart presentations to identify gaps and trends
Archive your organization's current state and access it whenever needed
Vision
Craft future success with OrgChart's strategic planning capabilities
Monitor critical metrics, set targets, and evaluate organizational impact
Collaborate with stakeholders to develop real-time, actionable plans
Maintain up-to-date HR data synchronization for accurate planning
BambooHR Integration
Elevate your HR experience by integrating OrgChart with BambooHR
Effortlessly import your BambooHR data into OrgChart
Experience seamless data synchronization
Enhance your HRIS investment with powerful visualization and planning tools
Integration
How it works.
Enter your BambooHR API credentials in OrgChart to automatically generate a chart using your BambooHR data. Control what employee information you see in OrgChart, to deliver the visibility, insights, and vision your company needs.
What data syncs?
BambooHR Field
Sync Direction
OrgChart Field
Employee Number
Employee Number
Supervisor ID
Supervisor ID
Work Phone + Extension
Work Phone + Extension
Mobile Phone
Mobile Phone
Marital Status
Marital Status
Pay Group Id
Pay Group Id
*Please note: OrgChart can be set up to import Custom Fields.
Publisher
OrgChart
Updated: 05/30/2023
Phone Support:
(415) 462-1313
Email Support:
Support Hours:
6:00AM - 5:00PM PST
Monday - Friday