PerformancePRO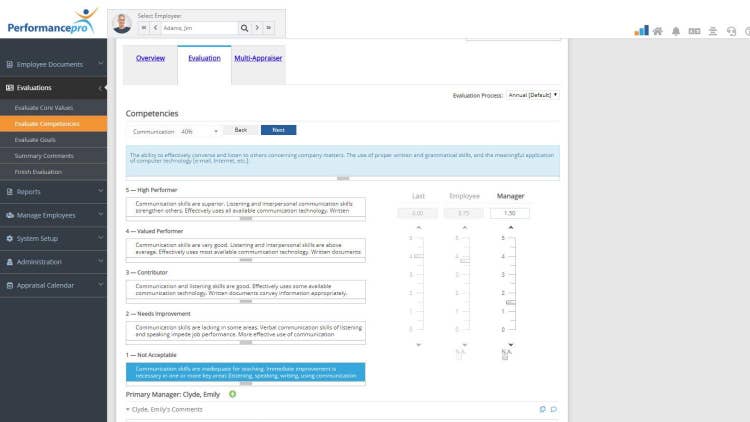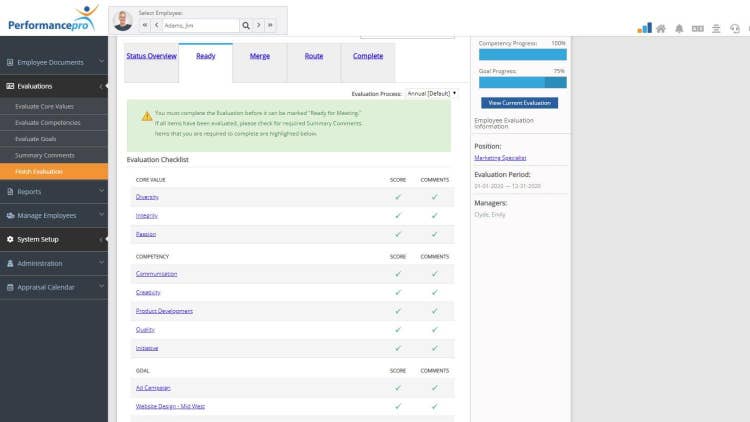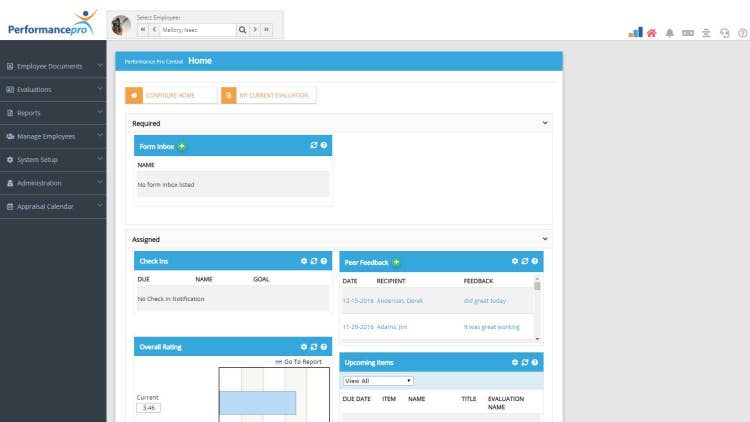 Overview
Performance Pro is designed by HR professionals, for companies that require a user-friendly, centralized online solution to streamline and improve employee development and bottom line company performance. Save time, increase productivity, and eliminate hassles when administering employee performance reviews.
Alignment
Performance Pro allows you to align individual employee goals with specific strategic initiatives, ensuring employees are both in alignment and engaged.
Automation
Automates the employee performance evaluation process.
Reminders
Provides customizable, automated email reminders to managers, employees and 360-degree reviewers for evaluations on any frequency (i.e., annual, semi-annual, quarterly, monthly, etc.).
And More…
Includes dashboards, workflows, customizable templates, writing assistants, legal checks, goal cascading, customizable employment action forms and robust reporting.
Demo Video
Integration
How it works.
Designated employee data fields within Performance Pro are updated from the appropriate fields in BambooHR every 15 minutes. Employees added to BambooHR will appear in Performance Pro, as will any changes to the source fields for existing employees in BambooHR. (Alistof shared fields is attached.)
BambooHR users can access Performance Pro from within BambooHR, via single sign-on.
What data syncs?
BambooHR Field
Sync Direction
PerformancePRO Field
Field Logic or Notes
Termination Date
Termination Date
Reports To
Appraiser
This will not be designated or assigned within PerformancePro if that individual is not listed in the "Reports To" field within the Job Information table in BambooHR
Job Title
Position
New Job Titles added within BambooHR will create a new blank Position within PerformancePro if that option does not already exist within PerformancePro. Be sure to add Job Titles to PerformancePro before assigning them to an employee within BambooHR, so when the update occurs, PerformancePro will recognize the option is coming from BambooHR
Employee #
Username
If the Employee #/EmployeeID (Username) is changed in either BambooHR or PerformancePro, the corresponding field will need to be updated manually within the opposing system
Work email
E-Mail Address
Publisher
HR Performance Solutions
Updated: 10/05/2012
Phone Support:
(800) 940-7522
Email Support:
Support Hours:
9:00 AM - 6:00 PM EST
Monday - Friday