PTO by Roots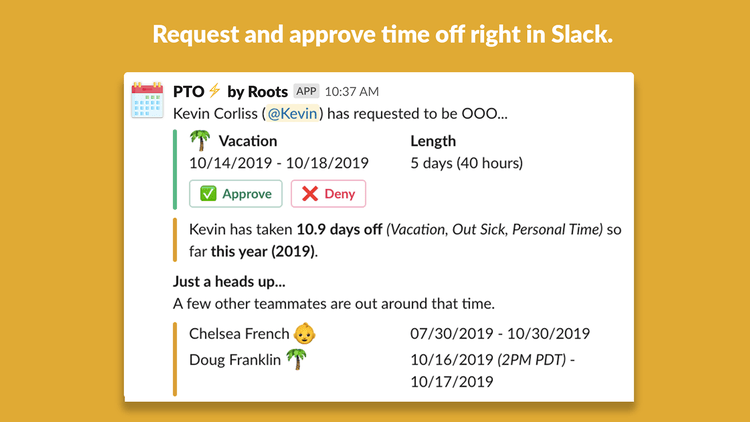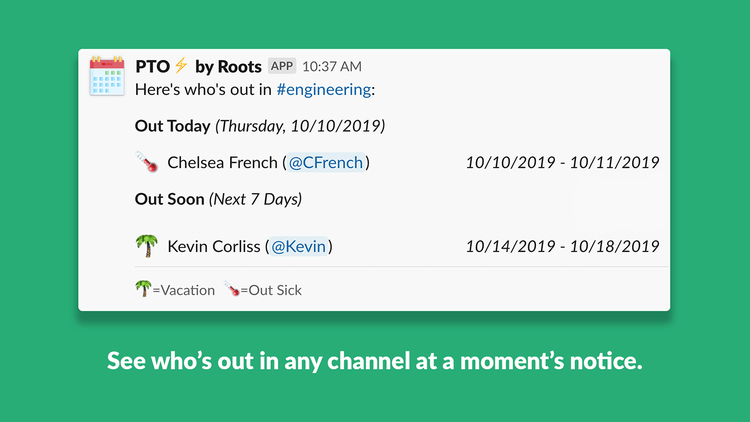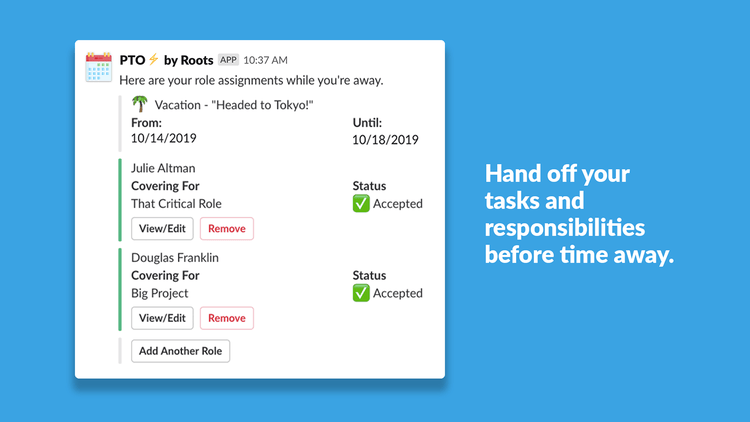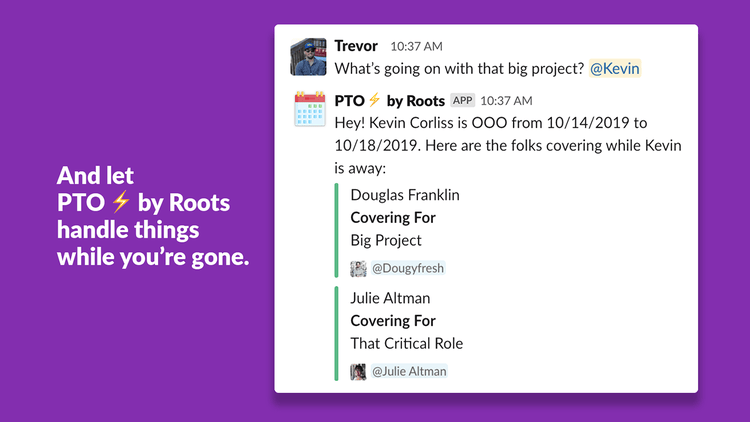 Overview
PTO⚡ by Roots is the #1 Slack app for time off, used by 1,200+ teams in 65+ countries around the world. It's perfect for startups, companies with unlimited/flex PTO, or any organization looking to add more structure to their time-off process.
With integrations in GSuite, Outlook, and most HRIS (like our trusty BambooHR), the app is built to handle all of your time off needs. Start your free trial today!
Moves out of office (OOO) requests and approvals to your central place of work
Nobody likes signing into other platforms to deal with time-off requests. PTO⚡ by Roots allows employees and managers to coordinate time off seamlessly with intuitive Slack commands.
Shows who's out by Slack channels or groups
Employees can view who's out in smaller subsets within the company – by specific Slack channels or groups – so that they no longer have to be overwhelmed with looking at who's out company-wide.
Helps teams align before time away
PTO⚡by Roots reminds employees of their upcoming time off and helps them assign roles and tasks for co-workers directly in Slack, giving all parties involved greater alignment and peace of mind.
Integrates with all calendars
Any out of office (OOO) event created in PTO⚡ by Roots will instantly sync with your personal and team calendars (GSuite, Outlook, Apple, etc.).
PTO ⚡ by Roots – Training Video from Roots Team on Vimeo.
Integration
How it works.
The integration between Roots and BambooHR is easy to set up (takes <15 mins) and can serve the following purposes:
Users can be automatically authorized for Roots using information pulled from BambooHR. If the reporting structure changes or a user is added/removed/modified, Roots will automatically reflect those changes without any manual input from admins.
Time off data can be synced between the two systems in order to keep BambooHR as your system of record.
*For the time-off data sync, only one system can be your point of entry for time off requests, approvals, and modifications – this is due to a lack of webhook functionality within BambooHR that would make a real-time 2-way sync possible. During setup, an admin will choose which system will be that point of entry: either PTO⚡ by Roots (recommended for companies who prefer to work in Slack) or BambooHR (recommended for a company already requesting time off in BambooHR where changing the process would be difficult).
In order to configure the integration, open PTO⚡by Roots in Slack and type "/pto-roots bamboohr-setup" – a popup will appear which will take you through the setup. Reach out to [email protected] you have any questions.
What data syncs?
BambooHR Field
Sync Direction
PTO Ninja Field
Field Logic or Notes
Default or Configurable
Employee #
Employee ID
This is the identifying field for the integration. The two systems Employee #/ID must match.
Default
Preferred Name
Preferred Name
Overrides their Slack profile's name.
Default
Supervisor #
Manager HRIS ID
The ID identifies who the employee's manager is in BambooHR.
Default
Location
Company Location
For companies that have regional-features enabled, this assigns the employee to their appropriate region.
Configurable
Country
Country
For identifying who falls under GDPR regulations.
Default
Time Off Types
Time Off Type ID
For OOO-event syncing companies, which PTO Ninja OOO Type maps to which BambooHR Time Off Type.
Configurable
PTO Request
PTO Request HRIS ID
"From" if the company is using the "BambooHR point-of-entry" integration. "To" if the company is using the "PTO Ninja point-of-entry" integration.
Configurable
Time off History Item
PTO Request HRIS ID
After a PTO Request is written to BambooHR with the "PTO Ninja point-of-entry" integration, this submits it as a time-off history item.
Configurable
Publisher
Treehoppr
Updated: 06/01/2020
Email Support:
Support Hours:
Monday through Friday
9 AM - 9 PM PT