Self Management Group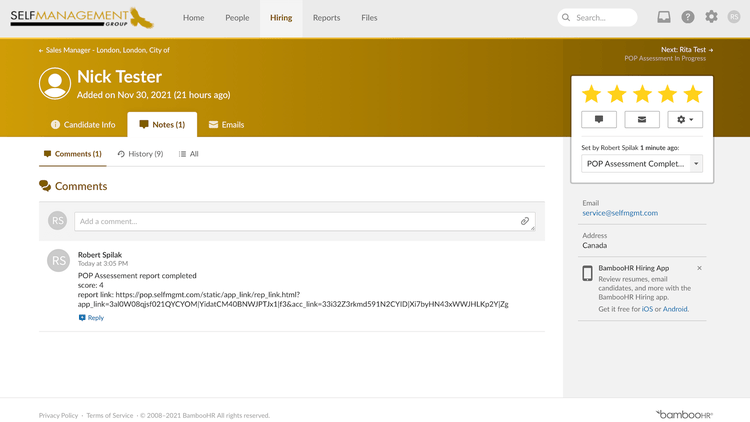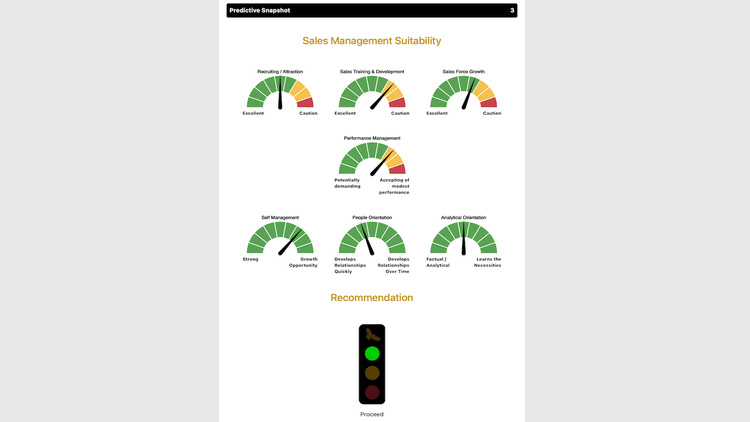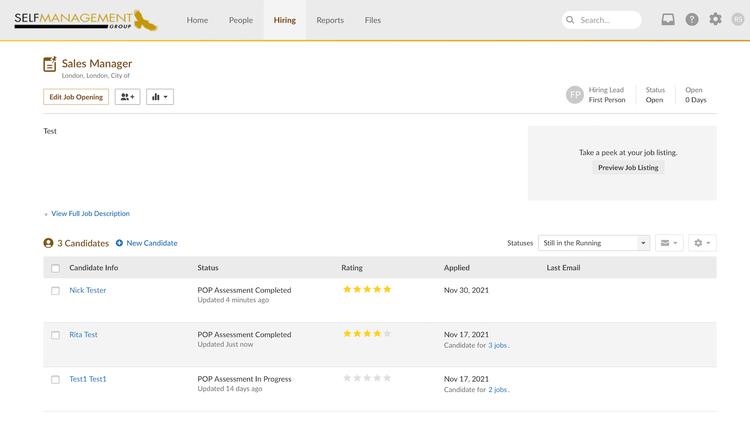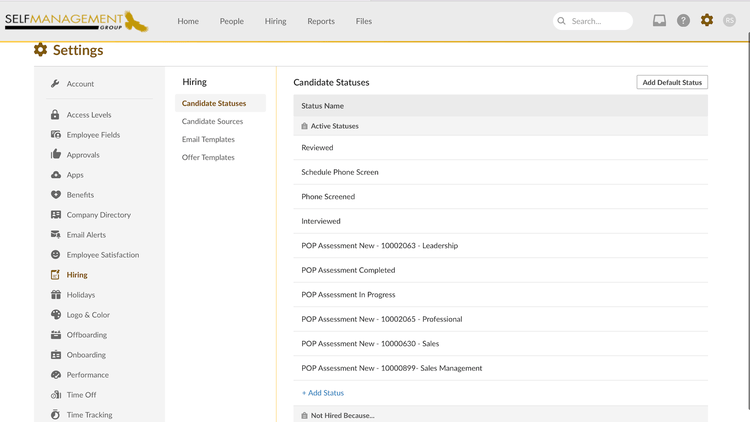 Discount Packaging
5 FREE EPOP Assessments!
Bamboo HR Customers can take advantage of 5 FREE EPOP Assessments for any Sales, Service, Management/Leadership, or Professional Roles!
*Offer exclusive to BambooHR customers!
Overview
SMG is a world leader in Screening, Selecting, Developing and Retaining Top Performers. For over 40 years, SMG has been the home of the POP™ (Predictor of Potential) and has become one of the largest assessment companies operating in 40 countries and 40 languages.
Through the use of our assessments, BambooHR clients can maximize the ROI of their talent pool for recruiting, training, coaching, career management, team building, and succession planning.
We offer industry-leading assessments of sales, service, management, and leadership potential.
Screening
By adding SMG screening tools to your company's recruiting process, you will save time by screening out unqualified candidates. Our scientifically validated screens will help you rank, sort, and knock-out unqualified candidates.
Selection
Our POP assessments use science and advanced statistical methods to help you select, train and develop top performers in a wide variety of industries and roles.
Corporate Diagnostics
Reach greater levels of organizational effectiveness and productivity with our powerful HR tools. SMG's assessments, diagnostic tools and organizational surveys provide measurable data and actionable insights to improve hiring and retention practices, identify training needs and develop a better understanding of how your organization is performing at every level.
Integration
How it works.
The integration allows recruiters to track the candidate's assessment process. Recruiters will be able to send out an assessment to the candidate and once the assessment has been completed, the report with the results will be generated on the POP Engine and will sync back to the candidate's profile on Bamboo's dashboard (for further review by the recruiter).
What data syncs?
BambooHR Field
Sync Direction
ABILITY SMARTFORCE Field
Field Logic or Notes
Is this turned on by default or is it configurable?
Applicant Email
Applicant Email
Default
Applicant ID
Applicant ID
Default
Application ID
Application ID
Default
Applicant Status
SMG Assessment Status
Three statuses must be setup in BambooHR: POP Assessment New, POP Assessment In Progress, & POP Assessment Completed
Configurable
Comments
Assessment Report Link
Default
Publisher
Self Management Group
Updated: 12/03/2021
Phone Support:
(416) 746-0444
Email Support:
Support Hours:
9:00 AM EST - 5:00 PM EST
Monday-Friday