BambooHR app for Slack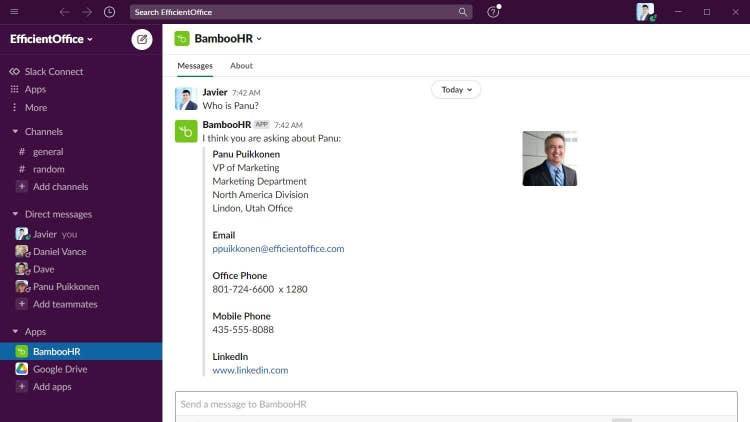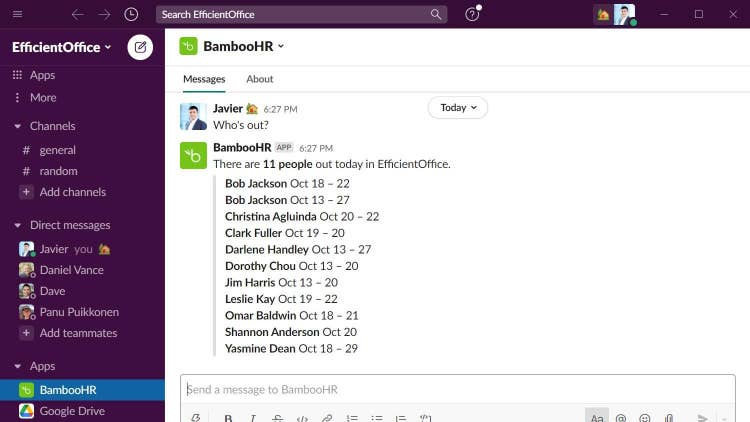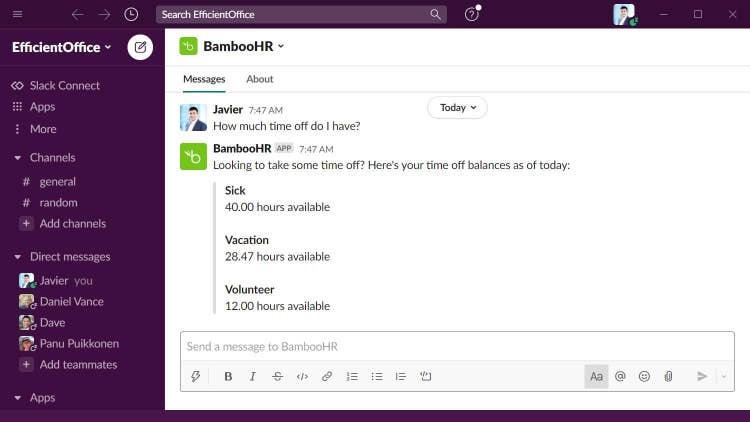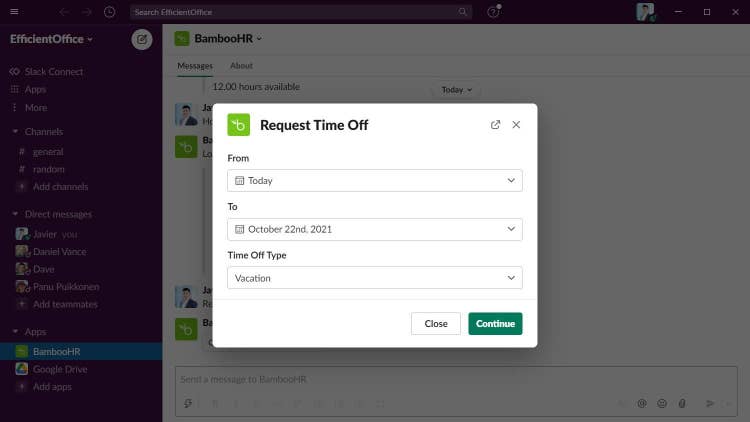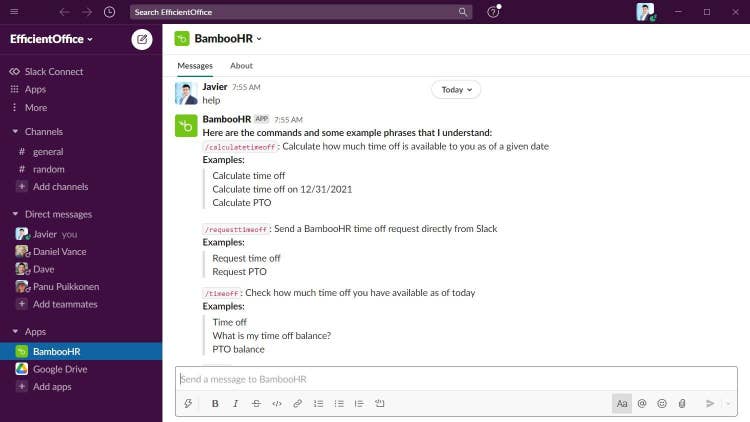 Overview
For many companies, Slack is the collaboration hub that connects employees to the people and tools they work with every day. We are excited to announce that we have created our own BambooHR app for Slack. Now your employees can start using BambooHR's most popular features such as planning time off and looking up co-workers without leaving Slack.
Lookup an Employee
Need to know the new team member's email address? Or remember which department Sarah is in? Looking up employee information is easy – just ask the BambooHR app in Slack, "Who is Sarah?" and it will return all the information from the employee directory for Sarah.
Time Off Balances and Requests
Planning a trip? We have you covered. The BambooHR app for Slack will also calculate time off balances for future dates. Now that you've calculated your time off balance, you're ready to submit your request. Through Slack you'll be able to select the type of Time Off, see total amount of time used and easily submit new Time Off Request.
See Who's Out
Have you ever had to contact a team member in a different department? If you have, you most likely have asked yourself 'Are they working today?'. With BambooHR's Slack integration you can now look up who's out of office and even filter results by department, location, or division.
Manager and Approver Notifications
In addition to being able to use any of the available time off commands, managers and approvers will also receive notifications in Slack from the BambooHR app when there are new Time Off Requests or Timesheets that need approval.
Integration
In the BambooHR app in Slack, employees will be able to
View information about other employees from the Employee Directory and Who's Out calendar
See their own time off balance information
Submit new time off requests for review and approval
Receive notifications of new time off requests and timesheet approvals (managers only)
Receive occasional system generated messages from BambooHR
A few important notes about the BambooHR app for Slack
Connecting one BambooHR account to one Slack workspace is supported.
The app will need to be installed in Slack by your Slack workspace admin, and in BambooHR by your BambooHR account admin.
Once installed, theapp will match your employees in BambooHR to users in your Slack workspace by their email address and automatically install the BambooHR app in Slack for all matched users. Going forward, the app will check for new matched users once per day and any new matched users will have the BambooHR app installed in Slack. BambooHR Admins can configure whether or not new matched users will automatically receive a welcome message from the BambooHR app in Slack.
The app does not currently support user syncing/provisioning between systems. Slack users will have to exist and have a matching email address with an active employee in the connected BambooHR account in order to use the BambooHR app for Slack.
Publisher
BambooHR
Updated: 10/08/2021
Phone Support:
1-866-387-9595
Email Support:
Support Hours:
6am MDT - 6pm MDT