SmartRecruiters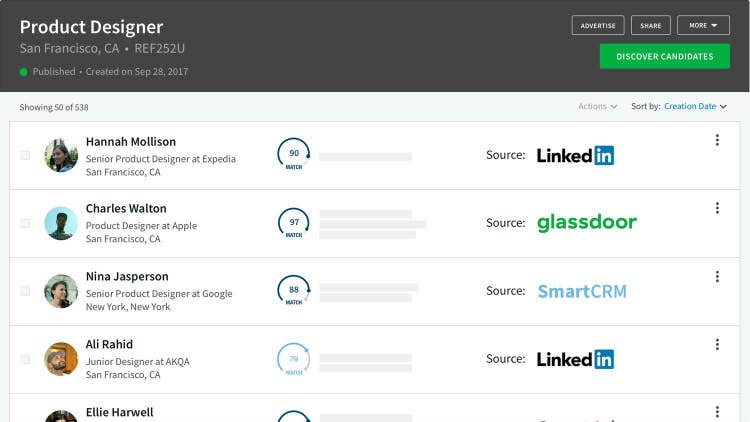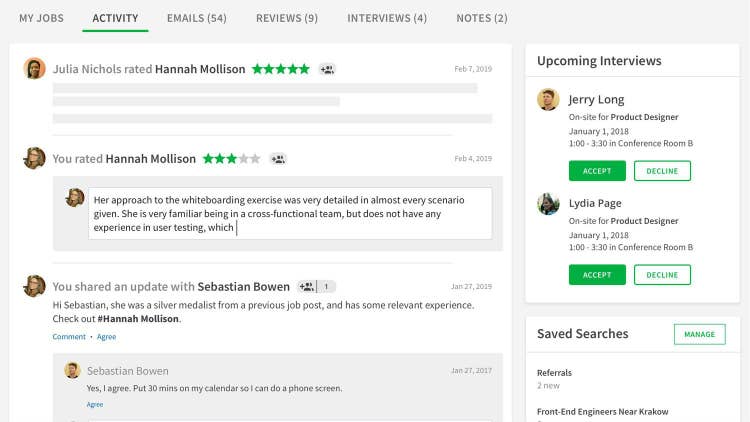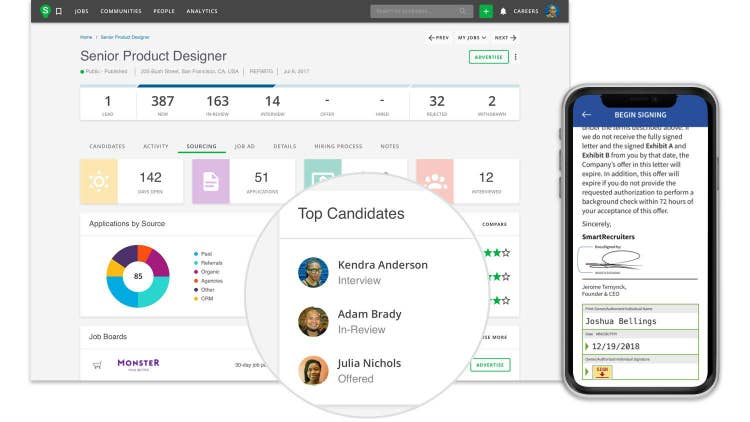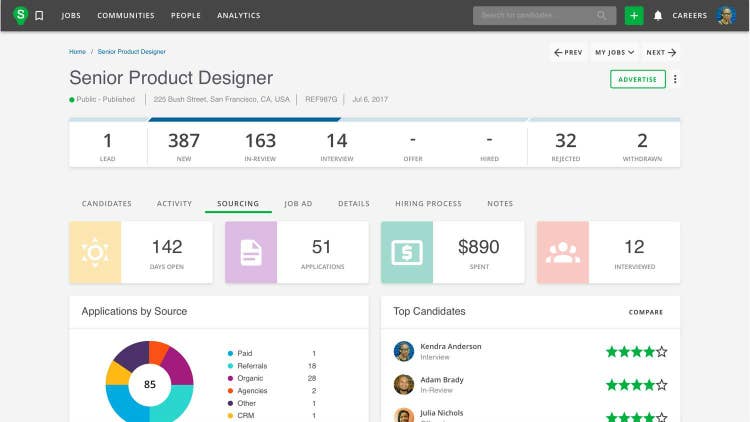 Overview
SmartRecruiters is a leading provider of recruiting software for global enterprises, offering a Talent Acquisition Suite that helps businesses source, attract, select, and hire the best talent. Bosch, IKEA, Linkedin, VISA, Publicis and 4,000 other companies worldwide choose SmartRecruiters to achieve hiring success.
Easy to use
Advanced technology creates a more productive and intuitive experience. Who wants complex tools? We make it simple. The SmartRecruiters Talent Acquisition Suite was designed for the way people actually work. Recruiters value the streamlined workflow. Hiring managers appreciate the intuitive experience. Candidates are delighted with how easy it is to apply.
Complete end-to-end functionality
Support recruiting teamwork as never before. Recruiters, hiring managers, and others in your organization team up far more effectively through advanced and intuitive tools that create a more natural collaborative experience across all processes. Whether working from laptops or mobile devices, everyone can work together more productively.
Marketplace of pre-integrated apps
An operating system and ecosystem built for recruiting. Leading HRIT professionals are surprised at how easy it is to integrate SmartRecruiters and its set of pre-built customizable integrations into the world's top HRIS providers. And with a Marketplace of third-party recruitment services, it's easy to see why SmartRecruiters has been chosen to replace all major ATS vendors.
Mobile access anytime, anywhere
Screen, engage, and hire – all on the go. Designed with mobile access in mind, SmartRecruiters helps you build beautifully designed mobile-optimized career sites. Candidates are delighted with a one-click application experience. And our Mobile app gives hiring managers and recruiters powerful tools to screen, engage, and hire candidates – anytime, anywhere.
Integration
How it works.
This integration exists in two parts, a configuration (foundational data) sync and a hire sync.
The core configuration integration will take new, active values for job fields like location, division, and department from BambooHR and add them in SmartRecruiters, so that when you go to create or update a job then you have all the values that would be available in BambooHR.
Once hired, candidates from SmartRecruiters will automatically be created as new employees in BambooHR so they can have a stellar first day. This integration will create an employee in BambooHR using candidate profile information, candidate field information from the offer letter, hire form, and candidate profile, and with job information from SmartRecruiters.
What data syncs?
BambooHR Field
Sync Direction
SmartRecruiters Field
Field Logic or Notes
Department
Department
This will be created as a custom field for the recruiter to select on a job and will flow back over with the candidate when hired
Division
Division
This will be created as a custom field for the recruiter to select on a job and will flow back over with the candidate when hired
Exempt
FLSA Status
This will be created as a custom field in SmartRecruiters for the recruiter to select on a job and will flow back over with the candidate when hired
Job Title
Job Title
This will be created as a custom field for the recruiter to select on a job and will flow back over with the candidate when hired
Location
Location
This will be created as a custom field for the recruiter to select on a job and will flow back over with the candidate when hired
Address1
Street Address One
This will only sync if it exists in SmartRecruiters
Address2
Street Address Two
This will only sync if it exists in SmartRecruiters
City
City
This will only sync if it exists in SmartRecruiters
State
State
This will only sync if it exists in SmartRecruiters
Country
Country
This will only sync if it exists in SmartRecruiters
Zip Code
Zip Code
This will only sync if it exists in SmartRecruiters
Date of Birth
Applicant Birthdate
This will only sync if it exists in SmartRecruiters
Hire Date
Start Date
This will only sync if it exists in SmartRecruiters
Home Phone
Phone Number
This will only sync if it exists in SmartRecruiters
Commission
Commission Amount
EEO Category
EEO Category
Publisher
SmartRecruiters
Updated: 09/01/2016
Phone Support:
707-206-6246
Support Hours:
8:00am - 5:00 pm PST
Monday - Friday