Tovuti LMS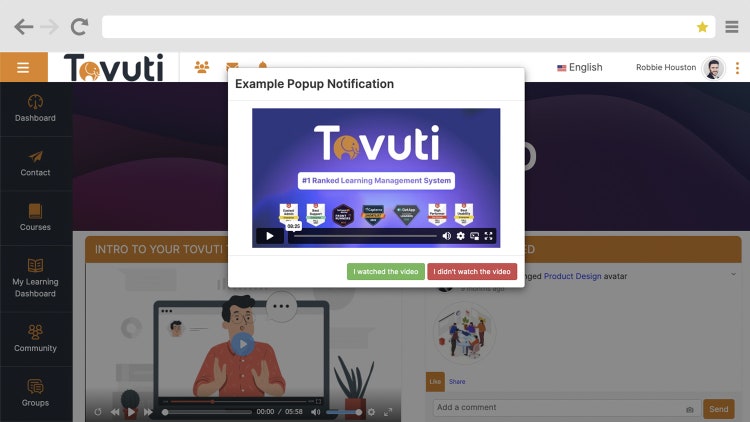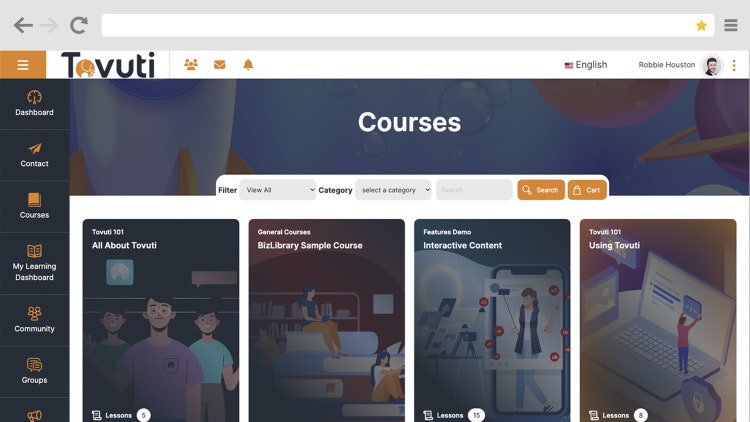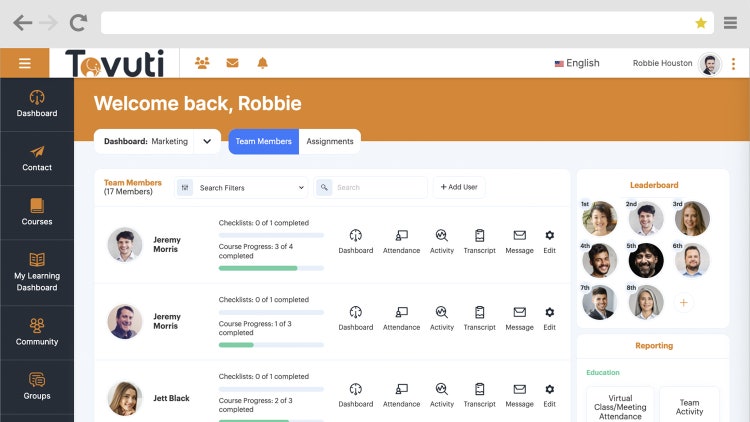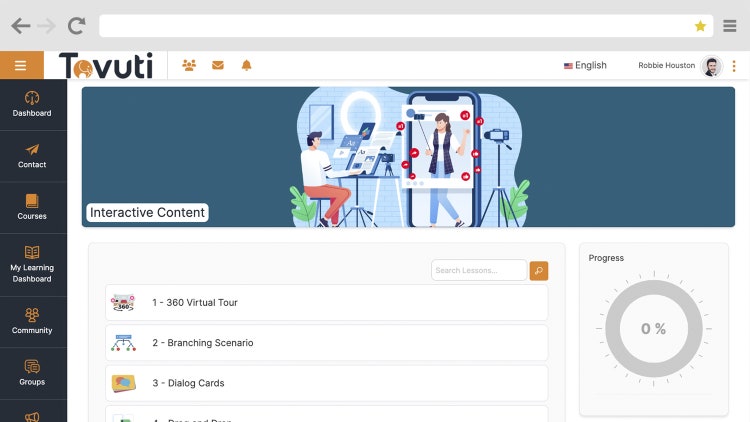 Overview
Tovuti is the #1 learning management system (LMS) in the world. The turnkey, customizable platform can easily integrate and scale with businesses of any size. With engaging and gamified content features, Tovuti makes employee training fun and easy improving learner engagement, increasing training completion rates, and reducing employee churn. Tovuti also saves time and money by reducing the training burden on administrators and creating more effective training processes.
Interactive & gamified content features
Tovuti has over 40 plug-and-play interactive and gamified content features that create an engaging and fun experience for learners.
Leaderboard, badges, certifications
Gamified and incentivized features such as leaderboards, badges, and certifications make it so that users won't even realize they're learning.
Analytics and reporting
Use analytics tools to identify which employees are performing well and provide support to underperforming ones. Customize analytics reports to guide effective business decisions.
SCORM compliance
Quickly and easily move over content into the Tovuti platform from already-built third-party content to PDFs, powerpoints, videos, and more.
Customizable learning paths
Create custom learning paths and experiences according to individual or groups of learners' needs.
Microlearning
Increase information retention with short, robust micro lessons that employees can learn on the go.
Training experiences
Meet your training needs. Offer fully self-paced learning experiences, highly-collaborative instructor-led ones, or a mix of both – it's all up to you!
Virtual classrooms and breakout rooms
Tovuti has a built-in virtual classroom feature and a variety of third-party integrations for breakout sessions.
Event management
Host in-person, virtual, or hybrid events through Tovuti.
Integration
How it works.
Tovuti has been built to make online learning simple and accessible. BambooHR is a world-class application wherein payroll, employee information, onboarding courses, and other human resource functions are hosted and managed.
Course and Training:
Both Courses and Course Categories created on BambooHR from Tovuti
Course completion dates and hours spent from Tovuti to BambooHR
Certificates: Sync both ways
Certificates created in both platforms
Sync both completion and expiration dates
Define rules and design for certificates in Tovuti. This allows certificates added to employees in BambooHR to then be viewed and downloaded/printed from Tovuti
Supports custom certificate tables and fields used in BambooHR
Single Sign On and SSO Deep Linking:
Setup complete SSO integration with one click!
Employees can click on Training links in BambooHR and be automatically authenticated in Tovuti and sent directly to the course. Their account will also be automatically created if it doesn't exist.
User Group and Permission Mapping: from BambooHR to Tovuti:
Define rules based on Employee Field Values in BambooHR to auto assign User Groups (this includes Permissions, Courses, Teams and more)
User Sync Filters: BambooHR to Tovuti
Filter which users to be synced based on BambooHR Employee Field Values
Auto User Deprovisioning:
With one click enable the option to automatically disable users in Tovuti when they become Inactive in BambooHR
What data syncs?
BambooHR Field
Sync Direction
Tovuti Field
Field Logic or Notes
By Default or Configurable
First Name
First Name
Configurable
Last Name
Last Name
Configurable
Preferred Name
Preferred Name
Configurable
Job Title
Job Title
Configurable
Work Phone
Work Phone
Configurable
Home Phone
Home Phone
Configurable
Mobile Phone
Mobile Phone
Configurable
Work Phone Extension
Work Phone Extension
Configurable
Work Email
Work Email
Configurable
Home Email
Home Email
Configurable
Department
Department
Configurable
Location
Location
Configurable
Division
Division
Configurable
Pronouns
Pronouns
Configurable
Supervisor
Supervisor
Configurable
Employment Status
Employment Status
Configurable
EEO Job Category
EEO Job Category
Configurable
Certificates
Certificates
Configurable
Publisher
Tovuti LMS
Updated: 04/26/2023
Phone Support:
+1 888 646 2353
Email Support:
Support Hours:
24x7 Ticket Monitoring