Universal Background Screening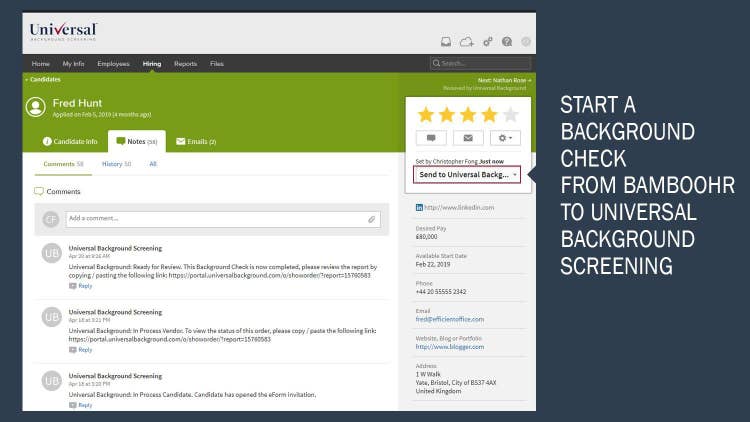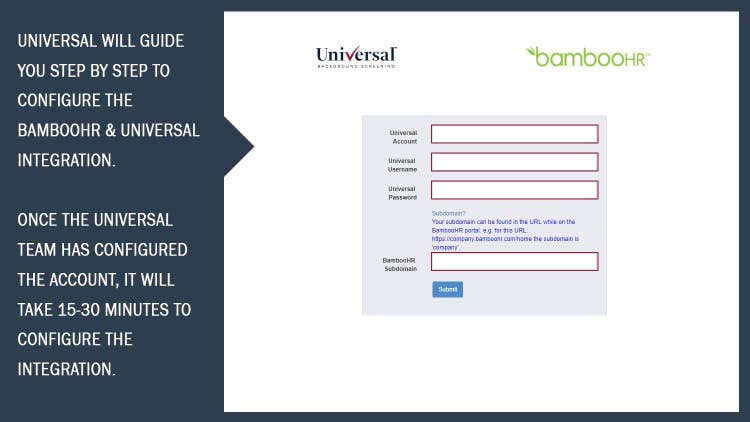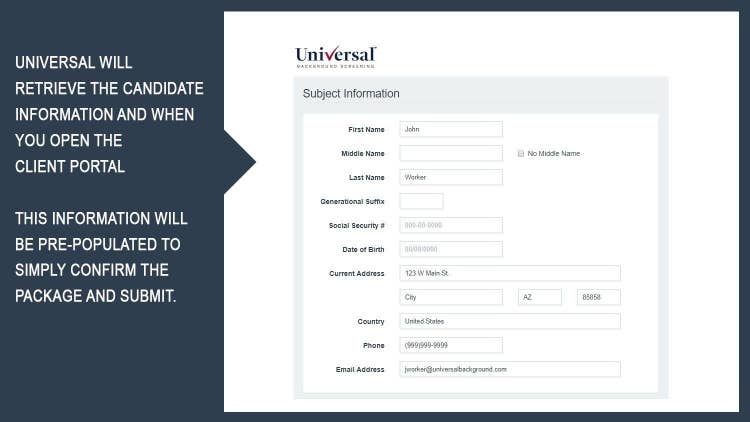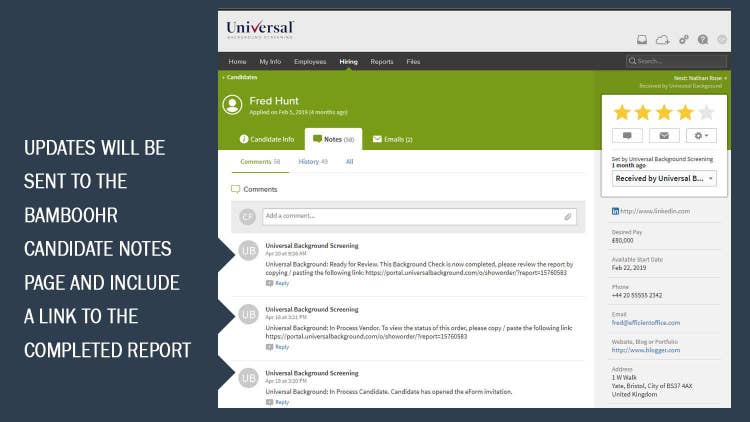 Overview
In these uncertain times, Universal Background Screening pledges to remain consistent and available to our clients and partners at all times. With many courts and school closures due to the unprecedented COVID-19 crisis. Universal will continue to assist our clients by completing reports and reducing time-to-hire as much as humanly possible. Having 40 years of experience in the background screening and drug testing industry, we will work with your organization to navigate through these ever-changing times to ensure that you have the ability to hire quality candidates as quickly as possible. Whether you are in need of background screening, drug testing or occupational health services, we are here for you.
Universal Background Screening has partnered with BambooHR to provide an easy-to-use integration which sends pertinent candidate information to the Universal Background client portal. Submit a background check by simply moving a candidate to the "Send to Universal Background" status. Universal will retrieve the background and verification information of the candidate. When you open the client portal, this information will be pre-populated and you can simply confirm the package and submit it for processing. Universal will process the background check and keep you informed of the order status. Once complete, Universal will then provide you with a link directing you to the report for easy access to the candidate's background check report.
Legal Compliance
Universal follows state and federal regulations and industry best practices designed to protect your organization and assist in your compliance.
Exceptional Customer Care
Universal was ranked #1 this year by HRO Today Magazine and has been ranked nine years in a row as an overall top nationwide screening firm and also for top customer satisfaction. Universal assigns a specific Account Executive to work directly with your organization to assist with the setting up and management of your account at all times. Our client services are available for assistance from 8 am – 8 pm EST Mon – Fri.
NAPBS Accreditation
Universal is a founding member of and accredited by the National Association of Professional Background Screeners (NAPBS) since 2003.
Universal was required to pass a rigorous audit, conducted by an unbiased independent auditing firm, of its policies and procedures to ensure it meets or exceeds the NAPBS standards.
Integration
How it works.
Create a non-employee user at Bamboo HR (the first name and last name will need to be "Universal Background")
By doing this, you can easily identify the notes Universal Background will be adding to the candidate's profile while the background check is processed and completed.
Create an API Key to provide Universal Background the necessary access to BambooHR
Create the following custom statuses for sending candidates to Universal:
Send to Universal Background
Received by Universal Background
Initiate a Background Check by moving candidate status to "Send to Universal"
Universal will collect candidate information and direct you to the Client Portal
Universal has the option to collect FCRA disclosures and authorizations and any missing information to run a background check.
Updates will be sent to the BambooHR candidate notes page which will include a link to the completed report
What data syncs?
BambooHR Field
Sync Direction
Universal Field
Field Logic or Notes
Employee #
Employee ID
This is the identifying field for the integration. The two systems Employee #/ID must match
Applicant First Name
First Name
Applicant Last Name
Last name
Applicant Email
Candidate's email
Each applicant must have a unique email
Applicant phone
Candidate's phone
Applicant job title
Position
Applicant addressLine1
Candidate's Address
Applicant city
Candidate's city
Applicant state
Candidate's state
Applicant zip
Candidate's zip code
Applicant education institution
Candidate's school name
Applicant education level
Candidate's education level
Applicant status
Background Check Status
Candidate notes
Order message
Universal will add order messages to the candidate's notes within BambooHR
Publisher
Universal Background Screening
Updated: 04/01/2019
Phone Support:
877-263-8033
Email Support:
Support Hours:
8 am-8 pm EST
Monday - Friday