Verified First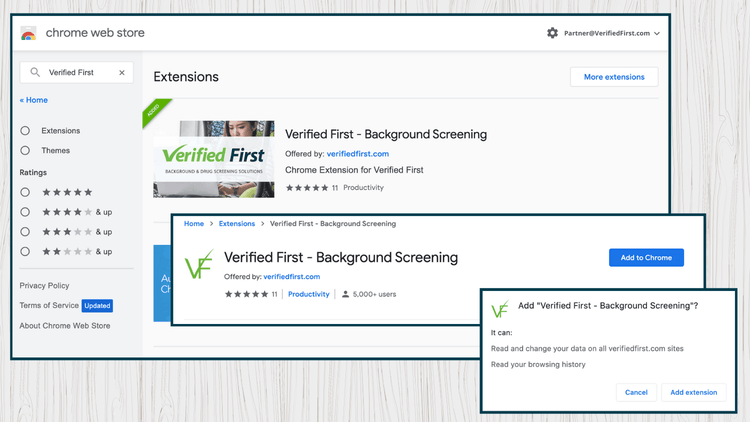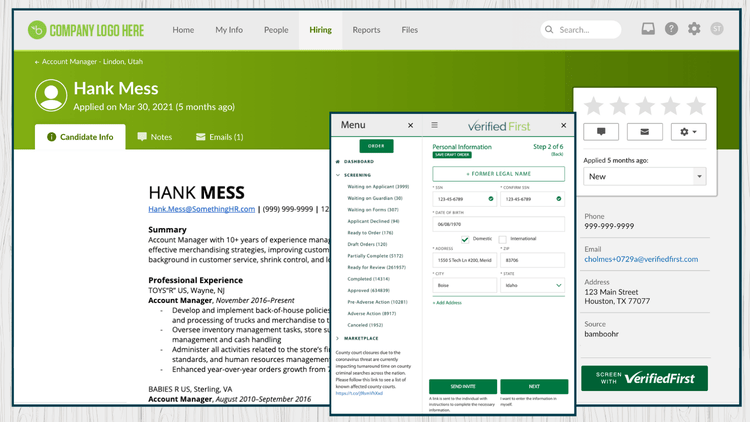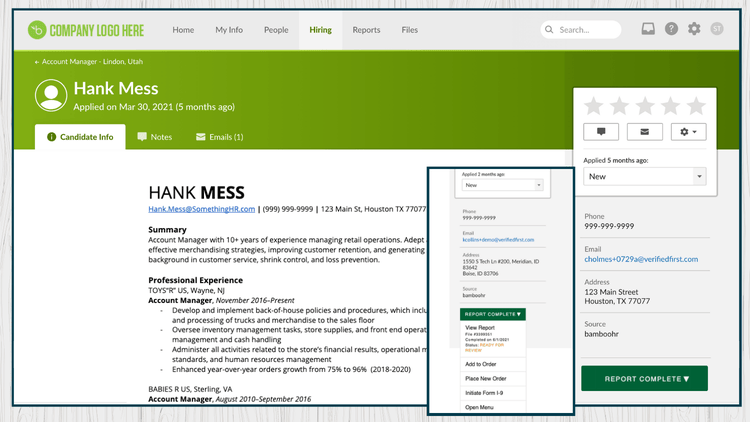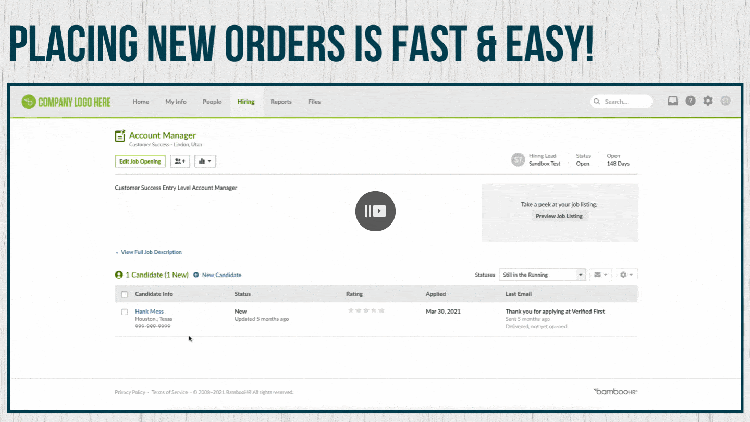 Overview
Verified First provides a streamlined background screening experience for HR and talent acquisition professionals nationwide. With revolutionary technology and a slick, patented browser integration, Verified First instantly connects with BambooHR, providing clients with a turn-key experience with top-notch client care.
Integrated Background Screening
Expand the abilities of BambooHR with integrated background screening. Easily order, track, and manage background screens without ever leaving the BambooHR platform.
Unlimited Packages
Create an unlimited number of background and drug screening packages specific to any position, streamlining the screening process and improving your quality of hire.
Mobile-Optimized
The Verified First applicant invite link responds to the size of the user's screen, including mobile, desktop, and tablet. Users can also send applicant invites via SMS text.
Top-Notch Client Care
Along with our 98% Client Satisfaction rating (seriously 98%—we've triple-checked!), our Prime Connector clients experience less than 30-second average hold times with our U.S.-based client care team.
Integration
How it Works:
Verified First's browser extension instantly connects with BambooHR's platform by pulling contact information directly from the record that you'd like to screen for, all without ever leaving BambooHR. Easily select packages, a-la-carte items, and create position-specific bundles that ensure you're informed with the relevant information about each candidate or employee. Ordering and viewing reports is easier than ever—simply click into the candidate or employee profile that you'd like to view, click on Verified First's button, and get instant access to the information you need to make an informed decision. You can also take action regarding candidates and employees without ever leaving BambooHR.
What Data Syncs?
BambooHR Field
Sync Direction
Partner Field
Field Logic or Notes
Turned on by Default or Configurable?
Employee #
Employee ID
This is the identifying field for the integration. Employee #/ ID MUST match.
Default
First Name
First Name
Configurable
Middle Name
Middle Name
Configurable
Last Name
Last Name
Configurable
Email Address
Email Address
Configurable
Phone Number
Phone Number
Configurable
Street Address
Street Address
Configurable
Zip Code
Zip Code
Configurable
Publisher
Verified First
Updated: 05/27/2021
Phone Support:
(844) 709-2708
Email Support:
Support Hours:
7-3:30 PM MST