Xoxoday Empuls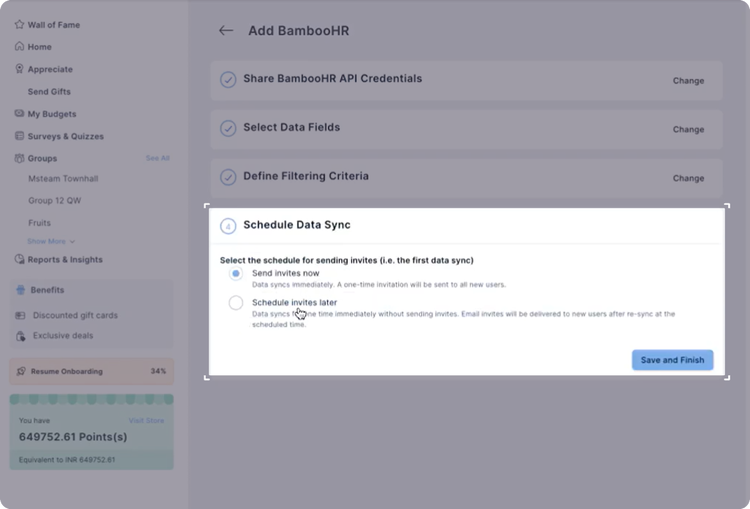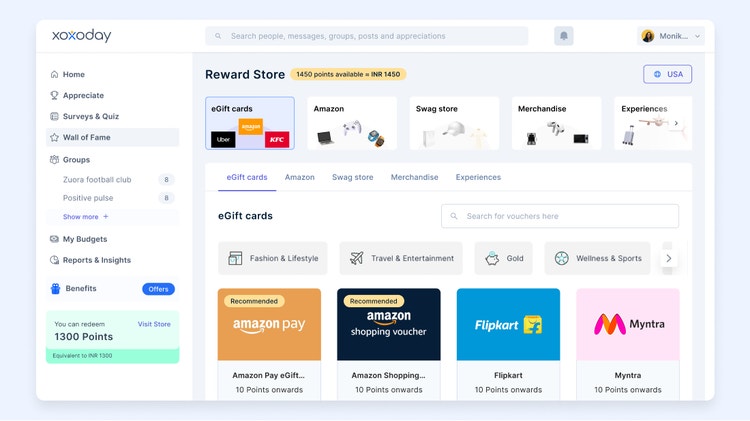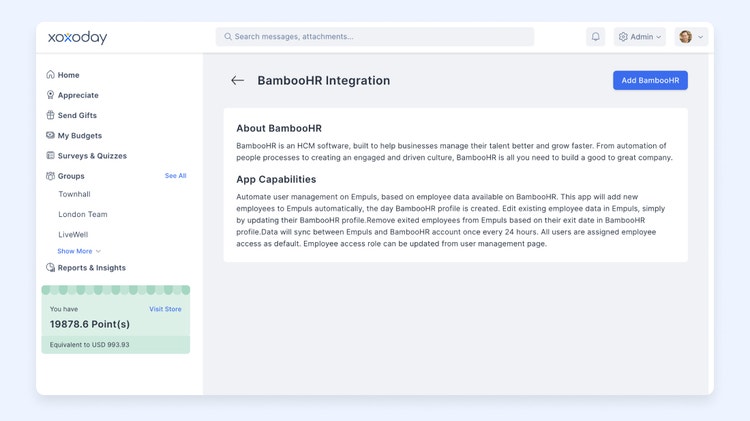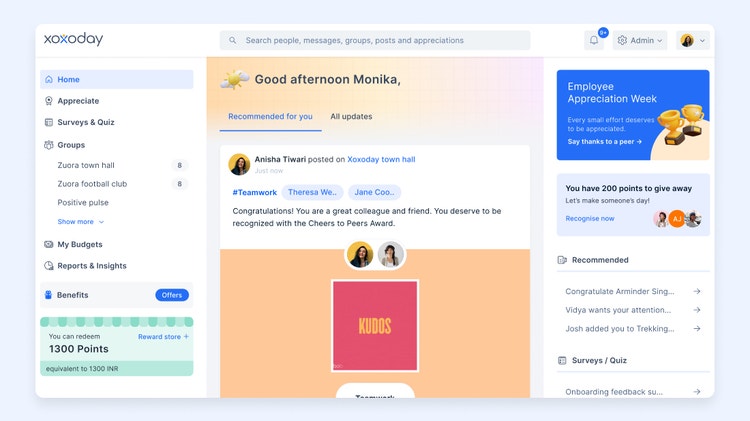 Overview
Empuls and BambooHR together help you seamlessly implement and manage people initiatives across the organization. This integration enables seamless sync of employee data so you can make sure everyone, every day is involved in all engagement activities on Empuls, from recognition to rewards, perks & benefits, surveys, social intranet, and community groups.
Recognition & Rewards
Configure spot, nomination-based, peer-to-peer, and jury-based awards to applaud employees who meet and exceed performance KPIs, display core values and positive behaviors at work, focus on customer excellence, or meet any business-specific goals.
Set up workflows for multiple types of recognition, including monetary and non-monetary awards, and the celebration of milestones, like birthdays and work anniversaries.
Manage budget and automate them to be distributed at a specific frequency by linking them to awards you configure as part of your recognition and reward program.
Give your employees a wide range of choices for reward redemption from our global reward marketplace, that includes gift cards, experiences, Amazon, charity, travel, entertainment and more.
Get detailed reporting on various aspects of your recognition and reward program to measure its success and ROI.
Perks & Benefits
Launch comprehensive perks and benefits to foster overall well-being.
1. Exclusive discounts, offers, cashback, and deals to maximize savings and extend their paychecks
2. Lifestyle and voluntary benefits, including insurance, personal and property protection, financial wellness, health, and wellness, at significantly lower rates and more coverage with little or no cost to you
3. Early wages and loans to meet seasonal and short-term cash needs without the hassles of paperwork, long wait times, or credit checks
Surveys
Measure engagement and seek feedback at every stage in the employee lifecycle using these surveys:
1. eNPS survey - gauge employee loyalty for your brand and get the employee net promoter score
2. Pulse survey - seeking feedback on employee engagement and experience drivers. Get a detailed analysis on what your employees think along with recommended action plans
3. Lifecycle surveys - automate surveys to be scheduled for various employee touchpoints, from onboarding to exit and everything in between
4. 360-degree feedback surveys - empower every employee to get a holistic view of their work through feedback from supervisors, peers, and subordinates
5. People Analytics - get detailed reports on every engagement initiative to know what's working and what's not
Social Intranet & Community Groups
Create a culture of transparency by broadcasting information on every aspect of work, from policy updates, company news, org changes, customer win, milestone celebrations, performance awards, personal events, and more.
Involve everyone in open dialogue using social-like features such as comments, shares, likes, emojis, GIFs, and images.
Connect people of similar interests or attributes using community groups to drive organic and focused conversations.
Integration
How it Works
Integrating Bamboo HR with your Empuls account helps you to seamlessly and hassle freely sync data between the two mentioned platforms. All real-time employee data changes on your Bamboo HR account reflect automatically on your Empuls account through this integration, bolstering your efforts to appreciate and recognize your team members,
With this integration, you can
- Add new employees to Empuls automatically as soon as their Bamboo HR profile is created.
- Edit existing employee data in Empuls simply by updating their Bamboo HR profile.
- Remove exited employees from Empuls based on their exit date in Bamboo HR.
- Import employee birth dates and start dates so you can celebrate these special days with automated greetings and gifts.
Once this integration is enabled, the data will sync between Empuls and your Bamboo HR account once every 24 hours.
What syncs?
BambooHR Field
Sync Direction
Xoxoday Empuls Field
SupervisorEmail
Manager_Email
Publisher
Xoxoday
Updated: 11/14/2023
Phone Support:
None
Email Support:
Support Hours:
9 AM - 6 PM EST