Free New Employee Welcome Email Templates
On average, companies have 44 days to influence a new hire's long-term retention. So why not get a head start by sending a stellar welcome email to new employees?
To get you started, we put together free welcome email templates and examples with options for in-office and virtual employees and some tips for writing a winning welcome email.
Download New Employee Welcome Email Templates
Just complete the form below
Form
Join over 30,000 businesses that trust BambooHR
Partners
userTesting, zipRecruiter, postmates, Jacksonville Jaguars, change org, Jelly Belly
We set people free to do great work.
BambooHR software collects and organizes all the information you gather throughout the employee life cycle, and then helps you use it to achieve great things. Whether you're hiring, onboarding, preparing compensation, or building culture, BambooHR gives you the tools and insights to focus on your most important asset—your people.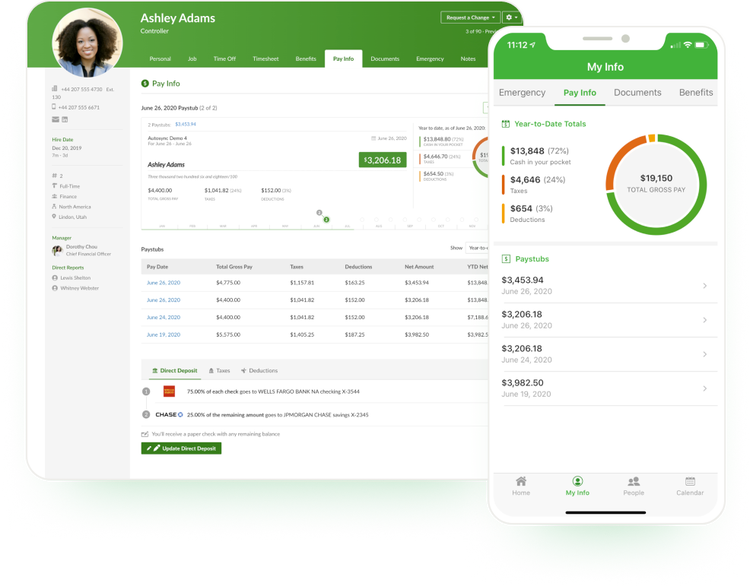 Built for SMBs
Starting small makes everything easier when it comes to building strong cultures and creating great places to work. That's why we're obsessed with crafting solutions for small and medium-sized businesses.
Easy to Set Up, Easy to Use
We built BambooHR to be intuitive, clear, and easy to use. People get it immediately, they love using it, and they'll love you for choosing our software.
Top-Rated Customer Service
No one else puts the customer experience at the heart of everything quite like we do. We're always listening to gain a better understanding of how we can help you succeed.
People are the key to workplace excellence. If you give HR the knowledge and time to work with people, they can build the kind of culture, policies, and practices that set entire organizations free to be better at what they do. And when you give employees the power to help themselves, they feel more valued and capable as contributors rather than simple assets. BambooHR is designed to do both. That's what makes us different.
People Data and Analytics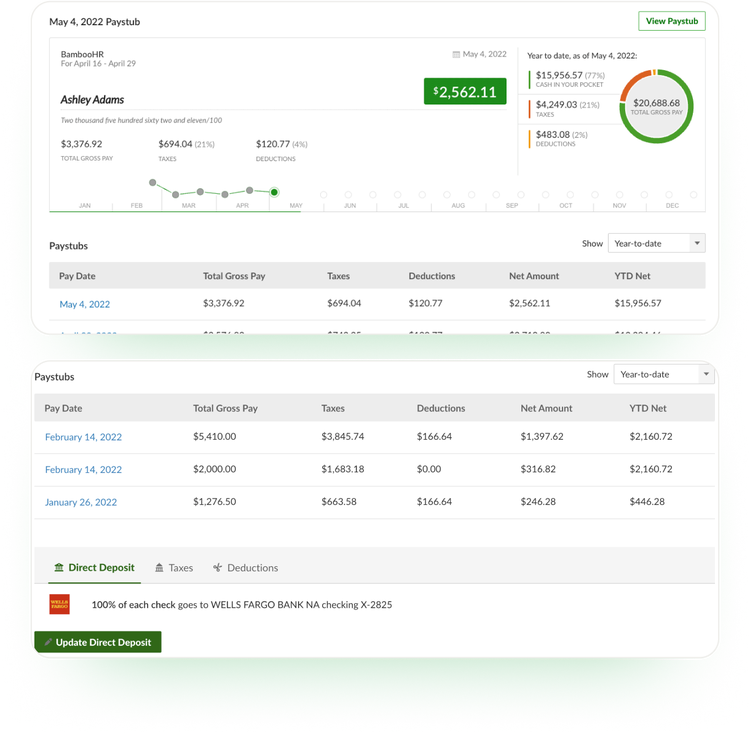 Employee Records
Manage all of your sensitive people data in one organized, secure database. You'll never need cumbersome spreadsheets or cluttered paper files again.
Mobile App
Modern HR pros need software that can keep up with their busy schedules. Our free mobile app gives everyone in your organization easy access to essential BambooHR functions at all times.
Workflows and Approvals
Bottlenecks and slow approval processes prevent you from making important decisions promptly. BambooHR comes with pre-built workflows so you can smooth out operations and keep work on track.
Reporting and Analytics
BambooHR reporting and analytics makes reporting effortless, so you can create and share reports quickly. And with the information your reports provide, you can make strategic decisions with confidence.
Mobile Hiring App
Hiring great talent is a round-the-clock job. BambooHR® Hiring puts the power and speed of the BambooHR® ATS in your pocket, so you can hire amazing employees anytime, anywhere.
Applicant Tracking System
Our recruiting software gives you the competitive edge. We'll help you keep your hiring process moving quickly, efficiently, and successfully, so you can focus on creating a great candidate experience.
Onboarding
Create better first days for new hires with electronic signatures, customizable preboarding packages, and easy-to-set-up welcome emails and IT checklists.
E-Signatures
With BambooHR e-signatures, you'll save time, money, and trees, and spend more time focusing on strategic initiatives instead of getting distracted by paper jams.
Offboarding
Plan and execute effective offboarding the right way every time, with checklists to ensure compliance and automation to help you concentrate on the person, not the transaction.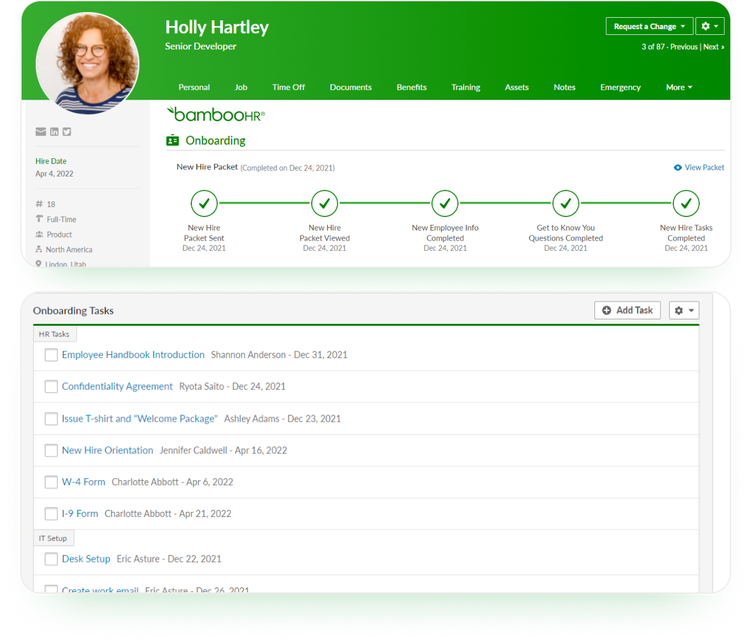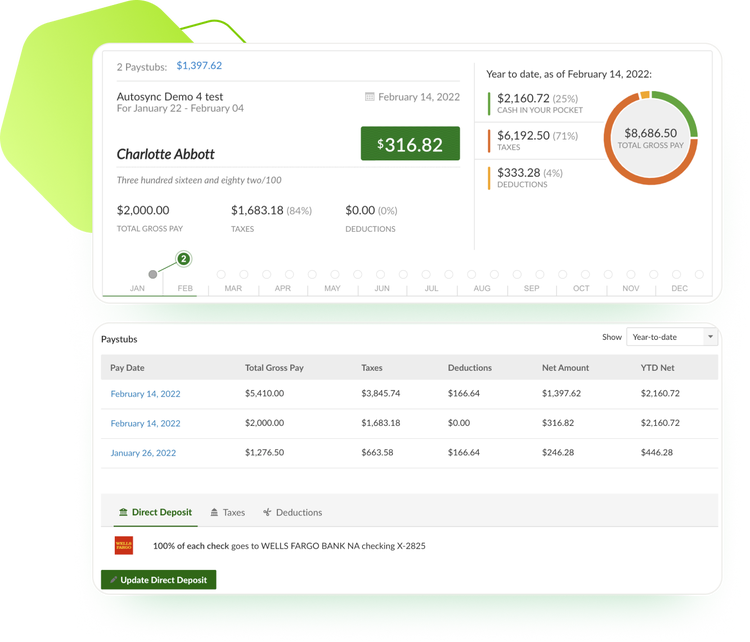 Time Tracking
BambooHR® Time Tracking frees HR and payroll admins from messy attendance workflows and makes time entry a breeze for everyone at your organization.
Paid Time Off
Taking time off is critical. Managing it shouldn't be a hassle. Our employee PTO-tracking software is simple and intuitive to use, so work can continue with minimal interruption.
TRAXPayroll
Pay your employees on time, every time with fast, easy, and accurate payroll integrated with BambooHR.
Employee Satisfaction
Employee Satisfaction with eNPS® helps you understand whether employees would recommend your organization as a good place to work and why—or why not.
Performance Management
BambooHR performance appraisal software cuts to the heart of effective performance management, using a few brief questions that encourage action while limiting subjectivity and speculation.