Copy Your Benefit Plans
We understand that most benefit plans continue from year to year, unless you are switching carriers. With this update, you can simply copy your plan information to a new one instead of starting from scratch! We're initially releasing this update to our Payroll customers, and later to Benefits Administration customers. Now if a plan of a given category already exists and you start creating a new one, either by clicking "Add Plan" or "Duplicate", you'll be asked if you are looking to continue a plan from a previous year, or if you are actually creating a brand new plan.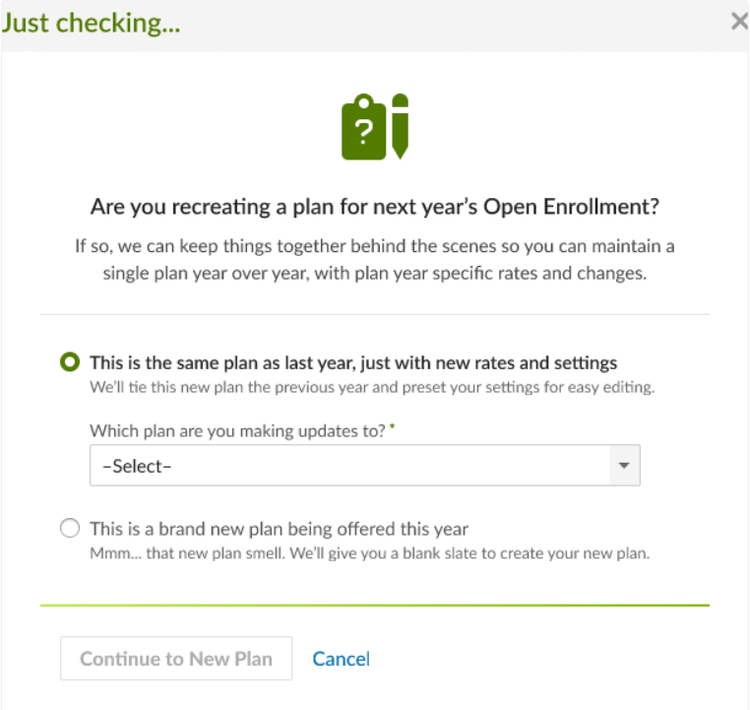 If it's the same plan with new settings, then you'll get asked which plan of that same category you would like to update. If you are duplicating a plan, we'll generate a new plan with the plan details being copied over from the previous year.
The settings you cannot edit when carrying over an existing plan are:
For Medical, Dental, Supplemental: Deduction Type Fields (Pre/Post Tax, Reportable/Non-Reportable, etc.)
For Vision: Deduction Type Fields
For Retirement: Plan Type
For FSA: Plan Type
For Life Insurance: Life Insurance Type
For Disability: Disability Plan Type
For Other: Plan Type
Save & Finish Later will be removed