Create Review Cycles By Hire Date
We're excited to announce the latest update to Performance Management. You can now create a review cycle by an employee's hire date in Performance Management.
This enhancement provides additional customizations to Performance Management that make it easy for Admins to tailor their performance program to the unique needs of their organization. Admins can create a review cycle so that employees receive an annual or semi-annual review on the day they're hired. The enhanced functionality also makes it easy to set up automatic 30, 60, and 90-day reviews for new hires.
Here's how it works:
In Settings -> Performance, when you create a new review cycle, a modal will appear. Here you'll have the option to create the cycle based on a fixed date or by hire date.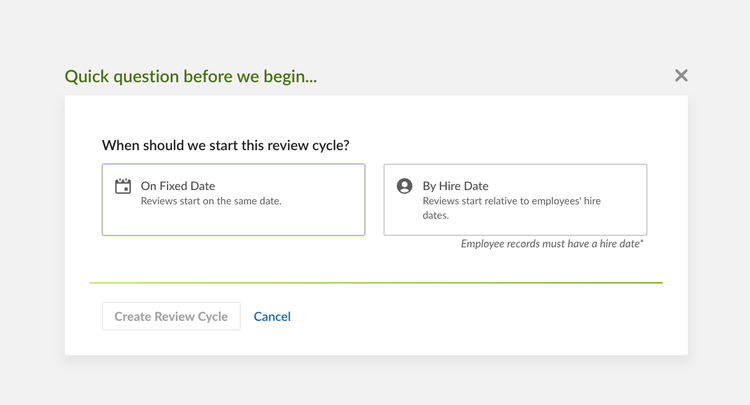 You'll follow the same setup process by choosing the name and which employees you'd like included in the cycle. Then you'll proceed to choose the Feedback cycle.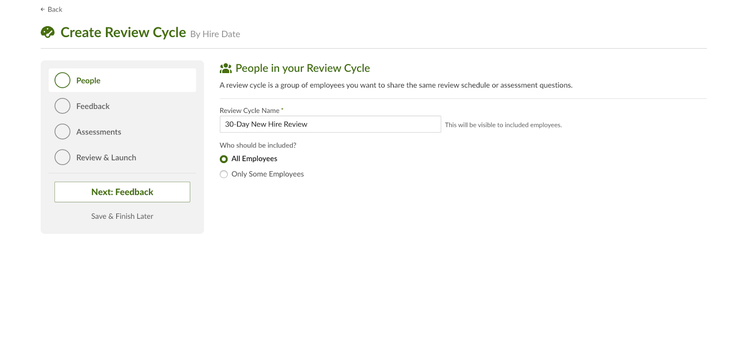 In Feedback, you'll be able to indicate whether or not you'd like Feedback included in this specific cycle. You'll then have the option to choose how often you want reminders to be sent out. Then users can choose between 1, 2, 3, 4, 6, or 12-month intervals.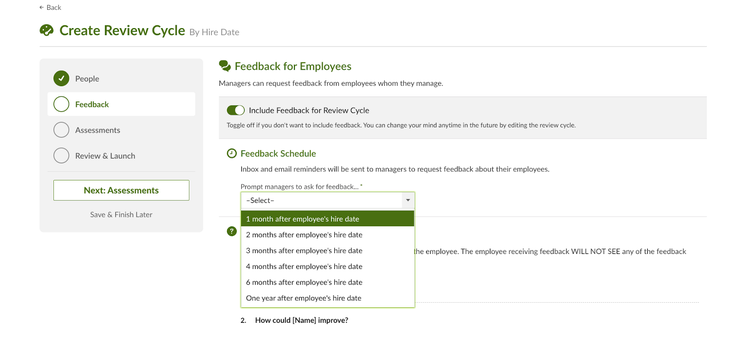 After setting up Feedback, users will then choose the Assessment cycle. Like with Feedback, you can choose between 1, 2, 3, 4, 6, or 12-month options for reviews to take place. This makes creating 30, 60, and 90-day reviews for new hires incredibly easy.
For example, if an admin wanted to create a 30-day review cycle, they would select 1 month after an employee's hire date. They would then create another "60-day review" cycle and select two months after an employee's hire date to start the cycle.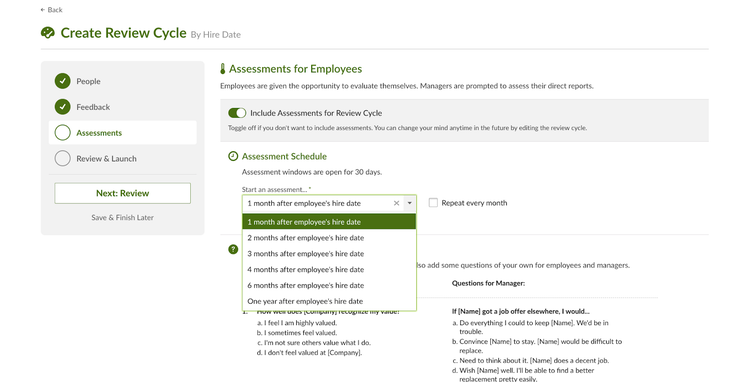 If you want to create an annual assessment for employees to be reviewed on their work anniversary, select "One year after employee's hire date" and mark the box that says "Repeat every year."
We're excited for you to start creating your own review cycles and tailoring your review process to your organization's needs. As always, we love your feedback! To provide product feedback on this feature and more, head to our product feedback page and let us know how we're doing.