Deductions on the Pay Info Tab
We know moving payroll to a single source of data is imperative to a streamlined and simplified payroll experience. We are excited to announce that you will now be able to review deductions for benefit and non-benefit deductions within the Pay Info tab in BambooHR. For now, you will only be able to view the deductions, however, with future product enhancements the pay info tab will have a complete deduction history and tools to manage those deductions.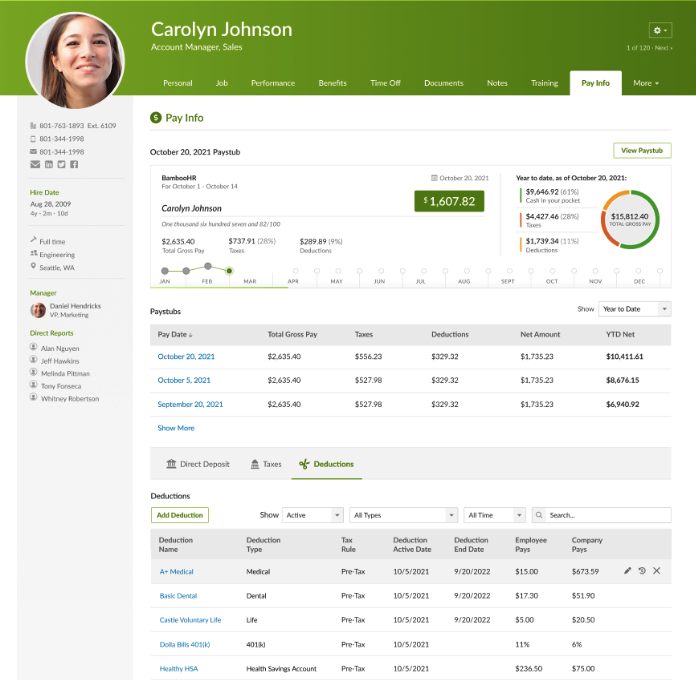 What does this mean for adding and editing deductions?
Admins will continue to add non-benefit deductions through the Pay Info tab.
In this phase, admins will be able to edit and end non-benefit deductions. The ability to edit benefit deductions from the Pay Info tab will not be in this release but will be available in the future enhancements.
In this first phase, only the active deductions will be displayed. The filters will not allow the user to view inactive deductions.

What does this mean for deleting non-benefit deductions?
Due to history issues caused by allowing non-benefit deductions to be deleted at any time, with this update non-benefit deduction can not be deleted once it has payroll history.
Non-benefit deductions without payroll history can still be deleted to help clients clean out unwanted deductions.
The delete deduction button has now been replaced with an end button.
When the end button is clicked, a modal displays for the user to enter an end date.
If there is no payroll history, the End Deduction modal will display a delete deduction button.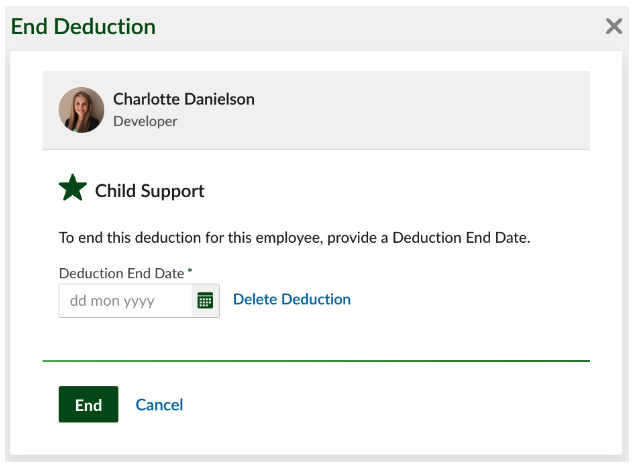 As always, we love your feedback! To provide product feedback on this feature and more, head over to our product feedback page and let us know how we're doing.