Employee List Filters
Admins and account owners frequently use the Employee List to view crucial information about their employees. With this in mind, we've made some exciting additions that will give you even more flexibility and freedom to filter, discover trends, and communicate with certain groups of employees!
In the Employee List (under the People tab), you'll notice a new filter button and dropdown menu on the left-hand side. Clicking the filter icon will expand the new filter, with an array of fields to filter by, similar to popular shopping sites.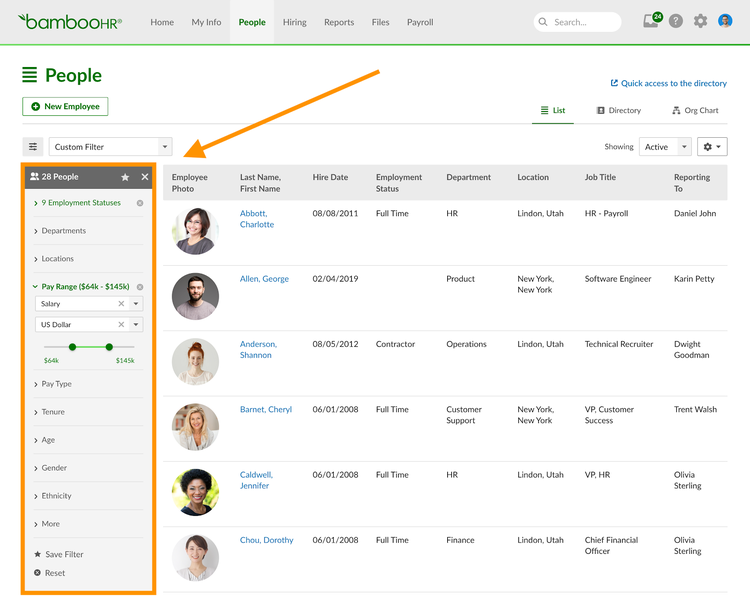 Clicking on any one of the side sections will expand or collapse different filtering options, such as checkboxes, slider charts, and dropdown menus. As the filters are manipulated, the Employee List will refresh in real time.
Dropdown Filters
Filters in the new dropdown menu provide a quick and easy way to group employees by employee status. The following statuses appear by default:
All Employees
Contractors
Hourly Employees
Managers
New Employees
Salary Employees
Terminated People
Upcoming Employees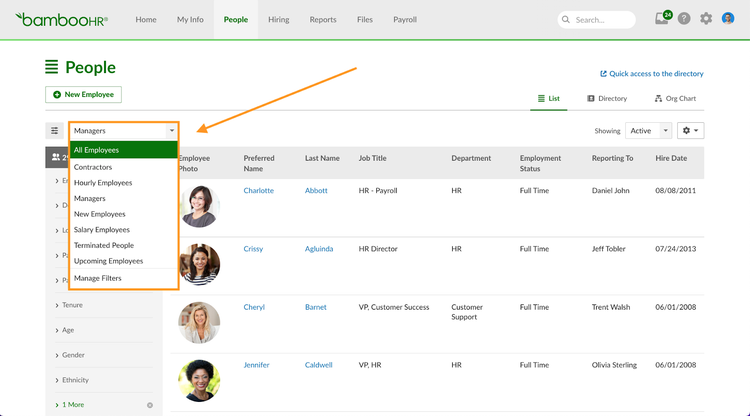 Side Filters
These fields enable you to slice and dice your list of employees even further, and will reduce the amount of time that it takes to pull custom reports. The following side filters appear by default:
Employment Status
Departments
Locations
Pay Range
Pay Type
Tenure
Age
Gender
Ethnicity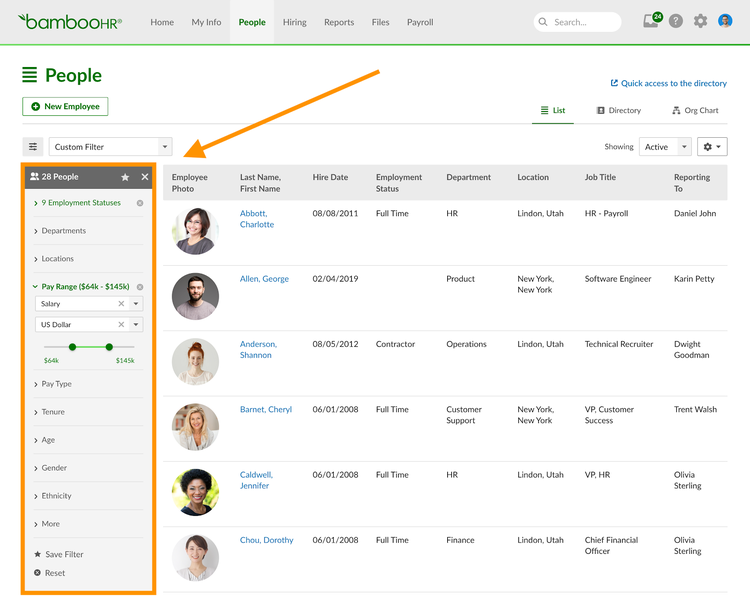 Managing Filters
If a user adds, removes, or modifies the columns displayed on any side filter, they'll have the option to save it. Clicking the 'Save Filter' button will prompt them to name the filter. Saved filters will only display for the user that saved them.
Users can also select 'Manage Filters' from the dropdown menu, which will allow them to edit, delete, and reorder filters from their list of saved filters. Filters can also be dragged and rearranged.
We know these new filtering options will give you the flexibility you need to unlock insights about your people in record time! Happy Bamboo-ing!