Hybrid Job Openings
With hybrid and remote work becoming more commonplace in recent years, we know that you need to be able to make these distinctions more clear in your job openings. To fulfill this need, we launched Remote Job Openings last March, and are excited to announce Hybrid Job Openings today!
When creating a job opening, you can now mark the job location as 'Hybrid.'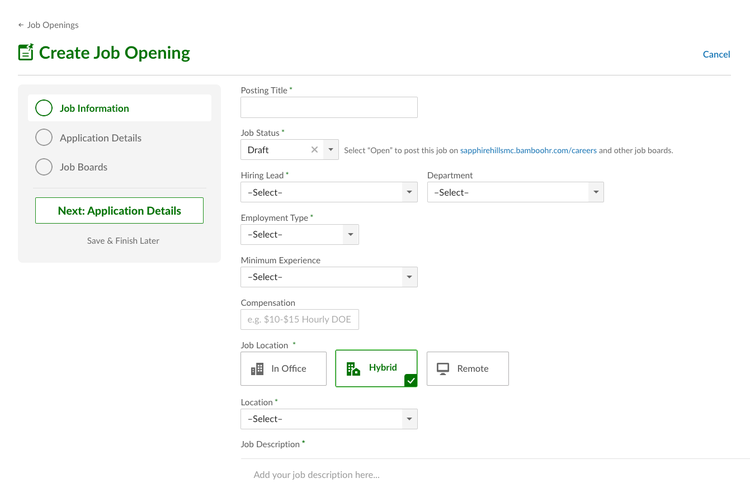 As with an in-office job opening, when 'Hybrid' is selected, we require a location, and nothing more. After selecting a location, we display the address of that location, but it is not editable.
When 'Hybrid' is selected, we display 'Hybrid' next to the job location on the careers site and elsewhere in our app. We also pass this distinction on to Indeed and ZipRecruiter, who display it as such on their job boards.
Note that job listings will continue to show city/state/country info as it does today. Additionally, when using the job location search filter on the candidates tab, jobs with Hybrid locations are mixed in with in-office locations (and are not separate like remote jobs are).
As always, we love your feedback! To provide product feedback on this feature and more, head over to our product feedback page and let us know how we're doing.