Introducing Insights Dashboard and Homepage Redesign
When you log in to BambooHR, your homepage will look slightly different. We've added a new Insights Dashboard and redesigned Home to make data more accessible to you and your team.
This new update provides a dynamic, personalized dashboard for admins, executives, managers, and employees. Users can customize their dashboard based on what widgets are available to them. This allows users to tailor their homepage to include the data that is most important to them to succeed in their role.
With the new Insights Dashboard, we've redesigned Home in BambooHR. The new streamlined look allows for information to be consolidated and quickly surfaced when needed. With increased visibility into their company data, leaders can make better data-driven decisions to strategically impact their organization.
In the Insights Dashboard, users will have access to new widgets. These widgets will automatically appear based on what data the user has access to. You can manage what data employees have access to through Access Levels in Settings. Employees in the Admin and Manager Access Levels will have access to many of the reporting widgets, while other employees will not. Check out our Help Guides to learn more about managing Access Levels and how to set permissions around what employees can see.
The Insights Dashboard comprises 16 possible widgets to give administrators, executives, and managers more insight into their employee data on the Home page. Now valuable data will be readily available to you right when you log in. That means less time data wrangling and more time moving your strategic initiatives forward.
Here's how it works:
When you log in, you'll see a reorganized Home. You'll notice that Training, Benefits, and Goals are now consolidated on the left-hand side underneath Time Off. The Who's Out, Company Links, Celebrations, and Trainings sections have been moved into their own widgets. For those that have access to more data in BambooHR, the widgets will automatically populate in your account.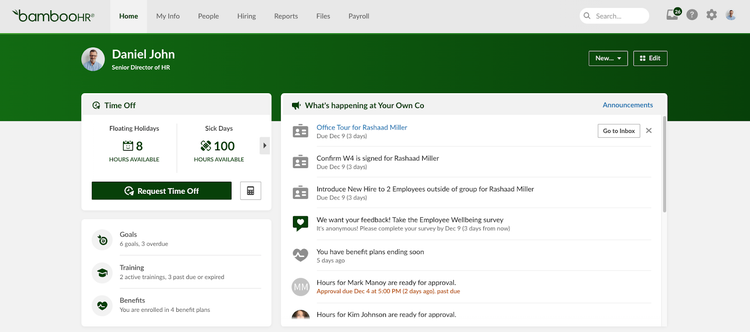 You can click the Edit button in the top-right corner to customize which widgets will appear on your dashboard. Here you can add, delete, or move widgets to customize the layout of your dashboard.

Your new dashboard will act as the home base for your important information. You can expand a widget by clicking on it. This will allow you to dig deeper into the data and direct you to additional standard reports. You can also apply filters to your widgets to uncover additional insights.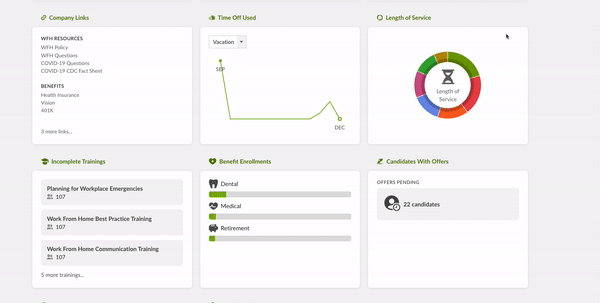 What Widgets Are Available?
Demographic data:
Employment data:
Department
Division
Employment Status
Length of Service
Location
Hiring/Onboarding data:
Candidates with Offers
Time to Hire
Onboarding At [Your Company]
Incomplete Trainings
Compensation/Benefits data:
Pay Increase
Benefit Plan Enrollments
Time off data:
Time Off Requests
Time Off Usage
We're excited for you to start utilizing the new Insights Dashboard and empower your organization. As always, we love your feedback! To provide product feedback on this feature and more, head to our product feedback page and let us know how we're doing.