Manage Payroll Permissions in BambooHR
We are excited to announce that we have moved the management of TRAXPayroll user permissions from TRAXPayroll to BambooHR, streamlining all your permissions into a single location and simplifying your user access management.
Check out this video walkthrough to see how managing payroll permissions have changed!
How do I know if a user is in the right access level for their payroll permissions?
Users in the "Full Admin" or "Payroll Admin" access levels will have permission to run and approve payroll.
Users in "Payroll Admin (Non-Approver)" access level will have permission to run payroll but not the permissions to approve.
Users in "Payroll Reports Only" access level have access to view payroll reports.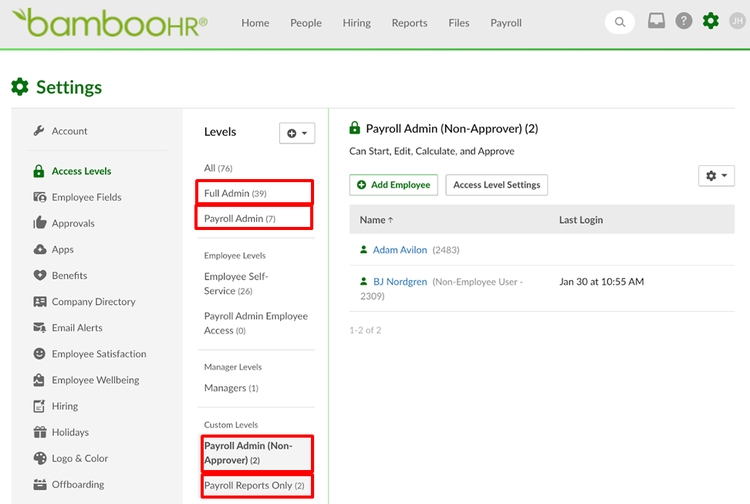 How can I tell if a user is assigned to the correct payroll company?
Payroll company access is listed on each user's row inside of access levels.
If you need to change payroll company access, you can do so by selecting the Payroll Company Access option in the users dropdown menu.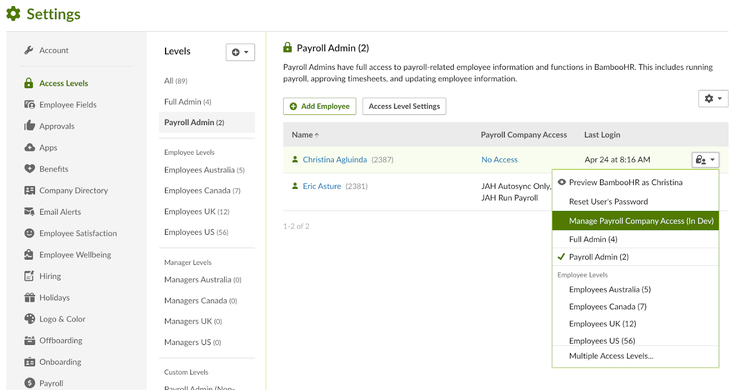 This consolidation ensures that you have granular control over payroll-related actions and reporting, granting the right level of access to each member of your team.
For MEIN customers, we've also streamlined the process by allowing users to be permissioned by EIN (Employer Identification Number). This simplifies the assignment of permissions and ensures accurate access control for each individual and EIN within your organization. Access levels with EIN assignments include:
Full Admin
Payroll Admin
Payroll Admin (Non-Approver)
Payroll Reports Only
Any custom access level with Run Payroll or View Payroll Reports permissions
If you are looking to better understand this update make sure to check out the help content page in BambooHR to learn more. As always, we love your feedback! To provide product feedback on this feature and more, head over to our product feedback page and let us know how we're doing.