New Accrual Setup Process for Time Off Policies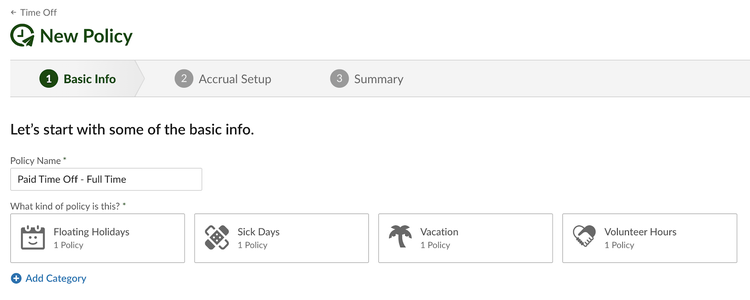 We have made it more intuitive for you to create new time off policies so that you can be confident your employees' totals are being calculated correctly. This update consists of the following enhancements to the process:
The setup flow now more easily guides you through the accrual policy setup process
Several updates to terminology make the language used more intuitive. For example, levels are now milestones, periods are now accrual periods, etc.
We have added total accrual amounts to help you verify that your calculations are correct.
Defaults are now based on the most common settings by customers.
We've added a review step that summarizes policy details for validation.
As always, we love your feedback! To provide product feedback on this feature and more, head over to our product feedback page and let us know how we're doing.