New Payroll Homebase in BambooHR
Big news! We just released a new update in BambooHR that we know you are going to love. We are happy to announce that a new Payroll homebase is now live in BambooHR and you can start using it today!
New Payroll Tab
Within the global navigation at the top of BambooHR, you will notice a new Payroll tab. This tab will become your new homebase for payroll and will be your new entry point into the run payroll experience. Instead of using the TRAXPayroll button on your homepage, you will now click the Open TRAXPayroll button on this new Payroll tab to single sign-on into TRAXPayroll. This single sign-on functionality event extends to all our multiple EIN customers to make running payroll just a little bit easier.

Pay Date Selection
At the top of the page, you will notice pay cycle and pay date information to help keep you on track each pay period. You can select any pay date between now and eighteen months in the future and the page will dynamically change to show the payroll details associated with that pay period.
These pay dates can tell you more than just upcoming pay dates, they use small icons and colors to give you warnings that a pay date is soon approaching, let you know if multiple pay periods have the same pay date, and make you aware of a missed deadline.

Payroll Details and Important Reminders
When a pay date is selected, important details and valuable reminders about that pay period will be shown. In the middle, you will be served different messages to help you make sure there aren't delays with your upcoming payroll. Missing key employee data for payroll? These messages make you aware and point you where to fix issues. Soon approaching your payroll due date? We'll give you heads up so you can act quickly.
Along the right side, key dates for this pay period are on display. This helps you stay informed about pay schedules, due dates, start and end dates, and the official pay date for this given pay period. You're welcome!

Surfacing Updates Since Your Last Payroll (Autosync Customers Only)
We know you care about tracking data changes made in BambooHR since your last pay period. Well, good news, at the bottom of this page a summary of payroll-related data changes made in BambooHR since your last payroll run will be highlighted for your viewing pleasure. This helps you feel really confident jumping into payroll that all the data changes are being represented for that specific pay period. And if the summary isn't enough, you can jump directly into the more detailed report for even more comprehensive information.

Single Sign-On for Non-Employee Users
Last but not least, we know that many times you have non-employees who use BambooHR and need to access payroll. Starting today, if these non-employee users are set up as a Full Admin or Payroll Admin in your system, they can be added as an admin user in TRAXPayroll and have the ability to single sign-on. You can make this change in the Access Level Settings when editing or adding a non-employee user.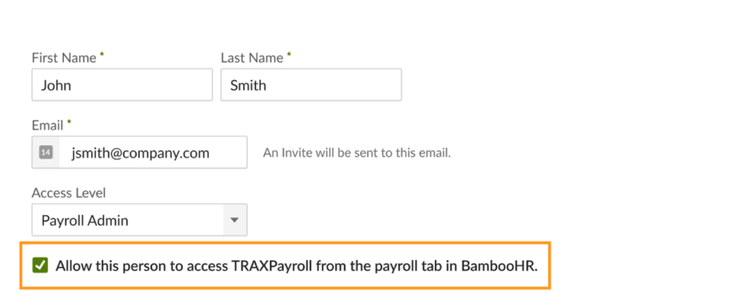 We hope you are as excited about this product update as we are. We are confident that it will make your job a little easier and set you free to do great work. If you are looking for more information regarding this update, make sure to check out the help guide that explains more about how to use this new homebase.